Amid harrowing tales of isolated backstretch workers facing layoffs, and with a planned move to Los Alamitos now dead, Santa Anita Park executives proposed a meeting with Alameda County health officials for Saturday in another effort to resume spectator-free racing. The horsemen contend it's essential for the health and safety of the horses, and for the livelihoods of those entrusted to care for them.
Aidan Butler, the executive director of California racing operations for Santa Anita owner, The Stronach Group, said on a conference call with members of the Thoroughbred Owners of California and other racing executives late last week, "I'm not taking no for an answer."
Butler said he wants a meeting with Los Angeles County Health officials to discuss reopening Santa Anita for racing. The health department closed Santa Anita on March 27, deeming the race track a non-essential business. Sister TSG track, Golden Gate Fields in Northern California, shut down April 2 on orders from the Alameda County Health Department.
Renewed Argument: Essential For Horse Care
Butler and other TSG executives have maintained a full-court press to reopen, claiming that racetracks are indeed essential because they provide care to animals, and that racing is the financial engine making that possible.
These arguments are also being pressed at other tracks around the country, most notably TSG-owned Gulfstream Park in Florida, Oaklawn Park in Arkansas, Will Rogers Downs in Oklahoma, and Fonner Park in Nebraska. The latter two – usually off the radar of most horseplayers because of their tiny size and unheralded horses – are enjoying monster handle increases.
Last week, Fonner set a record for a single-day handle — $7.2 million. As of April 5, Fonner's handle surpassed $7.8 million. Last year at this time, the handle was $958,424. Will Rogers, meanwhile, blew past its 2019 $16.8 million handle on Day 8 of its 29-day season.
No Save from Los Alamitos
Meanwhile, 40 minutes away from Santa Anita, sits the only California racetrack still going — Los Alamitos, which races quarterhorses and limited thoroughbreds at night. The San Gabriel Valley Tribune reported that a proposal to move Santa Anita's thoroughbred day schedule to Los Alamitos will not happen.
Sources told the paper one of the primary reasons was a previous squabble between Los Alamitos and TSG regarding racing dates. An unwillingness to draw attention from Orange County health officials is likely another one.
With that lifeline severed, Butler and Craig Fravel, the CEO of racing operations for TSG, resume pressing their case that live racing not only happens with fewer people, but that it is essential for the 750 backstretch workers at Santa Anita who care for those horses. Butler told Bloodhorse he needs an explanation from health department officials for keeping Santa Anita closed.
"If it's a no, I have to come away with the rationale for saying no. What is the rationale? What is the issue, and can we address that issue or particular issues for you," Butler said. "And, if not, I need to push pretty hard for the rest of the guys to get benchmarks. What will the curve look like? What other triggers would we be looking at to react to this? At the moment, we haven't gotten a lot of answers."
Butler told ABC-7 in Los Angeles that health specialists "are working every protocol we have to make sure we're not only doing what we should be doing, we're doing more than we should be doing."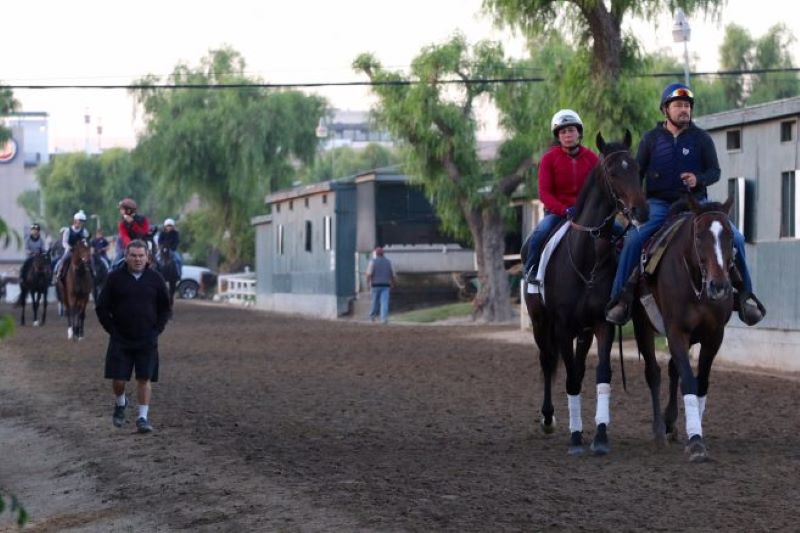 The Pasadena Star News chronicled the financial peril and social isolation the Santa Anita backstretch colony faces with no racing. The lowest-paid employees in the sport, the grooms, hot-walkers, exercise riders, and stable hands depend on racing purses for their livelihood. Right now, they live on a quarantined island. Nobody is allowed into Santa Anita's extensive barn area, and while they can leave, many do not own cars.
"We have the ability, with very little extra risk, to continue operating economically while ensuring the health and well-being of the horses," Butler told the Star News. "We're soon not going to be able to carry on the training unless we can keep the economic engine going. The second that dries up, we're all going to be in trouble."
Plants More Essential than Horses?
Meanwhile, across the street … a battle with the Arboretum is brewing.
What further infuriates race fans and officials is what's happening right across Baldwin Avenue from Santa Anita. The Los Angeles County Arboretum is open, leading many to believe – as Fravel told Bloodhorse – that animal rights activists are using the coronavirus as a convenient reason to close Santa Anita.
Write Kathryn Barger to complain. See if she sends back a lousy form letter like we all got. I'd like to see her explain why the Arboretum is an essential business and Santa Anita isn't.

— Maria Robin Case (@MariaRobinCase1) April 5, 2020
@GavinNewsom @kathrynbarger @ericgarcetti Please help the 750 workers keep their jobs @santaanitapark The races are run with no spectators https://t.co/GxSOLowPpB

— Tamara Grashian (@tgrashian) April 14, 2020
Los Angeles County Supervisor Kathryn Barger, whose district includes Santa Anita, had her staff send form letters to constituents inquiring about the discrepancy of keeping one public entity open, while closing one right across the street. The letters reiterated the health department's decision that Santa Anita was a non-essential business.
This contradicts a health department spokesman who told ABC-7 that indoor and outdoor gatherings in the county are forbidden until at least May 15.
Mixed signals from @lapublichealth, which forces closure of @santaanitapark races in Arcadia despite strict COVID-19 sanitary protocols and extremely limited access, yet across the street LA County Arboretum is welcoming large sold-out public crowds. pic.twitter.com/2oxv2JPCHI

— Ray Paulick (@raypaulick) April 8, 2020
The TOC issued a plea for people to e-mail Barger's office to state Santa Anita's case, but she declined comment. Last year, she led a drive to investigate the horse deaths at the track.