As track officials continue lobbying to resume racing, Santa Anita Park remains closed for another weekend. That pushes back Saturday's planned Grade 1 Santa Anita Derby and Grade 2 Santa Anita Oaks to dates yet to be determined.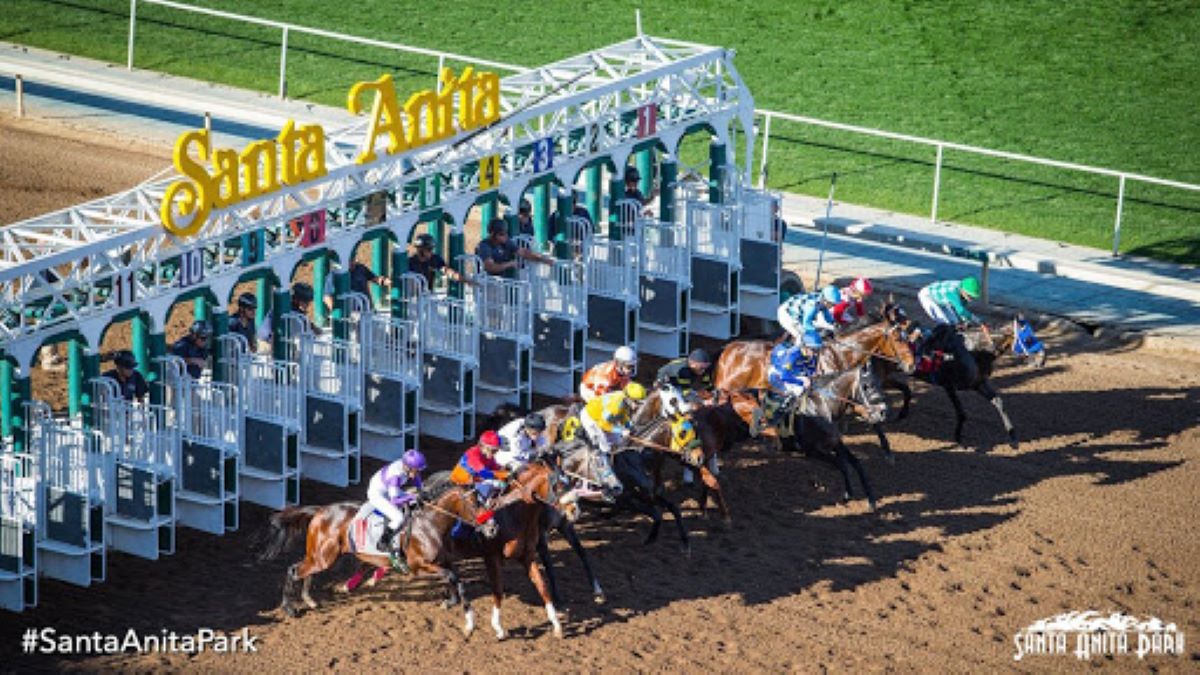 On Friday, Los Angeles County health officials abruptly shut the track down, about a half-hour before the first post time.
A statement from the track said both headline races "will be rescheduled for later in the season after racing resumes." In the near term, that takes away major Derby and Oaks prep races that promised to help clear up an uncertain Derby and Oaks prep picture this spring.
As of now, the May 2 Arkansas Derby remains the only scheduled prep race on the Derby Trail.
County Order Remains In Effect
Santa Anita is reluctantly abiding by an order issued last Friday from the Los Angeles County Health Department that closed the track as a non-essential business in the wake of the COVID-19 pandemic. That decision came down less than 30 minutes before Friday's first post.
The track's statement took pains to point out there are no known cases of COVID-19 at Santa Anita, and that racing continues at other tracks around California and around the United States. Santa Anita's website, meanwhile, optimistically posts its next racing date as Friday, April 10, with a 1 pm first post.
Racing Continues Throughout California
The Stronach Group, which owns Santa Anita, also owns Golden Gate Fields in Northern California. That track remains open for racing, as does Los Alamitos in Orange County for quarterhorses, and Cal Expo in Sacramento, which offers harness racing on Tuesday and Wednesday nights. The aforementioned tracks are all racing without spectators.
"At Santa Anita Park, the health, safety, and welfare of every person and every horse in our community remains our top priority," the statement read. "We are continuing to have constructive dialogue with the LA County Health Department and Los Angeles County Supervisor Kathryn Barger and her staff. In cooperation with our industry stakeholders, a proposal was submitted earlier this week, which we believe, was fully responsive to their requests. We have yet to receive a satisfactory response to that proposal.
Santa Anita officials added that numerous racetracks around the country are continuing to operate, and claims they  — like Santa Anita — are important economic engines that fuel their local communities.
Track Officials Press Their Case
On Monday, Craig Fravel, the CEO of racing operations for The Stronach Group, and Aidan Butler, TSG's acting executive director of California racing operations, continued lobbying the county health department on allowing racing. Butler discussed with Mike Willman, the host of the "Thoroughbred Los Angeles" radio show, the gist of what he and Fravel wanted county officials to know.
"Giving us the ability to train without the ability to race … doesn't make a great deal of sense. Optically, to the outside world, it's, 'Why would you continue racing?' I keep saying these people don't quite get it," Butler told Willman.
"If you understand how the ecosystem works, you need to train. If you have the inability to race, then the training is put in jeopardy because obviously, the whole financial engine (of racing) funds all of the ability to keep the backside going. It just needs a little more explaining and a few tweaks to our protocols."
Backstretch Workers Unaffected For Now
As Butler pointed out, this imperils the employment and housing status of Santa Anita's extensive barn network, which remains home to more than 750 backstretch workers who care and feed for the more than 1,700 horses stabled at the facility. County health officials didn't address their status, which is a form of self-quarantine in and of itself, since most of those workers remain at the track.
A Belmont Park backstretch worker testing positive for the coronavirus caused Aqueduct Park to close March 19.
On his show, Willman made a point that further steps to insulate the Santa Anita backstretch colony were taken. Those included barring jockeys from entering the barn area, and banning jockey agents from the premises. The track has been closed to everyone but essential racing personnel since March 12.