His racing career was promising, but unfulfilled – four victories in eight starts. Even being a son of standout sire Tapit, there was nothing in the crystal ball foreshadowing what awaited Constitution in the stallion shed.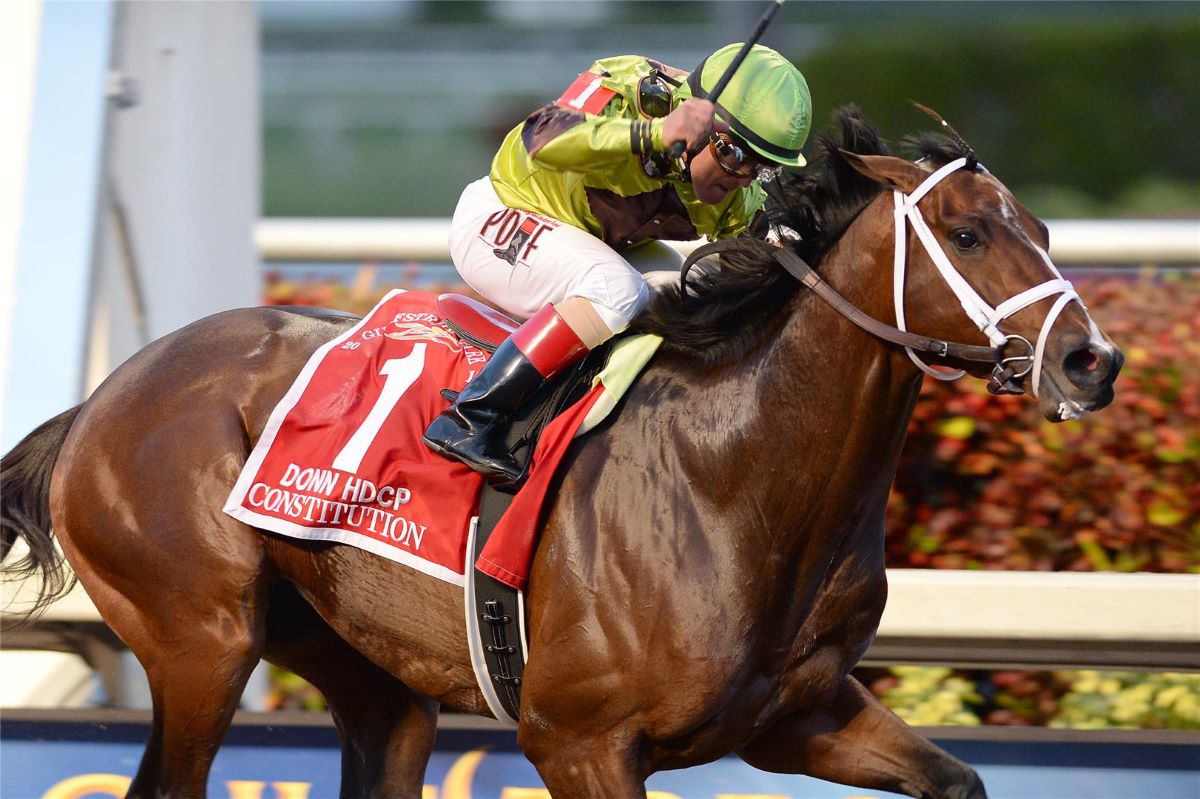 Which illustrates why horse breeding is such an inexact science, and why semi-royal bloodlines often produce royal results.
Constitution is a 9-year-old stallion who traded that promising, but unfulfilled, racing career for spectacular success as a stallion. His first crop of progeny placed second among sire earnings in 2019, racking up 27 winners in 65 races and more than $2.16 million in earnings. Four of those wins came in graded stakes races.
With his second crop this year, Constitution sits on top of the sire standings with $1.41 million, nearly double that of No. 2 Tonalist ($777,473). He became the first son of Tapit – the world's leading sire for much of the last decade – to produce two Grade 1 winners.
Tiz the Law Responsible for Fast Start
Much of those 2019 earnings — $347,000 — came from Tiz the Law, one of three Constitution progenies on the Kentucky Derby trail. In the recent Florida Derby, Constitution's sons included not only winner Tiz the Law, but fourth-place Gouverneur Morris and fifth-place Independence Hall, who produced the fastest Beyer Speed Figure (101) by a 2-year-old in 2019.
There were signs, faint signs, that Constitution would make a good stallion, but nobody foresaw how good. First, there was the Tapit connection. Himself owning a modest racing career (three wins in six starts), Tapit became the highest-earning sire of the 2010s, leading the earnings totals in 2014, 2015 and 2016, and breaking records each year. Between 2014 and 2018, Tapit's progeny earned more than $80.2 million. By 2015, Tapit commanded North America's highest stud fee: $300,000.
Then, there was Constitution's racing career. He became the first Tapit son to win two Grade 1s – the Florida Derby at 3 (2014) and the Donn Handicap at 4 (2015). His 111 Beyer Speed Figure in the Donn made him the fastest two-turn Tapit progeny ever sired But after a lengthy layoff and two unspectacular finishes, Constitution's racing career ended midway through 2015.
---
Constitution's Top Progeny

Tiz the Law, Florida Derby, Holy Bull, and Champagne Stakes winner
Laura's Light, Sweet Life Stakes and Blue Northern Stakes winner
Independence Hall, Nashua Stakes and Jerome Stakes winner; third in the Sam F. Davis Stakes
Amalfi Sunrise, Sorrento Stakes winner
By Your Side, Sanford Stakes winner
Gouverneur Morris, Breeders' Cup Juvenile runner-up
---
Success Breeds Sales Success
So it was off to WinStar Farm and the breeding shed. Constitution's first crop of yearlings didn't bring ridiculous sums at sales. But as 2-year-olds, those promising yearlings delivered. That first crop of now-3-year-olds, which includes Tiz the Law, Gouverneur Morris, and Independence Hall, sold for upwards of $600,000 as 2-year-olds. Constitution's new yearlings, meanwhile, go for up to $400,000.
Those numbers provide an inkling into why horse breeding is serious business, one sporting an entire sub-industry in the sport that often detracts from the sport itself. It is far more lucrative to own a marquee horse's breeding rights than it is to own his purse winnings, which explains why Triple Crown-winning horses such as American Pharaoh and Justify never race past their 3-year-old seasons. Once they establish their racing bona-fides, it's off to the breeding farm, where six-figure breeding fees await the elite horses.
In Justify's case, his six-race career ended five months after it began — shortly after he won the Belmont Stakes in June 2018 to complete the Triple Crown.
Constitution Owns Full Stud Book in 2020
Constitution, meanwhile, is booked solid for the duration of 2020 with a $40,000 stud fee. He's expected to breed more than 200 times this year, so you can do the math on how lucrative a stallion he is — and how lucrative breeding can be.
Should one of his progeny win the Kentucky Derby, Preakness Stakes or Belmont Stakes, that $40,000 stud fee will become a bargain, and there's no crystal ball needed to see that.