Even after Hot Rod Charlie reeled off record early fractions, and even after Essential Quality caught and passed him in the stretch, both leading protagonists from Saturday's Belmont Stakes came out of their 1 ½-mile "Test of the Champion" in fine form.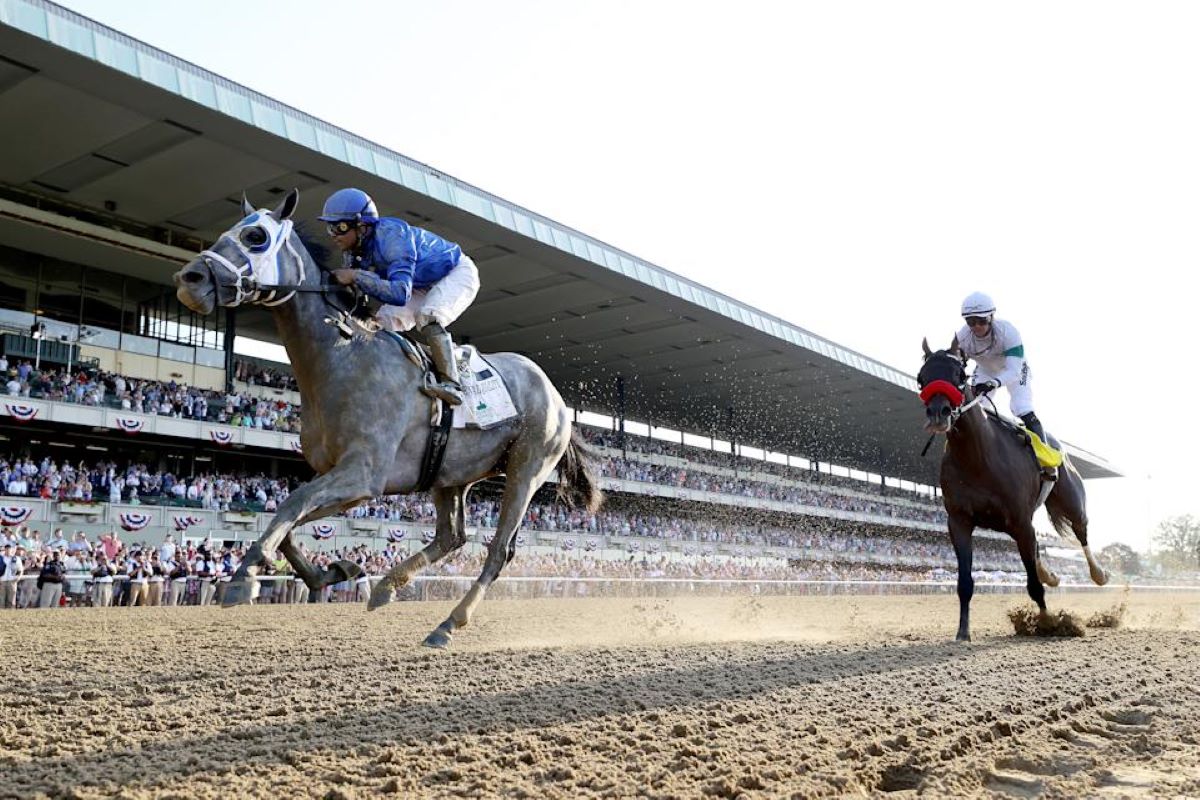 "He looks amazing. It doesn't look like he lost any weight," Essential Quality's trainer, Brad Cox, told the New York Racing Association. "We jogged him up this morning (Sunday) and he was moving great. He's a very intelligent horse. It's amazing to watch him. We train him on race day and whenever we put him back in, he'll lay down the rest of the day. He knows what's going on and he deserves a good rest today after such a long race yesterday."
This, after Essential Quality stalked, caught, and eventually passed his rival with two furlongs to go. The 1 ¼-length victory came with a career-best 109 Beyer Speed Figure and removed any doubt the Tapit progeny is the best 3-year-old in the country. Speaking of Tapit, this gave the super sire his fourth Belmont Stakes-winning offspring since 2014. That ties Lexington's mark, set a decade or so after the Civil War.
Hot Rod Charlie ran the Belmont Stakes to his name
As for Hot Rod Charlie, trainer Doug O'Neill raved about his next-day recovery. That, after he posted a 22.78-second opening quarter-mile — the fastest opening two furlongs in the 153-year history of the Belmont Stakes. His 46.49 opening half-mile was the fastest since Secretariat opened his eventual 31 ½-length romp in 46.20 in 1973, and the second-fastest in history.
"He looks awesome, just awesome," O'Neill told the NYRA. "He ate up everything and licked his feed tub. We scoped him after the race and he scoped clean. He was definitely a little rubber-legged after the race, but by the time he got back to the barn area, he had already recovered. He recovered quickly. He's amazing."
The Belmont Stakes marked the third duel between the two horses, and the outcome mirrored the first one: last fall's Breeders' Cup Juvenile. That turned into Essential Quality holding off 94/1 Hot Rod Charlie at the wire. Round two featured Hot Rod Charlie holding off Essential Quality for third at the Kentucky Derby. That was Essential Quality's only loss in seven races.
We could see Round 4 between the two rivals
As for what's next for both, Cox was more decisive: the Aug. 28 Travers Stakes at Saratoga. He left the door open for Essential Quality to run the prep for that race, the July 31 Grade 2 Jim Dandy at the Spa.
"It's one of the more prestigious races out there for 3-year-old colts, so that would be the logical spot," Cox said. "It's a mile-and-a-quarter and we know he can handle that. In regard to a race before, it would be nice [because] Saratoga is obviously a demanding track. I wouldn't say we have to have a race before that, but it would be nice. I think the logical spot for that would be the Jim Dandy, but we'll get him back to Churchill [Downs] and let him tell us over the next couple of weeks how he's feeling."
O'Neill, meanwhile, did say the rivalry could move from the Belmont Stakes to a fourth round at the Travers. That's the most prestigious 3-year-old race remaining on the calendar. O'Neill said that was the most logical step. Cox, himself, said a re-re-rematch would be "great for racing."
Hot Rod Charlie could stay home, take on older horses
On Sunday, however, O'Neill told Santa Anita Park's Ed Golden that a new destination entered the picture: the Grade 1 Pacific Classic. The 1 ¼-mile Pacific Classic is Del Mar's signature summer race, taking place a week before the Travers. It's also for 3-year-olds and up, meaning Hot Rod Charlie would get his first crack at older horses.
"As a 3-year-old, we'd get a big break in the weights and a few of our owners live down there," O'Neill told Golden.
O'Neill and his ownership group, Greg Helm's Roadrunner Racing, Boat Racing, and ProFlowers founder Bill Strauss, have plenty of time to ponder that next move.