As the 153rd Belmont Stakes hit its stretch crescendo, Essential Quality would not be denied. At the end of this Triple Crown season, Essential Quality would not be denied his Triple Crown race victory. He would not be denied his place in history and trainer Brad Cox would not be denied his first career victory in a Triple Crown race.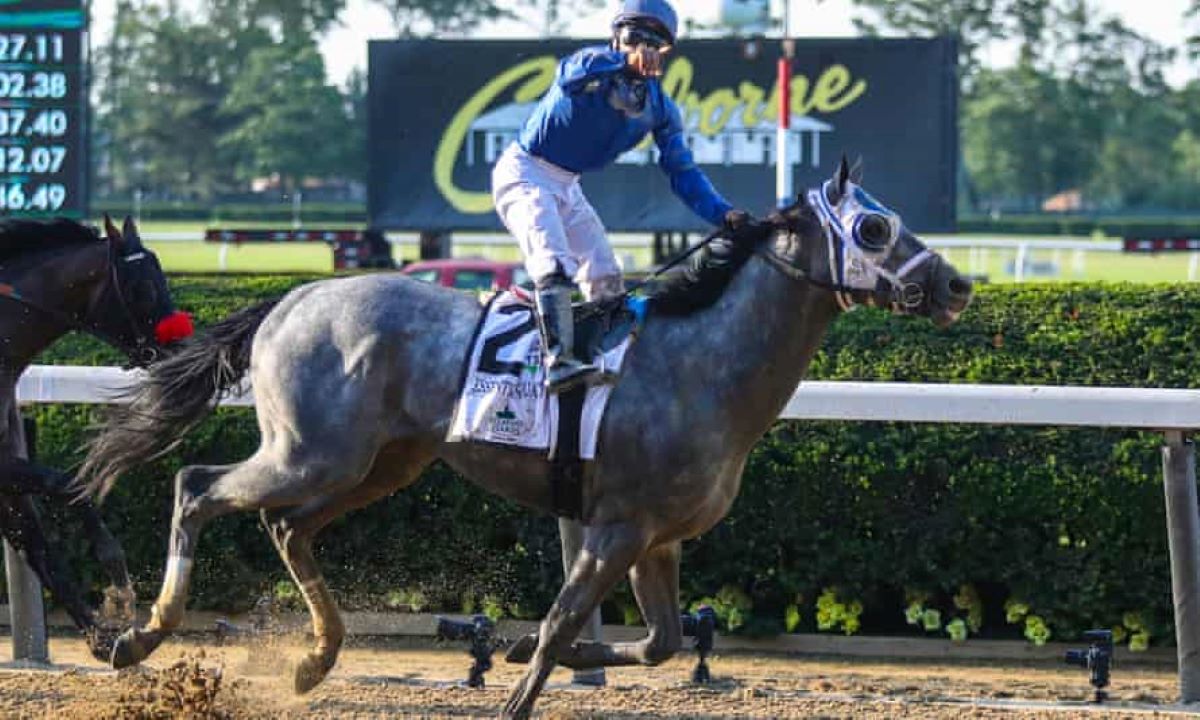 The fourth-place beaten favorite in the Kentucky Derby who bypassed the Preakness Stakes, Essential Quality ran to his 6/5 odds. He outkicked pace-setter Hot Rod Charlie in midstretch, then pulled away for a 1 ¼-length victory in Saturday's Belmont Stakes.
And bettors rejoiced. Saturday's 13-race, nine graded-stakes card produced an all-sources handle of $112,725,278. That gave the New York Racing Association a NYRA record for a non-Triple Crown year. That all-sources handle blew past the previous non-Triple Crown record of $102,163,280 set two years ago.
The all-sources handle for the Belmont Stakes came in at $60,459,330. Under New York State guidelines, capacity was limited for this year's Belmont Stakes to a paid attendance of 11,238. That crowd produced an on-track handle of $7,532,571 for the 13 races, which included eight Grade 1s.
We saw this Belmont finish before
And that crowd saw a classic, one where the 1-2 finishers from last fall's Breeders' Cup Juvenile duplicated their finish in the Belmont. That's the first time that happened in a Triple Crown race.
They saw Hot Rod Charlie seize the immediate lead, clocking blazing fractions along the way. His 22.78-second opening quarter mile was the fastest opening quarter-mile in Belmont Stakes history. That preceded a 46.49-second half mile that illustrated Flavien Prat – aboard Hot Rod Charlie – intended to wire the field.
Essential Quality, meanwhile, hung back in fifth. Through a half-mile, Rock Your World and France Go de Ina kept Hot Rod Charlie company up front. Cox, meanwhile, tried processing what he was seeing.
Cox saw what he expected from Essential Quality
"He broke well, but it took four or five strides to get position going into the first turn," Cox told the New York Racing Association. "I was a touch shocked. I thought we'd get a little closer on our own. When we saw the opening quarter, I felt good. And then, the 46 (second) he was laying mid-pack and on the outside. At that point, even going the distance, he should be closing at this pace."
Both Rock Your World (sixth) and France Go de Ina (eighth, eased up at the end) disappeared from contention. Essential Quality, meanwhile, closed in his usual manner. Jockey Luis Saez turned the colt loose coming out of the far turn. At the top of the stretch, Essential Quality and Hot Rod Charlie pulled clear of everyone.
At the 1 ¼-mile mark, Essential Quality stuck his head in front of his rival, finally reeling him in. He gradually pulled ahead for that 1 ¼-length win.
From there, it was another 11 ¼ lengths back to Rombauer in third. That separation testified to the fast early pace of the race.
"That's what I was expecting, we knew there was going to be a lot of speed, so we tried to get a clean break and be right there," Saez said. "I knew he was going to run his race at the top of the stretch. On the backside, he picked up his bridle and was moving pretty well, so I'm not going to try to take him back and go inside when he was running pretty well."
The Belmont checked a lot of Essential Quality boxes
Essential Quality stopped the clock in 2:27.11 for the 1 ½ miles, winning his sixth race in seven starts and third in four 2021 starts. The Belmont doubled as Essential Quality's third Grade 1 victory, but first as a 3-year-old.
It also gave his sire, Tapit, a share of the record for most Belmont Stakes winning progenies. Essential Quality joins Tonalist (2014), Creator (2016) and Tapwrit (2017) as Belmont-winning Tapit offspring. And it came in a race that Cox wasn't sure he wanted for his star 3-year-old.
After Essential Quality's fourth-place Derby finish, when he started poorly and was hung out wide for most of the 1 ¼-mile trip, Cox said he planned on Essential Quality running the Travers at Saratoga this summer.
"With the Tapit on top, we really thought he would get the mile and a half when given the opportunity," Cox said. "We always thought he had the ability. After the Derby, you just have to see what it takes out of them. It's a demanding race as well as the Belmont. We were watching him for a week or so. We put our heads together and felt like if we were going to keep him in training, we might as well run him. I really didn't think I could keep his feet on the ground the next couple of months without keeping him on some type of breeze schedule. He's a very smart horse. He has a lot of energy, but he lets you know when he's ready to run."
This Belmont didn't produce a windfall
Bettors got spoiled with the lofty odds of 12/1 Medina Spirit winning the Derby and 11/1 Rombauer taking the Preakness. Essential Quality brought them down to earth, paying $4.60, $3.00 and $2.60 as the 6/5 favorite. Hot Rod Charlie (9/2) paid $4.10 and $2.90. Rombauer, who left the gate at 5/1, followed his Preakness victory paying $3.50 to show.
The $2 exacta paid a very modest $15. The $1 trifecta paid $21.70.
Hot Rod Charlie, meanwhile, duplicated his sire Oxbow's performance. The 2013 Preakness champion, Oxbow finished second to Palace Malice in that year's Belmont.
"Our horse told us today that he's a gamer," trainer Doug O'Neill said. "He got pushed. He did all the dirty work. Essential Quality ran a huge race and I think Charlie showed he was trying every step of the way from gate-to-wire. He just couldn't hold off a champ."