Two writing Oscars are up for grabs with close races in Best Original Screenplay and Best Adapted Screenplay catagories. Bong Joo-Ho ("Parasite") and Taika Waititi ("Jojo Rabbit") recently secured wins at the Writers Guild (WGA) Awards and the BAFTA Awards. Joon-Ho (1/2 odds) and Waititi (2/5 odds) are now favorites to win in their respective screenplay categories at the 2020 Oscars.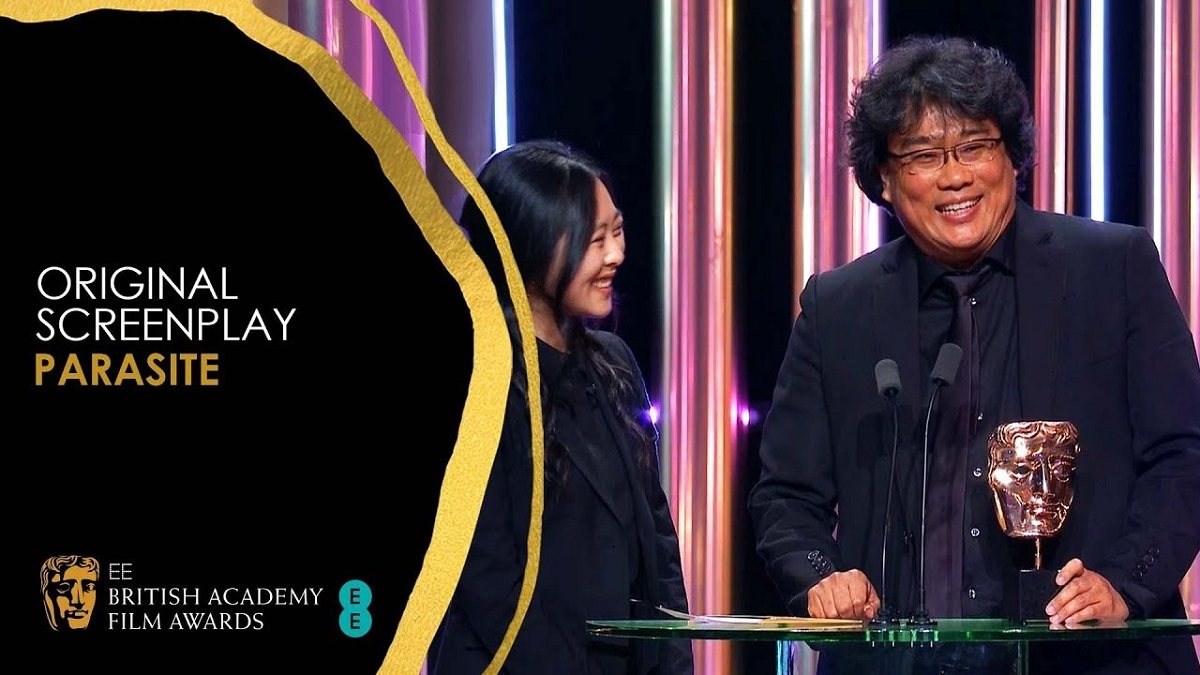 The 92nd Academy Awards are less than one week away. This past weekend, the WGA hosted their annual awards  in Beverly Hills. The BAFTA Awards, otherwise known as the British Oscars, hosted a Sunday night ceremony at the Royal Albert Theater in London.
"Parasite" by Bong Joon-Ho won at the WGA Awards by edging out "Booksmart," "Knives Out," "Marriage Story," and "1917" in the Original Screenplay category.
"Jojo Rabbit" by Taika Waititi defeated "Joker," "The Irishman," "A Beautiful Day in the Neighborhood," and "Little Women" in the WGA's Adapted Screenplay category.
Best Original Screenplay Odds
Parasite 1/2
Once Upon a Time in Hollywood 3/2
Marriage Story 11/1
1917 40/1
Knives Out 40/1

Best Adapted Screenplay Odds
Jojo Rabbit 2/5
Little Women 2/1
The Irishman 7/1
The Two Popes 66/1
Joker 66/1
The BAFTA Awards screenplay winners fell in line with the outcome of the WGA awards. Korea's Bong Joon-Ho won a BAFTA for "Parasite," while the adapted script for "Jojo Rabbit" secured a victory for New Zealand's Taika Waititi.
Joon-Ho seemed surprised that screenplay written in Korea won at the BAFTAs. He said that he initially wrote the script in cafes in Korea. At the time, he never imagined he would be accepting an award at the Royal Albert Theater.
Original Screenplay: Bad Beat Quentin
Quentin Tarantino won the Golden Globe for best original screenplay for his creation, "Once Upon a Time in Hollywood" (2019). His love story to old Hollywood was the initial favorite to win at the 2020 Oscars in his category.
Bookies in Europe and Las Vegas adjusted the line for Best Screenplay odds. Tarantino was no longer the favorite at 3/2 odds with Bong Joon-Ho and "Parasite" rocketing ahead of him at 1/2 odds to win the Oscar.
Tarantino knew his Oscars hopes were doomed when he didn't win at the BAFTA Awards. You could see the disappointment all over Tarantino's face the moment that Joon-Ho won.
Other Original Screenplay nominees included Noah Baumbach ("Marriage Story"), Rian Johnson ("Knives Out"), and Sam Mendes and Krysty Wilson-Cairns ("1917").
Adapted Screenplay: Gerwig Oscars Slight, Jojo Rising
This year's screenwriters who adapted Oscar-worthy material included Greta Gerwig ("Little Women"), Anthony McCarten ("The Two Popes"), Steve Zaillian ("The Irishman"), Taika Waititi ("JoJo Rabbit), and Todd Phillips and Scott Silver ("Joker").
Greta Gerwig's adaptation of "Little Women" also earned her a nomination. The novel by Louisa May Alcott had been made into films multiple times before, but Gerwig had a fresh take on the classic story.
Gerwig got robbed of a potential directing nomination due to the Hollywood Boys Club when they nominated Todd Phillips instead of recognizing her work. Then again, it's hard to argue against the rest of this year's crop of nominees including Martin Scorsese, Sam Mendes, and Tarantino.
The rumors in Hollywood suggested the Academy would make it back up to Gerwig with a golden statue for Best Adapted Screenplay. Oddsmakers set their lines with Gerwig and "Little Women" initially a favorite.
"Jojo Rabbit" is based on the book "Caging Skies" by Christine Leunens. Once Taika Waititi notched wins for "Jojo Rabbit" at both the WGA and BAFTA Awards, oddsmakers quickly adjusted the line and made Waititi the new favorite at 2/5 odds. Meanwhile, Gerwig's odds slipped to 2/1 to win Best Adapted Screenplay at the Oscars on Sunday.
We compiled a complete list of 2020 Oscars nominations. We also have odds updates for Best Actress, Best Actor, Best Film, Best Director, Best Supporting Actress, and Best Supporting Actor.