Brad Pitt looks like he'll finally win an acting award at the Oscars in the Best Supporting Actor category for his work in "Once Upon a Time in Hollywood." Bookmakers made Pitt the overwhelming favorite at 1/20 odds to win an Oscar at the 92nd Academy Awards.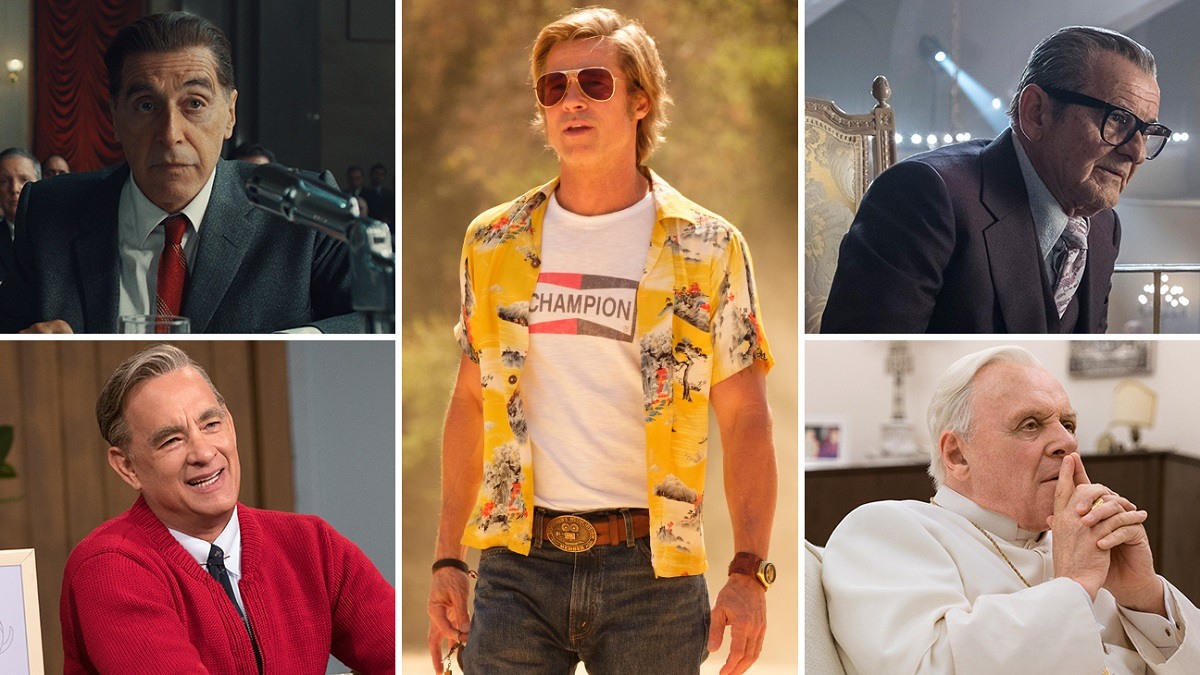 Pitt won his category at the Golden Globes and at the Screen Actors Guild (SAG) Awards. He gave funny, yet engaging acceptance speeches in both victories. Both awards are key indicators that he'll notch his first victory at the Academy Awards. Pitt opened as a favorite when the nominations were released. Once he locked up a Golden Globe and a coveted Actor trophy from the SAG Awards, oddsmakers quickly bumped their Oscars odds on Pitt.
Best Supporting Actor Odds
Brad Pitt 1/20
Joe Pesci 10/1
Tom Hanks 20/1
Al Pacino 20/1
Anthony Hopkins 33/1
It's never a good sign when two actors or actresses from the same movie are nominated in the same category. Many prognosticators think those situations harm the potential nominees because votes would be split between the two thespians.
There are 18 instances at the Oscars in which actors were nominated from the same movie for Best Supporting Actor. The actors from the same flick won only six times. That means 12 times in the past, neither actor from the same film won, and both went home empty handed.
In 2018, both Woody Harrelson and Sam Rockwell were nominated for Best Supporting Actor for their efforts in "Three Billboards Outside Ebbing, Missouri," but Rockwell won the Oscar.
History is against Al Pacino and Joe Pesci, which is more the reason to back Pitt.
Oscars Favorite: Brad Pitt (Once Upon a Time in Hollywood)
At 1/20 odds, Pitt seems like a lock to win at the Oscars. Sure, you'll have to lay $20 to win back a buck, but heavy favorites come at a cost.
There are no guarantees in the gambling world. Crazier things have happened, but this isn't one of those situations where the Americans upset the Russians at the 1980 Olympics at Lake Placid. This situation with Pitt feels more like the Dream Team taking on Angola at the 1992 Barcelona Olympics.
Pitt earned three previous acting nominations at the Oscars. He got nominated for Best Actor in "The Curious Case of Benjamin Button" (2009) and "Moneyball" (2012). He also earned a nomination for Best Supporting Actor for "12 Monkeys" (1996).
Pitt has also earned several nominations as a producer. He won a producing Oscar (aka Best Picture win) for "12 Years a Slave" in 2014.
Pitt plays worn-down stuntman, Cliff Booth, who is also the best friend and personal assistant to washed-up TV western actor, Rick Dalton (Leonard DiCaprio).
Joe Pesci (The Irishman)
Pesci made a name for himself playing over-the-top, loud and crazy characters. He provided comedy relief in the "Lethal Weapon" sequels, but nothing can top Pesci's collaborative work with Martin Scorsese. Pesci stole every scene he appeared in during both "Goodfellas" (1990) and "Casino" (1995).
Pesci had retired from acting, but Scorsese convinced his old friend to come out of retirement for one more job.
"We knew the only person who could play Bufalino would be Joe," said Scorsese.
Pesci threw everyone a curveball with his outstanding performance. He opted for the "less is more" approach. His subdued and super-relaxed mafia boss made his character even more frightening than if he played the role as the cliched mafia big wig
Pesci and Al Pacino in the same category hurts both actors' chances at winning. However, if anyone can upset Pitt, it will be Pesci. Oddsmakers listed Pesci at 10/1 odds. "The Irishman" didn't get much love this awards season, but if there's one Oscar they could boost, it's Pesci whacking Pitt.
Tom Hanks (A Beautiful Day in the Neighborhood)
Hanks might be the best actor of his generation, but never forget where he got his start. He first appeared on a television sitcom called "Bosom Buddies" in the early 1980s in which he and his best friend (Peter Scolari) had to dress up in drag in order to afford rent at a women's only building.
Hanks won two Oscars in the mid-1990s for his iconic roles in "Philadelphia" (1994) and "Forrest Gump" (1995). He also earned Best Actor nods for "Big" (1989), "Saving Private Ryan" (1999), and "Cast Away" (2001).
Hanks earned his first Best Supporting Actor nomination for losing himself in the role of children's TV host, Mr. Rogers. Hanks said playing Mr. Rogers in "A Beautiful Day in the Neighborhood" was one of the scariest roles of his life because Mr. Rogers was universally loved by children and adults.
Oddsmakers listed Hanks at 20/1 odds to win Best Supporting Actor, which seems generous, considering all of the money coming in on Pitt.
Al Pacino (The Irishman)
Pacino crushed the 1970s with his work in "The Godfather," "The Godfather II," "Serpico," and "Dog Day Afternoon." He earned seven nominations before he finally won a Best Actor Oscar for his work as a blind ex-green beret in "Scent of a Woman" (1993). That year, he also earned a Best Supporting Actor nod in "Glengarry Glen Ross," but lost out to Gene Hackman.
Pacino earned his eighth Oscars nomination with "The Irishman" as Jimmy Hoffa.
Depending on which review you read, Pacino's midwestern accent seemed forced or he unleashed another over-the-top performance, as per usual. Other reviews raved about Pacino's work in several one-on-one scenes with his fellow actors.
At face value, any time you put Joe Pesci, Pacino, and Robert DeNiro in the same film, I'm going to watch it. Bonus points if it's a Martin Scorsese flick.
Pacino and Pesci earning nominations hurt both their chances. But does it really matter this year, since Brad Pitt is running away with the Oscar?
Oddsmakers listed Pacino at 20/1 odds to win Best Supporting Actor.
Anthony Hopkins (The Two Popes)
Hopkins earned his fifth Oscar nomination for his latest role. He won Best Actor as Hannibal Lecter in "The Silence of the Lambs" (1992).
Only Hopkins can pull off playing a serial killer and the Pope. The guy who brought Hannibal Lecter to the screen also donned a white robe to play Pope Benedict.
"I tried to make it truthful, tried to make it real," said Hopkins. "You can't make it perfect. That's not the point."
Hopkins is the Oscars longshot on the board at 33/1 odds to win Best Supporting Actor.
OG compiled a complete list of 2020 Oscars nominations. We also have odds updates for Best Film, Best Director, Best Actress, Best Actor, and Best Supporting Actress.