Welcome to Kentucky Derby 148, a.k.a. The Chaos Derby.
And we're not talking about the usual infield escapades that happen as the Derby returns to it's pre-pandemic crowds north of 150,000.
Unpredictability? Depth? A Derby where surprises almost wouldn't be surprising? This edition of America's most popular race has it all. Unlike the last four Derbies, there isn't a horse you point to and say, "He's the one."
Because several could be The One this year.
'Live horses' in this Derby
"The thing about this particular Derby is it's really loaded with candidates what have the credentials to win it," Santa Anita Park morning line author and Xpressbet columnist Jon White told OG News. "It's a deep, deep Derby. You've got kind of the biggies with Zandon and Epicenter. Then once you get past those two on top, you get Messier, Mo Donegal, White Abarrio and Taiba. And the odds could be shuffling with that second bunch. There are very live horses and beyond those six I just named, there are further live horses in this race that are going to be very juicy prices."
That's the beauty of the Derby for horseplayers. The down-ticket value sits there, ripe for the picking. There are double-digit horses here who could win and not turn too many heads doing so. Likewise, there are several wild cards, any of which could spice up exotic tickets into those cartoonish eye-popping payouts the Derby is famous for fostering.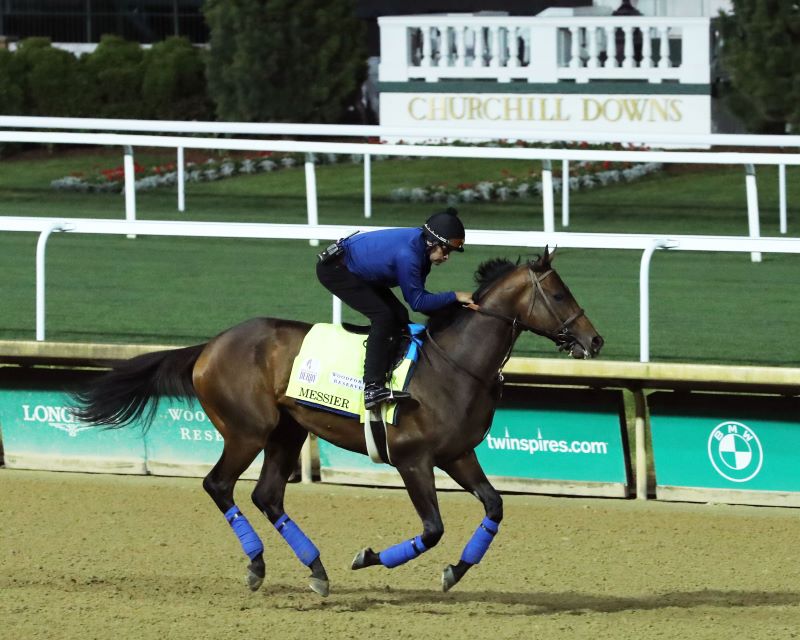 Of course, this being the Derby, certain trends do factor into play. For example, seven of the last 10 horse crossing the finish line first came from California. That bodes well for Messier, Taiba – and yes, even long shot Happy Jack.
Yes, there's a Derby stat for that
Posts 5 (10.9%), 10 (10.6%) and 15 (10%) have produced the most winners. That bodes well for Smile Happy (Post 5), Zandon (Post 10) and White Abarrio (Post 15).
While speed kills in a modern Derby, four closers since 2012 have filled the back half of the exacta. Nine horses between 26/1 and 85/1 found their ways into the superfecta.
But speed does kill here. As White points out, 53 of the last 56 Derby winners were either first or second at the eighth pole in their last Derby preps. And as Jennie Rees' Final Fractions Theory illustrates, 28 of the last 30 horses crossing the finish line first ran fractions of 13 seconds or faster (one furlong) or 38 seconds (three furlongs) in their final Derby preps. Or both.
No golden 50th for Lukas this year
The chaos got an early start on Derby Eve morning. Ethereal Road, who was set to be Hall of Famer D. Wayne Lukas' 50th Derby horse, scratched Friday morning. No reason was given. That brought Rich Strike and his 21 Derby points into the field. He'll start in Post 20.
Time to make sense of this chaos. OG News breaks down the field, worst to first. The listed odds are Churchill Downs' morning line and will obviously fluctuate between now and post time.
Why are you here?
Summer Is Tomorrow (Post 4-30/1): Winning the UAE Derby isn't exactly the fast lane to the Kentucky Derby winner's circle. So imagine your chances coming in second in what is traditionally one of the weakest Derby preps. This Middle Eastern-based colt actually led that 1 3/16-mile race in deep stretch before Crown Pride reeled him in 100 yards from the wire. This was expected, given Summer Is Tomorrow hasn't won a race longer than seven furlongs. Here's what Summer is Tomorrow will bring you Saturday. He'll vault out and contest the lead with the likes of Messier, Classic Causeway and other faster colts. He will set the early pace and dictate what transpires. But he won't be around at the end. He will hit the wall somewhere on the backstretch and look like he's going backward vis-à-vis the field. Because he is. Maybe Summer Is Tomorrow somewhere, but it isn't Saturday with this one.
Rich Strike (Post 20-99/1 current odds): We know why this late addition to the Derby party is here. He drew in Friday morning after Ethereal Road scratched. We'd like his chances more to get out of this neighborhood if he didn't earn all 21 of his Derby points on the Tapeta of Turfway Park. The Keen Ice colt finished fourth in the John Battaglia Memorial Stakes and third in the Jeff Ruby Steaks. That established him as the next one in and gave trainer Eric Reed his first Derby starter. Reed claimed Rich Strike after the colt dismantled a $30,000 maiden claimer at Churchill Downs by 17 ¼ lengths for his lone win in seven starts. After finding out he was in the Derby, Reed told BloodHorse that "they're giving me CPR right now." If this gritty, but overmatched colt, hits the board here, we'll need it ourselves.
Happy Jack (Post 2-30/1): Last year, two-time Derby-winning trainer Doug O'Neill came into the Derby with an Oxbow colt who was once dismissed as a 94/1 outsider. He comes into this one with an Oxbow colt who was dismissed as a 26/1 outsider in his last two Derby preps. And that sums up the similarities between 2021 Derby runner up Hot Rod Charlie and this colt sharing a name with a song by The Who. We last saw Happy Jack finishing third in the Santa Anita Derby – 10 lengths behind runner-up Messier and 12 ¼ behind winner Taiba. Don't confuse that with his third – by 10 ½ lengths – in that race's prep: the San Felipe. And don't confuse either with his fifth-place, dead-last finish in the Robert B. Lewis – 27 ½ lengths behind Messier. Add it up and you get three losses by 50 lengths. Hardly a poster child for "Going Mobile." Even Pete Townsend would tell you "Don't Get Fooled Again" here.
Classic Causeway (Post 17-30/1): First, he was in the Derby. Then, after a last-place outing in the Florida Derby, he was out. Then, after his octogenarian owners talked trainer Brian Lynch into running him, Classic Causeway was back in. When the dust settled on this yo-yo, few horses in the field endured the manic-depressive winter and early spring of this Giant's Causeway colt. He was manic in both Tampa Bay Downs preps: winning the Grade 3 Sam F. Davis and Grade 2 Tampa Bay Derby with uncontested trips on the lead against weak fields. There is zero chance this repeats itself against the likes of Messier, Taiba, Epicenter and other pace-pressers who are simply faster. When he tried this in the Florida Derby, Classic Causeway was depressive. He got his doors blown in by Simplification, who wound up third to White Abarrio and Charge It. As we saw with Mandaloun last year, you can overcome a horrible Derby prep to hit the board. After looking at Classic Causeway's subpar speed numbers (a 90 Beyer and 99 BRIS), we're not seeing it repeat itself. Oh, there's more bad news here. Horses starting in Post 17 are 0-for-42 and haven't hit the board since 1988.
Lovely Derby parting gifts await
Barber Road (Post 14-30/1): Here's a clear illustration why the Arkansas preps this year were probably the weakest of the major stops on the Derby trail. Barber Road finished second, second, third and second in all four of them, punching his ticket to the Derby despite Equibase Speed Figures in the low to mid 90s. His career-best 88 Beyer and 94 BRIS need an 8-10-point boost just to sniff the board. And yet, here this closer is. Purchased as a $15,000 weanling by former Walmart CEO Bill Simon and his wife, Tammy, Barber Road is another member of that genus of gritty, never-take-a-race-off horses who grind out nice careers despite B-level talent. You can be assured Barber Road won't be greeted with an in-the-money finish here.
Tawny Port (Post 18-30/1): You could look at this Brad Cox charge's victory in the Grade 3 Lexington Stakes on the Derby Trail's final stop as proving he can run on dirt. After all, Tawny Port's previous race came on the Turfway Park synthetic, where he finished a solid second to Tiz the Bomb in the Grade 3 Jeff Ruby Steaks. Or you could look at it as a nice victory against a weak field. Basically, Tawny Port beat most of the Pat Day Mile field here – the NIT-like equine destination for 3-year-olds not good enough for the Derby. His previous start on dirt was a non-threatening fifth by nearly eight lengths in the Grade 2 Risen Star. This stalker would need a pace meltdown to find the board. You're better off finding a better stalking vintage here.
Cyberknife (Post 16-20/1): You short a Cox horse at your peril, especially a Grade 1 winner who is improving, comes out of one of the hottest sires: Gun Runner, and employs a stalking style that could easily factor here. It factored rather well in his 2 ¾-length Arkansas Derby victory. And you want to root for Cyberknife, who is named after the non-invasive procedure used to treat cancerous tumors. The colt's owner, Al Gold, underwent this treatment after being diagnosed with prostate cancer on his 65th birthday in 2020. His cancer is now in remission and he's sending his first-ever horse to the Derby aptly named after that procedure. Jockey Florent Geroux illustrated last year how he can take a stalker to the board with Mandaloun. Unfortunately, we're shorting this Cox charge because Cyberknife is not Mandaloun. And unfortunately for Gold and Co., Cyberknife's speed figures (a career-best 92 Beyer and 94 BRIS) don't portend a board finish in Derby 148. We'll catch this rising Cyberknife down the road.
Pioneer of Medina (Post 11-30/1): Give this colt and trainer Pletcher points for audacity and moxie – as you shake your head remembering how this moxie didn't end well for the Pioneerof the Nile colt. He opened his account winning two of his first four races and hitting the board in the other two (2-1-1). Then, Pletcher sent him out in the Risen Star to press the pace with pace-setter Epicenter. He folded like origami in deep stretch, passed by Smile Happy early and Zandon at the wire for third. A month later in the Louisiana Derby, Pioneer of Medina shifted gears, going out fast – only to get passed by both Epicenter and Zozos in the stretch. Two different running styles. Same unfortunate result. Pioneer of Medina doesn't have the stamina to cover 10 furlongs and his pace-setting/pressing style runs into horses who do that better.
Anything's possible. Not probable, but possible
Tiz the Bomb (Post 9-30/1): Getting this talented colt at anywhere near this price could either the biggest heist since the Brink's Robbery — or a ticking bomb detonating your ticket in a dirt-filled cloud. And did we mention "dirt?" That's the reason you're getting around 30/1 and seeing a four-time stakes winner and Breeders' Cup runner-up in this neighborhood. All four of this Hit It a Bomb colt's victories came on either turf or synthetic. That included his sweeping of the synthetic Derby preps at Turfway Park. His 2 ¼-length victory over Tawny Port in the Jeff Ruby Steaks was a tasty – and impressive – score. But the last time he hit the dirt in a race, it hit back. That came in the Grade 3 Holy Bull, when he finished seventh – 20 ¼ lengths behind White Abarrio and nowhere near Simplification or Mo Donegal, who completed the trifecta. Now, Tiz the Bomb did go gate-to-wire in an Ellis Park dirt race last year against nobody of consequence, so he has that going for him. Which is nice. Not shut up-and-take-our-money nice, unless you see this hard-charging closer overcoming unfamiliar kickback in the biggest race of the year. But nice.
Crown Pride (Post 7-20/1): We're not falling for this ticket trap again. We're not buying into the UAE Derby winner's latent buzz, all those "incredible workouts" we're hearing about. Yes we heard about the bullet four-furlong drill April 27. We're not thinking this Japanese colt is going to be the Japanese invader who finally wins the Derby. We're not going to fall into the same trap we fell into four years ago with Mendelssohn, who came into the Derby after his UAE Derby score as a dark-horse sleeper. We remember how that put our ticket – and everyone else's jumping on that bandwagon — to permanent sleep with a last-place finish. Yes, we know Japanese horses are the In Crowd this year, with two Breeders' Cup wins and several sharp scores on the Saudi Cup and Dubai World Cup cards. We're not buying that Crown Pride can be the first UAE Derby winner to hit the board in 17 tries. Yes, a Japanese horse will win the Derby one day. We'll die on the hill it won't be this one.
Charge It (Post 8-20/1): Here, we come to one of numerous candidates who can finish anywhere from 3rd to 14th without raising an eyebrow. And we come to the first of the lightly raced (a 1-2-0 record in three starts) wild cards who didn't run as a 2-year-old. Like Taiba in California, Charge It earned his Derby spot courtesy of an audacious owner, Mandy Pope. She took the Tapit colt from winning a mile allowance by 8 ½ lengths at Gulfstream Park to the Grade 1 Florida Derby. How'd that work for her? Rather well, after Charge It finished a solid second behind White Abarrio. That came after he hit the gate at the start and meandered greenly down the stretch. So the talent is there. With Tapit and I'll Take Charge, the stamina pedigree is there. So, as we saw, is the immaturity. We'll let Charge It run up a bigger tab down the line, when there aren't 19 other horses to contend with and 150,000 people watching.
Stranger things have happened
Smile Happy (Post 5-20/1): Say "hello" to the Tacitus and Midnight Bourbon of 2022. By that, we mean you're greeting a horse with a stellar resume and pedigree – who will give the illusion of contention without actually winning. He may even hit the board, considering he's done that in his four races (2-2-0). Smile Happy spent the winter and early spring occupying the first page of most Derby future boards, courtesy of his win in last fall's Grade 2 Kentucky Jockey Club at Churchill Downs. Beating Classic Causeway and White Abarrio by 3 ¼ lengths at 9/2 was impressive. So was the amount of money Jim "Mattress Mack" McIngvale threw at the son of his favorite stallion, Runhappy, in various Derby future pools. What wasn't impressive was what we've seen since: runners-up to Epicenter in the Risen Star and Zandon in the Blue Grass. There's nothing wrong with losing to two of the best 3-year-olds in the field. But there's plenty wrong with Smile Happy fading in the stretch both times. This tells us we're saying "hello" to a colt with distance limitations and odds likely not befitting his chances to win.
Zozos (Post 19-20/1): And here's the second lightly raced candidate: three races (1-2-0) with none as a juvenile. On one hand, the best of Cox's trio has the upward trajectory you want to see in a Derby prospect. That includes his last-out, 2 ½-length runner-up finish to Epicenter in the Louisiana Derby, which came with a 98 Beyer, tied for fourth in this field. On the other hand, this isn't the Louisiana Derby and Zozos finds himself and his pace-pressing style far outside. That means jockey Manny Franco needs to floor it coming out of the gate – right into the teeth of Derby traffic angling for position coming into the first turn. Post 19 is 1-for-29, with I'll Have Another 10 years ago being the "1." Not ideal for a colt who is the son of standout sprinter Munnings. Even Cox's Eclipse Award-winning wizardry is going to have a hard time getting Zozos and his stamina-challenged pedigree clear – then getting him home against better finishers.
White Abarrio (Post 15-10/1): All the pieces are in place for the Florida Derby winner, starting with his stalking style, which should play very well from his outer post that should keep him out of trouble. So should his career-best 97 Beyer, above the 95 baseline usually needed for Derby contenders. White Abarrio has done little wrong, starting with his 4-for-5 record, with the only blip being that third in the Kentucky Jockey Club – where he ran well and set up a baseline for his improvement coming out. He won two of Gulfstream's four Derby preps: that Florida Derby by 1 ¼ lengths and the Holy Bull, where he put away Simplification and Mo Donegal. But in that Florida Derby, he benefited from Simplification doing the heavy work disposing of Classic Causeway and Pappacap, then gravy-trained the results. We're at the place where lines are drawn and you have to decide which horse(s) have to beat you. We'll make White Abarrio and underrated rider Tyler Gaffalione – who owns the last six Churchill Downs riding titles – beat us.
Get them on your Derby tickets
Mo Donegal (Post 1-10/1): Pletcher said of all the horses in his barn who could handle the rail in a 20-horse Derby, here's the one. Now, he gets to find out if Mo Donegal can be the first horse in 36 years – since Ferdinand in 1986 – to overcome the dreaded Derby rail. Oh, but the historic millstones this son of noted sire Uncle Mo carries don't end there. He's trying to be the first Wood Memorial alum since Fusaichi Pegasus in 2000 and the first closer since Orb in 2013 to wear roses. And there's not only that closer style, but problematic starts in four of his five starts. So to recap, you've got a slow starter with gate issues sitting on the rail in a 20-horse field. What are we thinking here? Well, we'll defer to Pletcher, ace rider Irad Ortiz Jr.'s abilities with cascading traffic and Mo Donegal's record: three wins in five starts, including stakes wins in the Wood Memorial and Remsen – where he beat fellow closer Zandon. Stranger things have happened than those two coming down the stretch Saturday afternoon.
Simplification (Post 13-20/1): Take a page from this colt's name and don't complicate matters. You want one of the most versatile — certainly one of the most underrated — horses in the field somewhere on your tickets. This son of Not This Time has the speed (a 96 best Beyer/103 best BRIS) and the decent post position to allow his adaptable style to flourish. Simplification won races from the front (Mucho Macho Man) and from behind (Fountain of Youth). He's run well as a presser and in his preferred stalking style, which you'll likely see Saturday as Jose Ortiz will survey what's in front of him and adjust accordingly. While White Abarrio beat him twice, Simplification ran arguably a better race than White Abarrio and Charge It did in the Florida Derby and hasn't run a bad race since a slow third in a November allowance at Gulfstream Park. When Ortiz asks for more, this gritty colt will respond – at a nice price. It's simple.
They will be heard
Zandon (Post 10-3/1): To understand one reason why Zandon is the morning line favorite, watch Flavien Prat's ride in the Blue Grass Stakes. It is one of the most artful riding feats seen this year, one made possible because this closer has the best finishing kick in this field. But wait. There's more. What else does he have? A great post position (9-for-85, 10.6%). Stellar speed figures (a 98 Beyer, which is tied for fourth/103 BRIS/107 Equibase, which is tied for No. 1 with Messier). Races against the best horses in this field: Mo Donegal, Epicenter and Smile Happy, among others. And unlike Smile Happy, Zandon finishes what he starts. There's also that forward progression you need to see here. Oh yes, there's also Prat – one of the best riders in the world – in the irons. Yes, there are flaws here; Zandon needs a perfect trip and pace scenario for his lethal closing kick to pay off. And trainer Chad Brown: he of the four Eclipse Awards, is also he of the 0-for-7 Derby record. Still, if we're going to see a closer prevail, you're looking at him.
Taiba (Post 12-12/1): "There is one horse here, one, who could be a superstar and he is my pick to win this race," Santa Anita morning line author and Xpressbet columnist Jon White told OG News about Taiba. Yes, Taiba has all the elements to win this going away. He's clocked two 102 Beyers in both his career races. His 111 BRIS is tied with Mo Donegal for best in the field. He went by stablemate Messier in the Santa Anita Derby stretch with ease. Speaking of which, Taiba went from winning a six-furlong maiden sprint to winning the Santa Anita Derby, being the first horse in the history of that Grade 1 race to win it in his second start. That's talent, folks. All that said, the key words in that last sentence are "second start." Because this $1.7 million Gun Runner colt comes into America's biggest race with only two career starts, he could finish 10th as easily as finish first. No horse has won the Derby in their third start since Leonatus in 1883. Because suspended trainer Bob Baffert laid down a solid foundation here, we wouldn't be surprised if Taiba is the second.
Epicenter (Post 3-7/2): If it's the first Saturday in May and Steve Asmussen has a Derby horse, it must be time to mention the Hall of Fame trainer and winningest trainer in North American history is somehow 0-for-23 in the Derby. That counterintuitive futility streak is in dire peril this year, courtesy of this versatile, talented colt who is atop everyone's list as the "safe" pick. With good reason. Epicenter has the speed (102 Beyer/101 BRIS). He's already beaten co-favorite Zandon in the Risen Star without breaking a sweat, going gate-to-wire. Then, Epicenter showed his versatility and Asmussen's training skill by staking off the pace to win the Louisiana Derby by 2 ½ lengths. He is a head away from sweeping Fair Grounds' four Derby preps and why isn't hard to see. The tactical speed and ability to stay at or near the lead – always crucial in Derbies – is alive and well. There aren't many nits to pick, save for his post position, which hasn't sent off a winner since Real Quiet in 1998. There's also the fact that as the likely favorite, McIngvale will likely dump upwards of $3 million on him, dropping his odds off a cliff. Still, Epicenter needs to be front-and-center of your tickets.
The pick
Messier (Post 6-8/1): As we're wont to do with our favorites, let's get Messier's flaws out of the way now. Yes, a Canadian-bred hasn't won the Derby since Sunny's Halo in 1983. Yes, Messier – named after the Hall of Fame NHL center — did get passed by stablemate Taiba in deep stretch of the Santa Anita Derby. Yes, he did somehow lose to Slow Down Andy in the Los Alamitos Futurity. And yes, he did drop his debut last June as the 1/2 favorite at Los Al. All this tells us that this son of Empire Maker doesn't like Los Al, which – last we checked – doesn't resemble Churchill Downs. Now, let's turn the page. Messier has finished in the exacta in all six of his races (3-3-0). His 103 Beyer leads the field, the 107 Equibase is tied for the lead with Zandon and the 108 BRIS is tied for second. Watch his 15-length destruction of his Robert B. Lewis Stakes rivals for an example of what kind of power and speed we have. And in that Santa Anita Derby, Messier engaged in a wicked speed duel with Forbidden Kingdom that opened the door for Taiba. Don't expect jockey John Velazquez – who has crossed the finish line first in the last two Derbies – to get sucked into that trap again. Thanks to Zandon, Epicenter and Mattress Mack, you get all this at a value price. Like his namesake, Messier is powerful, competitive and – being a former Baffert charge — well-coached. And like his namesake, who won six Stanley Cups, Messier will bring home hardware Saturday.