The path Taiba is attempting to follow started four years ago when a lightly raced colt with only three starts under his saddle went into the Kentucky Derby as the 5/2 favorite. He "Justified" those odds by winning the Derby en route to the Triple Crown.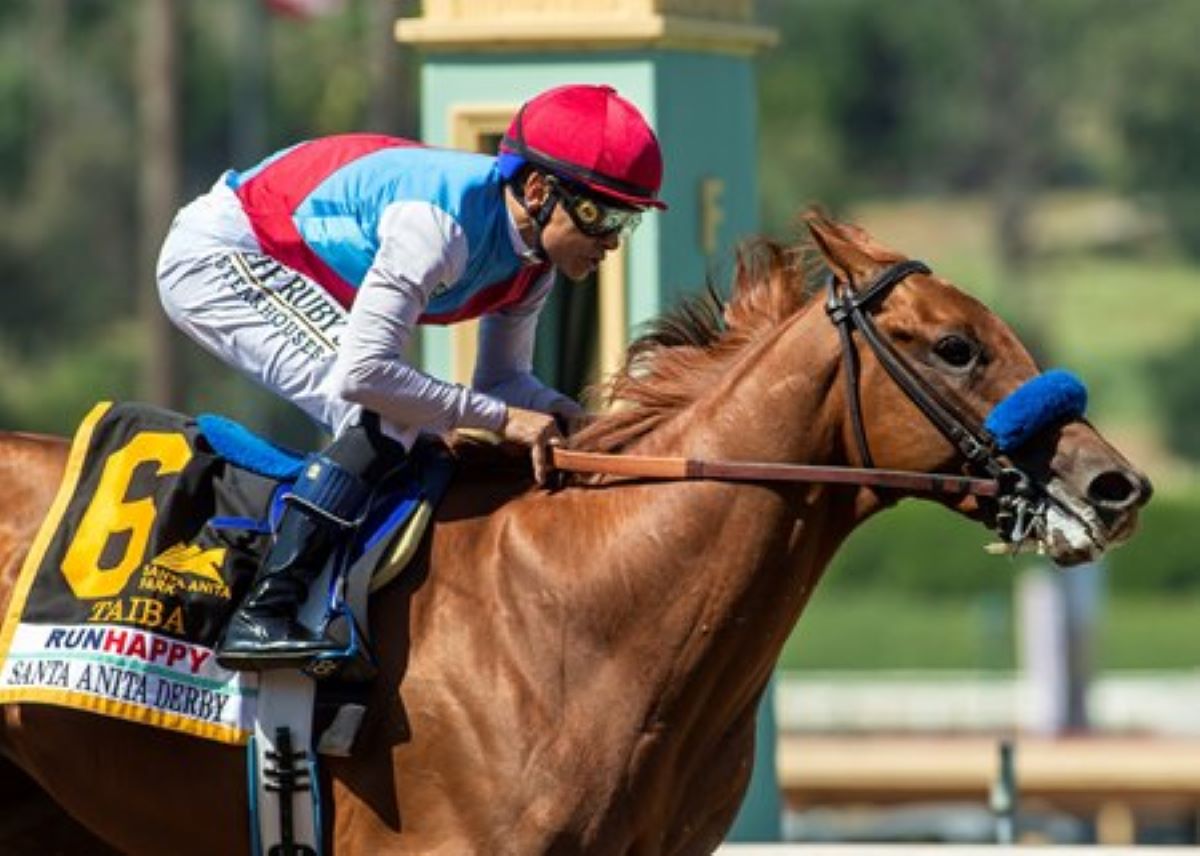 Jockey Mike Smith remembered Justify in that 2018 Derby. After all, he rode him, which puts the two-time Derby-winning rider in the perfect position aboard Taiba for Saturday's 148th Kentucky Derby at Churchill Downs.
"(Taiba) has got a brilliant mind to go along with his talent, which reminded me of Justify," Smith told the Kentucky HBPA. "They both have a real good high cruising speed, but they're really intelligent and they listen to you … Going in with Justify, I just thought he stood above them, to be honest with you. I wouldn't have wanted to say that before the race, but honestly, going in, even though he was lightly raced, he was a beast. There was a lot to him. He was a big, powerful, fast horse."
There's a lot more to the Justify-Taiba comparison, starting with that lightly raced angle. A $1.7 million purchase by Amr Zedan, who owned Medina Spirit, Taiba comes into the Derby with only two races under his hooves. He won a six-furlong maiden race on first ask. Then, the Gun Runner colt shocked a Santa Anita Park crowd by sweeping past favored stablemate and 6/5 favorite Messier to win the Grade 1 Santa Anita Derby.
Taiba's progression is remarkable
Going from winning a six-furlong maiden to taking one of the Derby trail's marquee, nine-furlong races by 2 1/4 lengths illustrates Taiba's talent. It was his first trip around two turns and the 102 Beyer Speed Figure duplicated his maiden-breaking number.
"He could be a superstar," Xpressbet columnist and Santa Anita morning-line author Jon White told Online Gambling. "He is believed to be the only horse in the history of the Santa Anita Derby to win that race with only one start under his belt. I was going to take Messier (in the Derby), then I watched Taiba.
"When you watch that stretch run, it isn't like Taiba barely got up and beat him. He motored right by him and went away from him. He gets into the stretch drive, puts his head down, and finds another gear. That's what I mean by saying he could be a superstar."
His speed numbers better than the two Derby favorites
White noted Taiba ran faster in his maiden debut than anything Derby favorite Zandon or second-favorite Epicenter have done in their careers. Epicenter's best Beyer is a 100. Zandon's a 98.
"His maturity, for a horse that had only run once, was amazing," said Smith, who piloted Taiba in that Santa Anita Derby.
That's the plus side of Taiba's ledger. Here comes the "but" — the reason a Grade 1 winner with lights-out speed is 12/1 on the Derby morning line.
Taiba is attempting to be the first horse in 139 years to win the Derby after only two previous starts. The last was Leonatus in 1883. Along with that, he's attempting to be only the second horse since Apollo in 1882 to win the Derby without running as a 2-year-old.
'Thumbing his nose at history'
You know the first: Justify, who broke "the Curse of Apollo" with his 2018 victory.
"He's trying to thumb his nose at history," White said.
As bullish as White is on Taiba, even he found cause for pause. Taiba has had only one workout since winning that Santa Anita Derby on April 3. He was scheduled for another one, but trainer Tim Yakteen postponed it. White said when he talked to Yakteen, the trainer told him he wanted him to "have a full tank going into the Derby."
This isn't common. Ed DeRosa of Horse Racing Nation tweeted that Taiba would be just the third Kentucky Derby starter since 2013 to run four weeks earlier, then work out only once before the Derby.
In the points era only 2 horses coming in off 4 weeks rest have had just 1 work between their final prep & the @kentuckyderby. @santaanitapark Derby winner Taiba would be the third. The others are Tax (15th in 2019) and Irish War Cry (10th in 2017) who both exited the Wood (1/2)

— Ed DeRosa (@EJXD2) April 25, 2022
"That concern of having a full tank is a concern to me," White said. "It tells me that Santa Anita Derby took a lot out of him. It's understandable, going from a six-furlong maiden to a nine-furlong Santa Anita Derby. That's a phenomenal accomplishment."
Taiba finally got out on Thursday
On Thursday, Yakteen put White's mind at ease. He put Taiba through a three-furlong "blow-out" drill at Churchill Downs. With Eclipse Award-winning jockey Joel Rosario aboard — a friend of Yakteen's — the colt covered that distance in 38.4 seconds.
"It was just what we wanted," Yakteen told Churchill Downs' Kevin Kerstein in Thursday's workout notes. "I'm following the same pattern we used coming up to the Santa Anita Derby. He blew out there too."
Comparisons continue
The comparisons between Justify and Taiba go on. Justify was a Bob Baffert charge. So was Taiba before the suspended Baffert moved him to his former assistant's barn to make him Derby eligible.
One more key to the Justify-Taiba comparison. In the last 10 Derbies, Justify is one of seven California-based colts to cross the finish line first.
"When push comes to shove, it's the worst idea to go with the most talented horse in the race," White said.