When it comes to Kentucky Derby prospects, Jon White makes things simpler than they really are. To the author of Santa Anita Park's morning line and a regular television presence on XBTV, breaking down Derby prospects in February begins with three elements.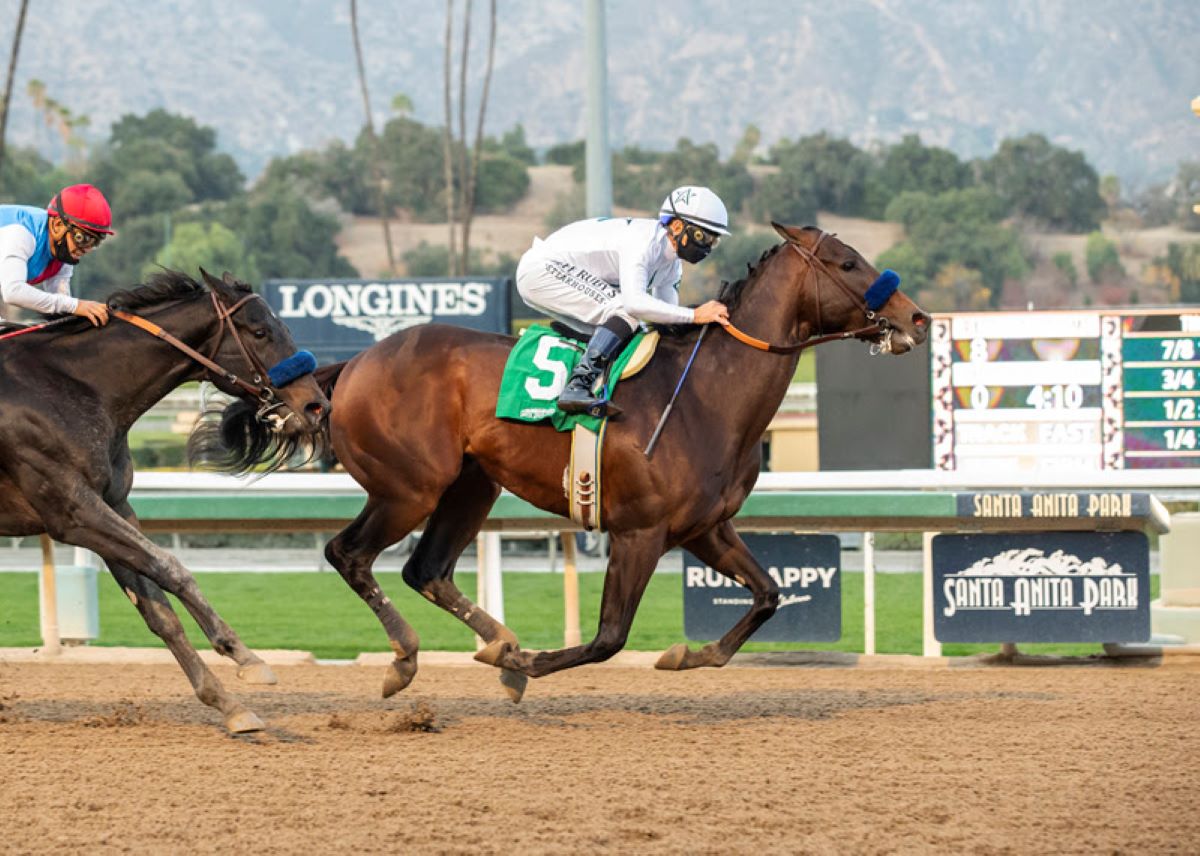 "You're looking for horses who give the indication they have the talent and they're fast enough, but that they also have the stamina to win the Kentucky Derby," White said. "In a nutshell, that's what it is."
A licensed steward, former publicity man at Lone Star Park, and former Daily Racing Form writer, White also pens a column for Xpressbet. He discussed Derby prospects with OG News on two fronts: value and expectations for bettors. On the former, he admits, the futures ship has already left the dock.
"The problem right now with trying to get value is that you're late in the game," White said. "You really need to be attacking the futures book for the Kentucky Derby prior to this point. We've reached the point where we pretty much know the major players. Unless you happen to have a really sneaky horse in the weeds – which is possible – you have a much better chance latching on to a horse at a big price in December or January than you do in February and going forward."
White does offer a 'sneaky horse in the weeds'
That said, White is offering two enticing Derby prospects; one on the value front who you could call "a really sneaky horse in the weeds." That would be Roman Centurian, who currently sits at 45/1 at Circa Sports and 30/1 at William Hill Nevada. White got him at 41/1 on the Kentucky Derby Future Wager Pool 3.
Trained by Simon Callaghan, Roman Centurian turned in a strong second – beaten by a neck — to Medina Spirit in the Robert B. Lewis Stakes on Jan. 30. That came with a career-best 91 Beyer Speed Figure illustrating the upward progression you look for in Derby prospects.
Roman Centurian clocked a pedestrian 65 in his November debut at Del Mar. He followed that with an 80 in his Jan. 3 maiden victory at Santa Anita, then clocked his 91 in the Lewis. You'll see the $550,000 son of Empire Maker next in the Grade 2 San Felipe Stakes at Santa Anita on March 6. That's the major prep for the Grade 1 Santa Anita Derby.
"I don't expect him to win the San Felipe, although he could. But he's a horse who – with his breeding and his steady improvement – could be the kind of horse who is dangerous going 1-¼ miles the first Saturday in May," White said.
Trainer Callaghan likes Roman Centurian's progress
"It's five weeks from the Lewis to the San Felipe, so we're going to see some progression in our horse," Callaghan told Santa Anita's Ed Golden. "There's lots of blue sky ahead of him."
On the expectations front, there's also a horse waiting for Roman Centurian in the San Felipe gate who beat him by 12-¼ lengths in that November maiden at Del Mar. This horse doesn't offer anything resembling value. Not at February odds of 7/1 at both Circa and William Hill.
But current futures favorite Life Is Good does offer one key element: Bob Baffert. It never hurts to have a six-time Derby-winning trainer pulling the strings. But go beyond the Baffert factor and Life Is Good offers several elements enticing to futures bettors, even at 7/1.
Life Is Good is a better derby prospect than Authentic
We'll get the first one out of the gate. Life Is Good is often compared to reigning Derby and Breeders' Cup Classic champion Authentic for their talent and for the way that Baffert brought both horses along. Authentic won last year's Sham Stakes, going a mile in 1:37.4. Life Is Good won this year's Sham in 1:36.6. That's a difference of four-fifths of a second. With each fifth of a second equating to a length, Life Is Good would beat Authentic by four lengths.
Second, Life Is Good enjoys the best Beyer Speed Figure of any 3-year-old, courtesy of his 101 from the Sham. Jackie's Warrior is the only other 3-year-old carrying a triple-digit Beyer (100), and his came during his 2-year-old season.
By comparison, Champion 2-Year-Old Essential Quality — who takes on Jackie's Warrior in Saturday's Southwest Stakes at Oaklawn Park – clocked a 95 in his Breeders' Cup Juvenile victory. Mandaloun recorded a 98 for his Risen Star victory. Baffert's Medina Spirit earned a 99 for his Sham loss to Life Is Good and a 91 for his Lewis win. His stablemate, Concert Tour, clocked a 94 for his San Vicente victory.
Smarty Jones winner Caddo River? His 10-¼-length win produced a 92 Beyer. Holy Bull winner Greatest Honour? He got an 89 for that win.
Beyond Beyers: Derby prospects push the workout tab
Beyers aside, look at Life Is Good's workouts. His last six workouts were designated as breezing by Santa Anita's clockers. The rarest description in Southern California workouts, a breezing designation indicates the horse needed zero urging from his rider. No crop, no hand ride. Nothing. In other words, the horse did all the work and the rider simply came along for the ride.
White pointed out that Life Is Good recorded 18 Southern California workouts. Of those, six earned breezing designations. And of those six, two were bullets, meaning they were the fastest recorded workout that day of all the horses running that distance. A third was the second-fastest that day.
By comparison, 2018 Triple Crown winner Justify recorded zero breezings in 17 workouts. American Pharoah, who won the 2015 Triple Crown and is regarded as one of the best horses this century, had 42 workouts with two breezes.
The aforementioned Authentic, who was the Champion 3-Year-Old and Horse of the Year; he had 59 Southern California workouts in his career. One brought a breezing designation. How about Champion Female Sprinter Gamine, one of the fastest horses of either gender? She's had 47 Southern California workouts with two breezes.
White's encyclopedic mind can't recall this
"I've covered racing in Southern California since 1981 and I don't remember any horse in all those years to receive six consecutive breezings for all their workouts," White said. "When you put that in context with Baffert's other stars, it's really remarkable … This is like freaky. I have to emphasize two of the six were bullets. If you're not being pushed, you're not going to get a bullet. That's like rarer than an eclipse."
"Freaky" is an apt term for it, even if it's not White's. After he watched Life Is Good's Feb. 15 workout, White texted Baffert that it appeared Life Is Good was "just floating over the ground." Baffert's one-word reply: "freaky."
"You see something that smacks you as unusual and that is these breezings," White said. "They are so rarely given out. It wasn't that big of a deal when Life Is Good got a breezing, and maybe when he got another. But now that he has six in a row, you compare that to Justify, who never had any. All he did was win the Triple Crown and retire undefeated. American Pharoah had no breezes before the Kentucky Derby. His two came after the Derby."
With Derby prospects, focus on the February factor
Again, it's value vs. expectations. A lot can happen between now and May 1, which White took pains to point out. Getting your Derby prospect to the gate is more than half the battle. From there, anything's possible.
White used Secretariat as a great example. The consensus greatest Thoroughbred who ever lived lost five races in his career.
Baffert's Point Given, the first horse to win four $1 million races in a year, finished fifth in the 2001 Derby to Monarchos. It was his only finish worse than second in 13 races, and White said if Point Given and Monarchos raced 100 times, Point Given would win 99.
"If you were going to stick a gun to my head to pick a horse to win the Kentucky Derby, where that horse wins or I die, I'd pick Life Is Good," White said.