Now that the Breeders' Cup Classic performed its designated coronation, you can start engraving Knicks Go's name on the Horse of the Year trophy now.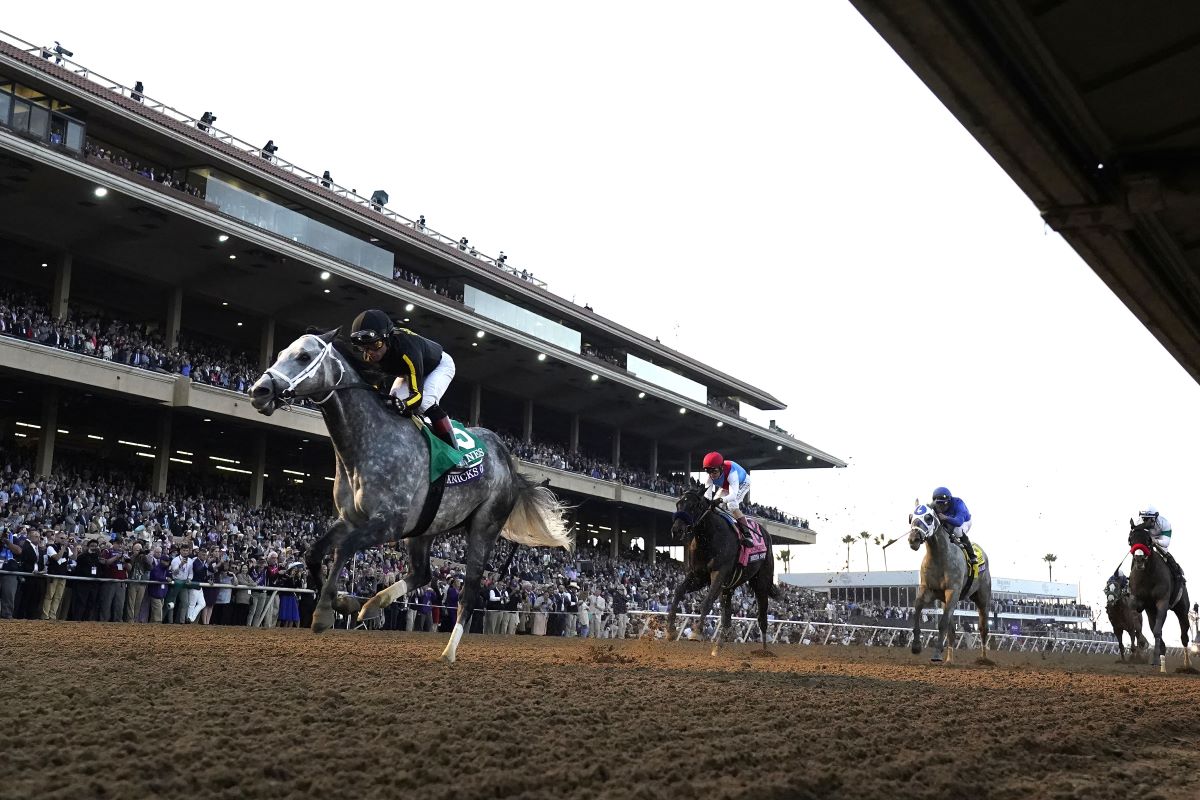 Avoid the rush, which Knicks Go splendidly did at Del Mar Saturday evening. He broke out to his patented early lead and turned aside all challenges, rolling home to a 2 ½-length victory in the flagship event of the 14-race Breeders' Cup weekend at Del Mar.
That capped a record handle weekend for the Breeders' Cup. It generated $182,908,409 in all-sources, common-pool handle. That bested the previous record of $174,628,986 horseplayers put down two years ago, when the annual fall festival was at Santa Anita. Both Saturday's common-pool handle of $121,562,392 and Friday's $61,346,017 set records for their respective days.
This came with Del Mar reporting a two-day attendance of 47,089. The track and Breeders' Cup limited attendance due to COVID precautions.
Only three favorites out of nine prevailed
And Saturday's crowd watched a racing day featuring another healthy helping of upsets. Amazingly enough, 5/2 morning-line favorite Knicks Go technically qualified. He didn't go as the post-time favorite. That went to Essential Quality, who left the post as the 9/5 favorite as money chased the Belmont and Travers champion.
Essential Quality, along with fellow 3-year-olds Medina Spirit and Hot Rod Charlie, chased Knicks Go around the Del Mar track. So did Art Collector.
"Yeah, he was very comfortable," jockey Joel Rosario said. "He looked like he was really enjoying what he was doing up there. I can see the gleam in his eye. He was just so relaxed, so calm."
Why shouldn't he be calm? With the exception of Hot Rod Charlie, none of them took their shot at catching Knicks Go. As usual, he led at every call, taking the pack out in reasonable, unpressured fractions of 23.16 (quarter-mile), 45.77 (half) and 1:10.04 (three-quarters). He hardly knew Art Collector tracked him down the backstretch before surrendering going into the turn. He wound up sixth.
That left matters to the sophomores. Hot Rod Charlie took the best shot, firing out of the far turn and unleashing a fast turn of foot that brought Hot Rod Charlie within a length-and-change of his quarry. But Knicks Go shrugged it off, pulling away in early stretch.
Hot Rod Charlie was the Classic sacrificial lamb
The game move cost Hot Rod Charlie a spot on the board. He wound up fourth. Meanwhile, as Knicks Go pulled away, Medina Spirit and Essential Quality picked up the baton from their fellow 3-year-old. They didn't come close, finishing second and third, respectively.
"He doesn't quit does he?!"- @bradcoxracing
"He just keeps moving forward!"- @JRosarioJockey

Congrats to all connections of our @Longines Classic champion Knicks Go! pic.twitter.com/7KrtCmN3nz

— Breeders' Cup (@BreedersCup) November 7, 2021
"I kind of felt like if they did try to go with him they may jeopardize their own opportunity to win the race and they just hoped to run with him at a mile and a quarter," trainer Brad Cox said. "But it showed — speed's very dangerous and he was obviously fit, ready to run, happy, doing well."
Knicks Go finished his 10-furlong tour in 1:59.57, paying $8.40, $6.20 and $4 as the 3/1 second-favorite. He became the sixth horse to win two different Breeders' Cup races, adding the Classic to his Dirt Mile title from last year. The fifth to turn that rare trick came earlier Saturday, when Golden Pal won the Turf Sprint. He took the Juvenile Turf Sprint last year.
Golden Pal, Life Is Good, Space Blues your favorite winners
Golden Pal was one of only three favorites migrating to the winner's circle Saturday. The 5/2 top choice paid $7 for his 1 ¼-length, gate-to-wire victory that wasn't that close. Life Is Good ran to his 3/5 odds with a 5 ¼-length wipeout in the Dirt Mile. And European invader Space Blues ($6.20) ran to his 3/1 odds, winning the Mile by a half-length.
Every Breeders' Cup has one toteboard-destroying bomb and this was no exception, courtesy of Marche Lorraine, who captured the Distaff at 49/1. This, courtesy of blistering fractions from front-runners Private Mission and 8/5 favorite Letruska, who was seeking her seventh 2021 victory in eight starts. Instead, she got entangled in a speed duel that produced a 21.84-second opening quarter-mile and a 44.97 opening half.
"They went too fast. They didn't want her to be on the lead," said jockey Irad Ortiz Jr., who won the Bill Shoemaker Award as the Breeders' Cup's top rider. "They went after her. She wants to run and I tried to slow her down as much as possible, but it didn't work out."
Del Mar was the land of the Rising Sun
Instead, it worked out for Japanese invader Marche Lorraine, who came out of the clouds from the middle of the track. She fended off late charges from Royal Flag and Clairiere to her outside and Dunbar Road and Malathaat to her inside. Her photo finish victory over Dunbar Road paid $101.80, $41 and $18.80 and combined with 12.30/1 Dunbar Road, provided a $1,026.60 payday on the $2 exacta.
REPLAY: MARCHE LORRAINE (JPN) wins the $2 Million @LonginesEq #BreedersCup Distaff! Congrats to her connections! #BC21

J: Oisin Murphy
T: Yoshito Yahagi
O: U. Carrot Farm
B: Northern Farm pic.twitter.com/10PQZ3Lk0x

— Breeders' Cup (@BreedersCup) November 6, 2021
Entering this year's Breeders' Cup, no Japanese horse ever found the winner's circle. Marche Lorraine was the second in two hours. Earlier, Loves Only You – who bettors knocked down to 4/1 – upset 2/1 favorite War Like Goddess (third) to win the Filly & Mare Turf.
Love is all you need! ❤️

Loves Only You (JPN) puts her nose down at the right time to win the @MakersMark #BreedersCup Filly & Mare Turf! pic.twitter.com/oiAKjDNrl1

— Breeders' Cup (@BreedersCup) November 6, 2021
This is for Japan! 🇯🇵🇯🇵🇯🇵

Just look at what that LOVES ONLY YOU #ラヴズオンリーユー victory meant to connections! 🥺#競馬 #BreedersCup @BreedersCup pic.twitter.com/Y73KuWjs6t

— World Horse Racing (@WHR) November 6, 2021
Letruska and War Like Goddess had plenty of company on the upset front. There was 6/1 Ce Ce, defeating 2/5 defending champion Gamine in the Breeders' Cup's opening race, the Filly and Mare Sprint. That came after Bella Sofia and Edgeway pressured Gamine all the way through the backstretch and turn. Edgeway finished second, leaving third for Gamine.
Aloha West bid 'Aloha' to Jackie's Warrior
There was 11/1 Aloha West capturing the Sprint in a photo finish over Dr. Schivel. This, after Aloha West entered the stretch in sixth. As Dr. Schivel passed 1/2 favorite Jackie's Warrior and Special Reserve in the stretch, Aloha West bided his time, then surged down the center of the track. He nipped an unsuspecting Dr. Schivel literally at the wire, paying $24.60. Following Sea was third. Jackie's Warrior finished a non-threatening sixth, 4 ½ lengths back.
Europeans dominate the $4 million Turf, winning 22 of the previous 37 editions and five of the last six. Even so, Great Britain-bred Yibir's victory at 8/1 counts as a mild upset. Coming along for the ride was a $19 payday, a course record of 2:25.90 for the 1 ½ miles and the third victory of the weekend for trainer Charlie Appleby and jockey William Buick. They earlier combined to win the Mile with Space Blues and Friday's Juvenile Turf with the now-notorious Modern Games.
Defending champion and 2/1 favorite Tarnawa finished 11th.