The first thing worth understanding about the Breeders' Cup Classic is that it's not kind to favorites. Unless you qualify for legend status, like Ferdinand, Alysheba, A.P. Indy, Cigar, Skip Away, Ghostzapper, Zenyatta and American Pharoah do.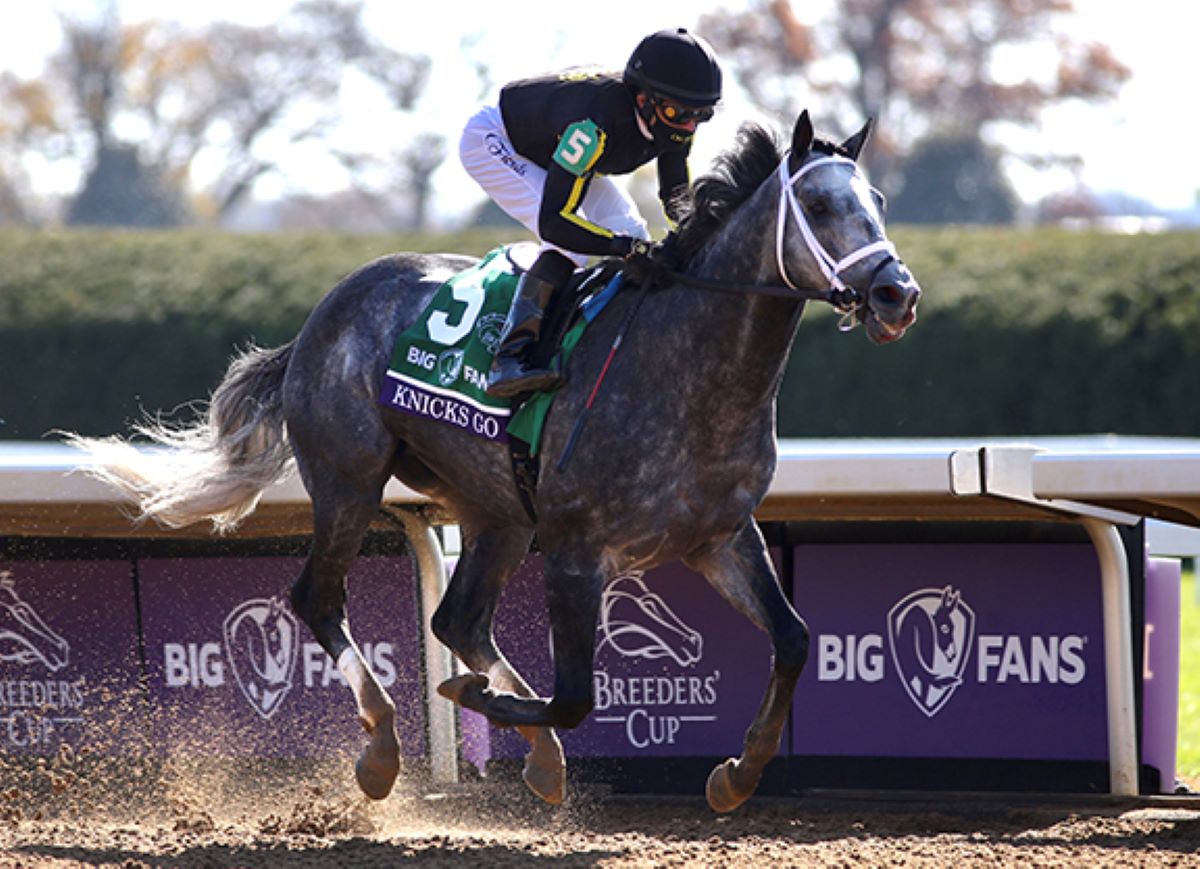 Last year's winner, Authentic, was 5/1. Your favorite, meanwhile, was 3.20/1 Tiz the Law. He finished sixth. The year before? McKinzie was the 2.90/1 top choice. He finished second on his home Santa Anita track to 4.60/1 Eastern shipper Vino Rosso. Go back to 2018 and you find Accelerate as the last favorite to win, at 2.90/1.
Favorites have won twice in the last 10 years: Accelerate and American Pharoah. This is not a race for chalk-eaters.
It is, however, the Classic, one of the best Thoroughbred races of the year on any continent, which merits a primer on the flagship race of a $31 million flagship weekend for horse racing.
Breeders' Cup Classic a career-defining race
Win any Breeders' Cup race and you immediately become part of the discussion for post-season honors. Win the Classic and you become part of the Horse of the Year discussion, although it isn't a slam-dunk. Fourteen Classic winners trotted off with Horse of the Year honors, Authentic and Gun Runner – who won the 2017 Classic the last time it ran at Del Mar – being the last two. Regardless, you become part of racing history. And you become – if you're a stallion prospect – a better stallion prospect.
If it helps, think of the 1 ¼-mile race is an All-Star race. It pits the top older horses in North America against the top 3-year-olds, who usually come out of that spring's Triple Crown campaign. A Kentucky Derby winner isn't uncommon; yes, we're talking about you, Authentic. And you, American Pharoah. And yes, you, California Chrome. Even if you did finish third in the 2014 Classic.
This year, yes, we're talking about you, Medina Spirit (4/1). And not to be ignored, we're talking about Belmont Stakes champion Essential Quality (3/1). And the horse who finished third in the Derby and second in that Belmont: Hot Rod Charlie (4/1).
It can pay to be young — and a Baffert trainee
Sophomores won four Classics in the last seven years. And Bob Baffert trained every one: Authentic, Bayern (2014), American Pharoah (2015) and Arrogate (2016). He has 4/1 Kentucky Derby champion Medina Spirit in this field. Youth can – and has – been served here.
Except when it isn't. That's where your older horses come in, the ones usually coming in off victories in some of the top older horse routes of the year. Horses like Whitney winner Knicks Go (your 5/2 favorite), Pacific Classic winner Tripoli (15/1), Woodward winner Art Collector (8/1) and Jockey Club Gold Cup winner Max Player (8/1).
Did we say this was an All-Star race? And did we say that favorites aren't favored?
Which brings us back to Knicks Go. That the 5-year-old Paynter horse is Jon White's morning-line favorite is hardly surprising. All he's done in two-turn races is lay speedy waste to the fields running against him. Knicks Go won his last three races: the Cornhusker Handicap, Whitney and Lukas Stakes by a combined 19 ¾ lengths.
Knicks Go gives rivals a Classic dilemma
The M.O. for this is as familiar as it is demoralizing to his opponents, because they literally face a Hobson's Choice. Either go out with him and likely sacrifice your chances to win, or let Knicks Go run unfettered, whereupon he is uncatchable and you're running for second by the backstretch.
But it's that Roadrunner-cartoon like speed that could be Knicks Go's undoing this time out. First, he hasn't run 1 ¼ miles in his lengthy career. Second, this edition of the Classic features what could be Knicks Go's second Achilles heel outside of one-turn races (where he has a pair of fourths this year).
Grade 1 Breeders' Cup Classic/Del Mar
Morning Line (Jockey/Trainer)
Tripoli, 15/1 (Irad Ortiz Jr./John Sadler)
Express Train, 20/1 (Victor Espinoza/John Shirreffs)
Hot Rod Charlie, 4/1 (Flavien Prat/Doug O'Neill)
Essential Quality, 3/1 (Luis Saez/Brad Cox)
Knicks Go, 5/2 (Joel Rosario/Brad Cox)
Art Collector, 8/1 (Mike Smith/Bill Mott)
Stilleto Boy, 30/1 (Kent Desormeaux/Ed Moger Jr.)
Medina Spirit, 4/1 (John Velazquez/Bob Baffert)
Max Player, 8/1 (Ricardo Santana Jr./Steve Asmussen)
And that's rabbits willing to run with him. In Medina Spirit, Art Collector, Express Train (20/1) and maybe Hot Rod Charlie in Belmont mode, Knicks Go likely will have company out of the gate. Right behind that pack will be Essential Quality and Tripoli – along with Hot Rod Charlie if Flavien Prat – one of the best riders in the world and a multiple Del Mar riding champ – doesn't send him out. And don't forget about Max Player.
Here's how Knicks Go joins that Classic graveyard of favorites. That feral pace, combined with his lack of 10-furlong experience finally sinks the Brad Cox charge.
Knicks Go remains formidable
It could happen. If it doesn't, just fit Knicks Go for his purple and gold flower blanket now and start engraving his name on the Horse of the Year trophy. And if it does, who drives the gravy train home? Here's a few scenarios involving the leading contenders – why they can and why they won't.
Medina Spirit: He's never finished worse than third and – like Knicks Go – once he gets the lead is virtually uncatchable. He's taken down older horses; see his September Awesome Again win at Santa Anita. But he runs much better on the lead than off it and he doesn't have the raw speed Knicks Go has. When he stalked in the Preakness, he managed no better than third. When he stalked in the Santa Anita Derby, he managed no better than second. Plus, he simply isn't fast enough in this field.
Essential Quality: He's 8-for-9 with a running style that is undefinable because, well, he's that versatile. He doesn't need the lead, just an alley to slingshot out of coming around the far turn. From there, the son of Tapit grinds his way to the lead and grinds his opponents down in deep stretch. He has the 10-furlong experience and then some. But the problem with Essential Quality is, while this pace sets up for his stalking style, he hasn't progressed speed-wise through his 3-year-old season. His remarkably consistent Equibases this year fluctuated between 105 and 109, a mark he's clocked four times in six races. It will take at least a seven-to-nine point jump to win this race.
How did Max Player become a Classic player?
Max Player: You never thought you'd see his name in this company after a mediocre 3-year-old campaign followed by a 11th in the Saudi Cup and a sixth in a Pimlico Grade 3. Then, he won the Grade 2 Suburban and the Grade 1 Jockey Club Gold Cup with 113 Equibases. This was a byproduct of trainer Steve Asmussen turning this one-time closer into a presser/stalker with speed he likely didn't possess as a sophomore. That wonderful story has a ceiling and this is it. Barring a total pace meltdown, Max Player doesn't have the speed or ability needed to top your tickets.
Art Collector: If you think Asmussen is the only trainer turnaround artist in this field, we present you Bill Mott. Since owner Bruce Lunsford moved this 4-year-old Bernardino colt to the Hall of Famer's barn in the summer, Art Collector won the ungraded Alydar Stakes, the Grade 2 Charles Town Classic and the Grade 1 Woodward. He has the speed to run with Knicks Go; his 120 career-best Equibase is tied for the top mark in the field with Hot Rod Charlie. He set the pace in the Alydar and Woodward, then stalked Sleepy Eyes Todd in the Charles Town Classic. But can this 1 ¼-mile first-timer sustain his speed for 10 furlongs? And can that speed translate to the best field he's ever faced?
So that realistically leaves?
Hot Rod Charlie: He too, has the speed; his 111 Beyer from his Pennsylvania Derby win is the fastest by any 3-year-old and the fastest by any horse not named Knicks Go in this field. His 120 Equibase from that race shares the top spot. His ability to set and sustain blinding fractions over distances (see the Belmont and the Penn Derby) play well here. He's run 12 furlongs without blinking, but with blinkers. Which brings us to Hot Rod Charlie's issue. Trainer Doug O'Neill is putting them back on after watching Hot Rod Charlie veer into Midnight Bourbon in the Haskell, then veer out against him in the Penn Derby. Can he run with them and hold a lead like he did in the Haskell (pre-DQ) and Penn Derby? Still, if you're looking for that upset candidate with value and speed, here's your likely candidate.