Courtesy of a $10,000 bet by Houston area furniture store owner Jim "Mattress Mack McIngvale, Smile Happy closed as the individual 8/1 favorite in the Kentucky Derby Future Wager Pool 1.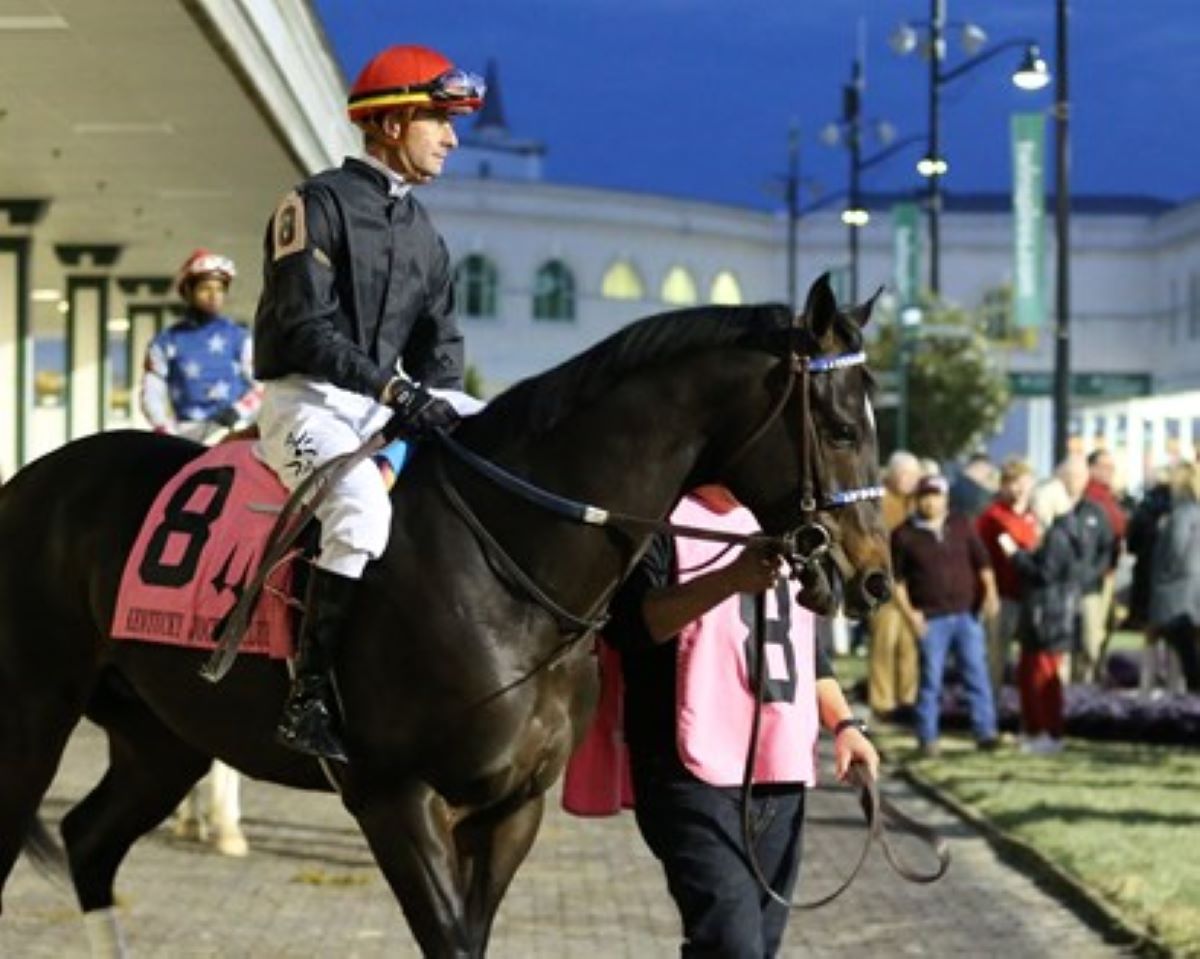 McIngvale dropped the bet down around 5 p.m. ET, knocking Smile Happy's odds from 15/1 to 9/1. Even with Smile Happy coming off Saturday's 3 ¼-length victory in the Grade 2 Kentucky Jockey Club, this was more than recency bias. McIngvale owns Runhappy, Smile Happy's sire.
Recency bias may have something to do with the extra money that came in over the final hour. That closed Smile Happy's odds at 8/1.
The favorite, however, was "All Other 3-Year-Old Colts and Geldings," which closed at 3/5. The low odds are a reflection of that bet covering suspended trainer Bob Baffert's current crop of 2-year-olds. That crop includes Breeders' Cup Juvenile winner Corniche, Del Mar Futurity winner Pinehurst, and Bob Hope Stakes winner Messier, among others. That trio was not represented on the KDFW.
Smile Happy in a KDFW neighborhood by himself
Smile Happy closed as the only individual entry with single-digit odds. Jack Christopher, who won the Grade 1 Champagne Stakes, closed at 10/1. He is on the shelf until early 2022 after undergoing surgery for a left shin stress fracture.
From there, the KDFW odds steepened. Rattle N Roll came next at 21/1, followed by Pappacap (23/1), Tiz the Bomb (24/1), and Gunite (25/1). Trainer Kenny McPeek, who conditions Smile Happy, also trains Breeders' Cup Juvenile runner-up Tiz the Bomb and Rattle N Roll. He scratched Tiz the Bomb – the 3/1 morning-line favorite for the Kentucky Jockey Club – after discovering an infection on Saturday morning.
Three other runners in that race — Howling Time (43/1), Classic Causeway (44/1), and Ben Diesel (66/1) — saw their odds increase from their opening numbers. Classic Causeway finished second, Ben Diesel fourth, and Howling Time fifth. All three closed at higher odds than "All Fillies from the 2019 Foal Crop." That prop of sorts closed at 41/1. It largely applies to standout filly Echo Zulu, who ran a faster time winning the Breeders' Cup Juvenile Fillies than Corniche did winning the Juvenile.
'Mattress Mack' bet on son — and father
The KDFW odds drifted up to the longest shot on the Pool 1 board, Osbourne, who closed at 155/1.
McIngvale wasn't done with his odds plunger. He put down $3,000 on Runhappy in the Kentucky Derby Sire Future Wager pool, which also closed on Sunday. That pool allowed bettors to wager on who would father next year's Derby winner. McIngvale's wager knocked Runhappy's odds down from 17/1 to 7/1. He closed as the lowest-priced individual sire, slightly ahead of Gun Runner (9/1).
The favorite was "All Other Sires," which closed at 7/2. Others attracting attention were Quality Road (10/1), Into Mischief (14/1), Empire Maker (16/1), Curlin (17/1), Tapit and Munnings (both 18/1), and American Pharoah (20/1).
The total KDFW pool handle came in at $326,448. That represented a 30.9% jump from last year's handle. Bettors shoveled a record $50,205 at the Kentucky Derby Sire Future Wager pool. That jumped 5.5% from last year. The combined $376,653 wagered in both pools surpassed last year's handle by nearly 27%.
The next KDFW is Jan. 21-23. Other pools are set for Feb. 11-13 (Pool 3), March 11-13 (Pool 4), and March 31-April 2 (Pool 5). The lone Kentucky Oaks Future Wager runs concurrently with Pool 4.