Lost in Friday's Kentucky Derby news of the final California works from the former Bob Baffert/now Tim Yakteen duo of Taiba and Messier, and Zandon's latest impressive work at Churchill Downs (1:00.40 for five furlongs) was the happenings out of Gulfstream Park, where Simplification quietly turned in a bullet five-furlong 1:00.44 on a muddy track.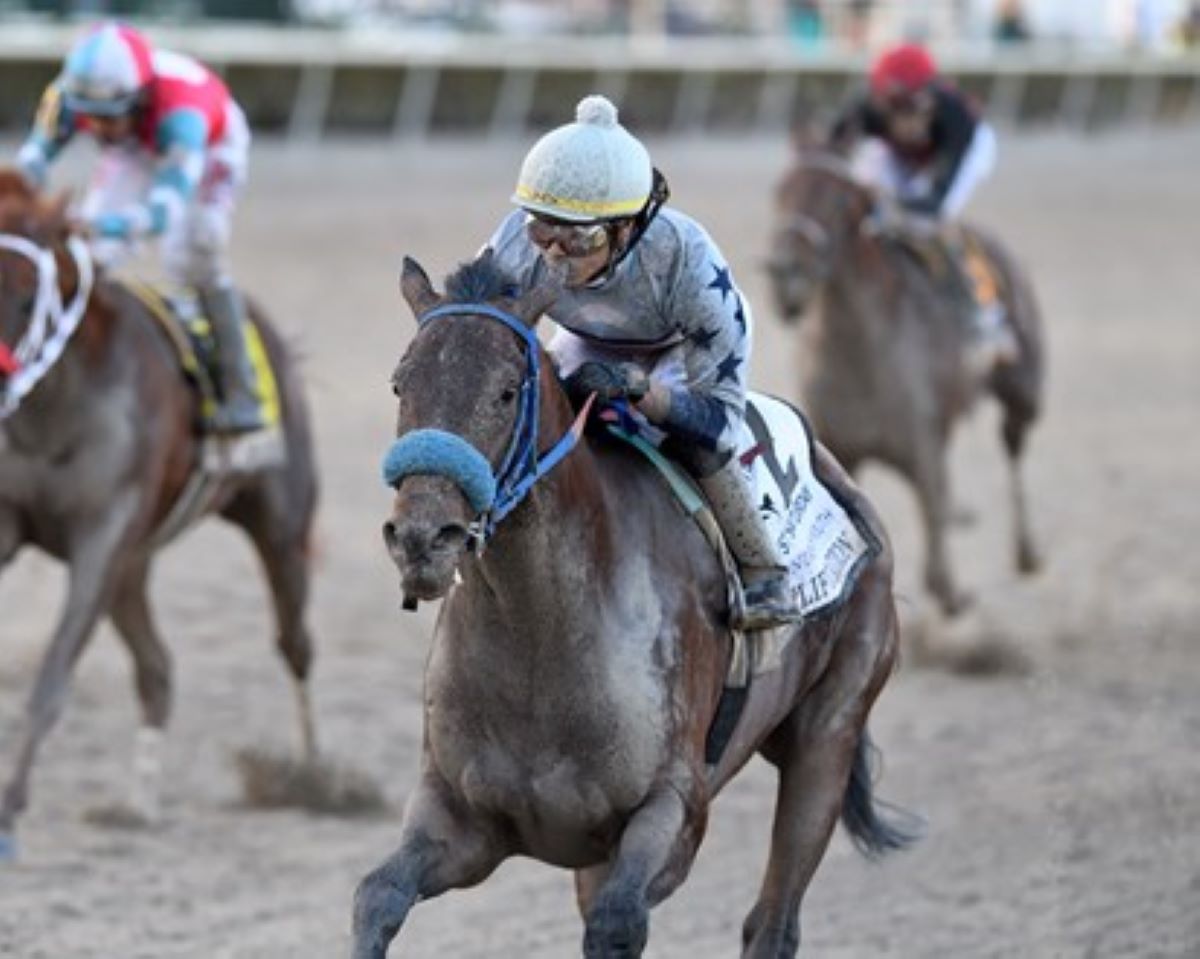 "He went very easy and handled everything," trainer Antonio Sano told Gulfstream Park, also mindful of the 1:38.60 mile gallop-out that followed. "The jockey (Junior Alvarado) said he was better than last week. It was a really, really good work for the horse."
Those horseplayers looking for a Kentucky Derby down-ticket candidate could do worse than one of the colts working under everyone's radar. Simplification is not getting the buzz of likely favorites Epicenter, Zandon and the aforementioned Taiba and Messier.
He's not getting even the buzz of Mo Donegal, Smile Happy or even Japanese invader Crown Pride, who is benefiting from the recent rising sun carrying Japanese horses into public trendiness.
Simplification should be a nice value pick
But Simplification is a legitimate down-ticket candidate. The odds and post positions won't come out until Monday for Derby 148. But expect Simplification to open in the 15/1 to 20/1 neighborhood.
Which is a steal for a colt who checks plenty of boxes for a down-ticket Derby contender. There's his five Beyer Speed Figures north of 90 in seven races. There are those seven races themselves, which illustrate a strong foundation in a Derby contender. You want to see at least five races, unless you're talking about a super horse.
Simplification has never failed to answer the bell at a mile or longer. Yes, that includes his third-place finish to White Abarrio and Charge It in the Grade 1 Florida Derby. Don't turn the page because of that. First, when you watch that race, you see a horse who engaged in early speed battles to keep pacesetters like Classic Causeway and Pappacap honest.
Won the Florida Derby battle, impressively lost the war
In so doing, Simplification won those battles; Classic Causeway finished last and Pappacap fourth. But as a result, he lost the war. He was never worse than second at any call but the final one, when White Abarrio and Charge It both took advantage of Simplification's grinding earlier handiwork to pass him in mid stretch.
Still, Simplification lost by only 2 1/4 lengths. It was another 3 1/2 back to Pappacap in fourth.
Compare that riding style to the one jockey Jose Ortiz employed in the Grade 2 Fountain of Youth a month earlier. There, Simplification was no better than sixth through three-quarters of a mile. Ortiz kept his foot off the throttle — even taking Simplification six-wide coming out of the far turn to maneuver around traffic. From there, Ortiz powered away for a 3 1/2-length win that wasn't that close.
He can win as a pacesetter
Earlier this year, Simplification showed he can win from the front. He wired the field by four lengths in the Listed Mucho Macho Man Stakes on New Year's Day.
And he showed moxie-combined-with-versatility when he finished a game second to White Abarrio in the Grade 3 Holy Bull. Simplification was tossing his head around in the gate at the start, explaining his horrible break. Javier Castellano, in the irons, patiently guided him back into contention by the stretch, then pushed him through an opening between White Abarrio and Mo Donegal to steal second.
What does this all mean? Simplification has the versatile running style that factors in a modern Derby. He has the patience to bide his time and the tactical speed to make his move count. And he has the grit that doesn't yield to pressure.
'A better horse than Gunnevera'
Horses like that may not always win. But they often hit Derby boards.
"I am 100 percent confident in my horse. I know the race is very strong but I am confident in the horse," Sano said. "I think this is a better horse than Gunnevera."
Quick lesson. Gunnevera was Sano's last Derby horse. He finished seventh in the 2017 Derby to Always Dreaming. A year later, he finished second in the Breeders' Cup Classic. Gunnevera went on to win six races and more than $5.5 million.