Victor Oladipo recently turned down a max-contract extension from the Houston Rockets, so it looks like the team will trade him to the highest bidder among interested parties such as the Golden State Warriors, Miami Heat, and New York Knicks.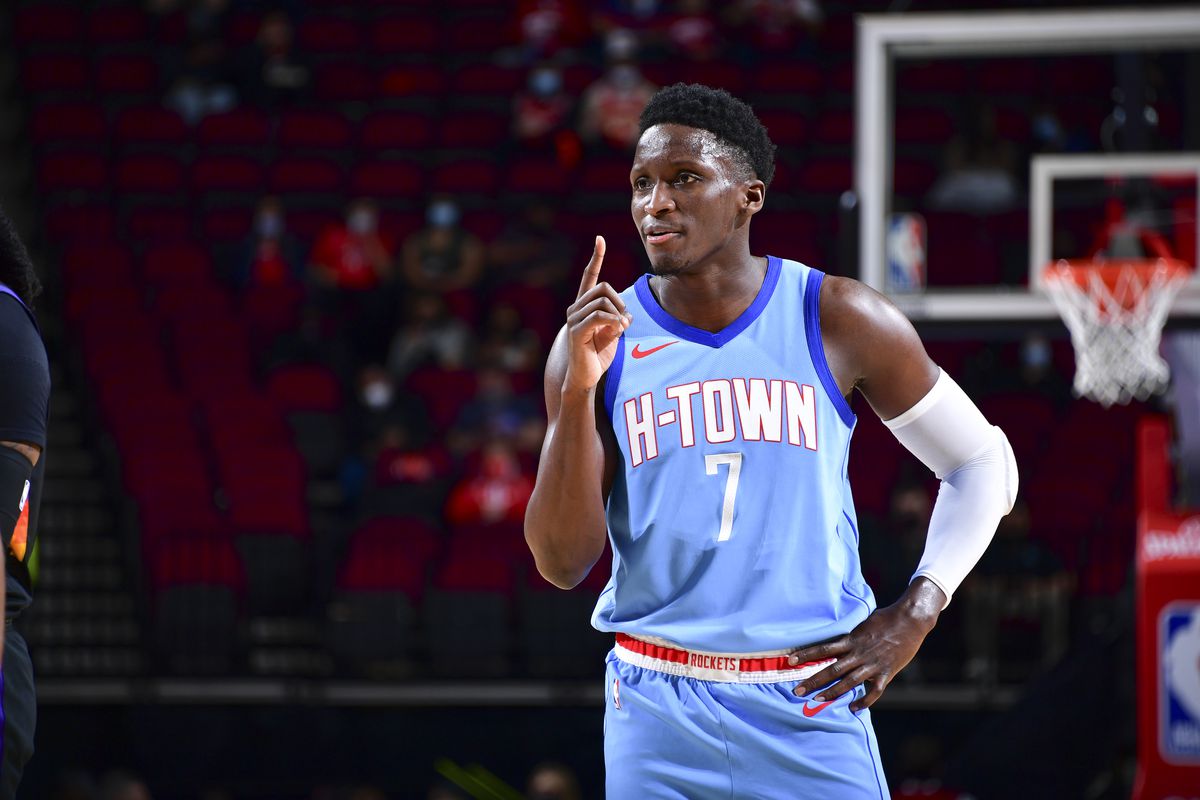 Did you know that Oladipo means "traded four times in Latin? " Okay, it doesn't; we made that up. But you get the gist. Oladipo understands the NBA is a business more than any other pro. He's been traded three times in his career, and he's about to be traded for a fourth time, including the second time this season.
Oladipo plays both guard positions and averages 20 points, 5.2 rebounds, and 4.5 assists this season. He began the season with the Indiana Pacers, who traded him to the Houston Rockets. Oladipo was an important chip in the four-team trade involving James Harden to the Brooklyn Nets.
Oladipo, 28, recently rejected the Houston Rockets and turned down a two-year contract extension worth $45.2 million. So, the front office's only option is to trade him.
Oladipo played for four teams in his short career and was traded three times since 2016. So, who will become Oladipo's fifth NBA team in six seasons?
Third Splash Brother: Steph, Klay, and Victor?
The Golden State Warriors are the latest team to pop up on the Oladipo trade rumor mill. With Klay Thompson out, Steve Kerr needs a shooter, playmaker, and ball handler like Oladipo to compliment Steph Curry.
Thompson is out for the rest of the season while recovering from surgery. After a slow start to the season, Curry is back to his old self and recently shipped the 2021 NBA 3-Point Shooting Contest during All-Star Weekend. But aside from Curry, the Warriors need a consistent secondary option on offense. Andrew Wiggins (17.0 ppg) and Kelly Oubre (15.8 ppg) demonstrated flashes of excellence, but the Warriors need a stone-cold assassin from 3-point range.
"We don't want to think too short-term and give up something in the future just to make a little bit of a push now," general manager Bob Myers told NBC Sports. "As hard as that is to stay disciplined, we would hope that anything that we would decide to do had legs beyond this year, or had advantages beyond the rest of this season."
But can Meyers and the Warriors afford Oladipo in the future? That's the long-term problem. The Warriors are in the second tier of teams in the Western Conference trailing the four big dogs, the LA Lakers, Utah Jazz, LA Clippers, and Phoenix Suns. They don't want to give up too much draft capital or any of their young talent (e.g., James Wiseman) to just level up a few spots in the playoff standings if they end up busting in the Western Conference semifinals anyway.
East Coast Oladipo: Knicks or Heat?
The Knicks are currently in the #5 spot in the Eastern Conference, and they're fighting for a playoff spot in a conference loaded with mid-level teams. The Knicks would rather grab Zach LaVine over Oladipo.
The Miami Heat need a big-time scorer to alleviate Jimmy Butler's workload. Pat Riley has been shopping for a shooting guard and playmaker all season. Bradley Beal and John Wall were mentioned in trade rumors with the Heat, along with Sacramento's Buddy Hield and Toronto's Kyle Lowry.
A trade for Bradley is fun to talk about, but it's a pipe dream because he'll never leave DC and wants to stay with the Washington Wizards for the rest of his career. The Sixers have a bead on Lowry because he grew up in Philadelphia and would love to play for his hometown team.
Meanwhile, the Rockets are open to discussions for either Wall or Oladipo. So, which one will Riley and the Heat snag before the trade deadline?
In 15 games with the Rockets this season, Oladipo averages 19.9 ppg, but is shooting a career-low 31.3% from 3-point range. Since joining the Rockets in the offseason in a trade for Russell Westbrook, Wall leads the team with 21 points and 6.1 assists per game.
ORL > OKC > IND > HOU
Oladipo, the former second-overall pick out of Indiana in the 2013 NBA Draft, started his career with the Orlando Magic. He started 167 games in Orlando and averaged 15.9 points, 4.4 rebounds, 4.0 assists, and 1.6 steals per game.
In 2017, The Magic traded Oladipo, Ersan Ilyasova, and Domantas Sabonis to the Oklahoma City Thunder for Serge Ibaka. After one season in OKC, the Thunder traded him and Sabonis to the Indiana Pacers in exchange for Paul George.
After returning to the state of Indiana, Oladipo finally flourished. During the 2017-18 season, he averaged 23.1 points and 2.4 steals per game. Oladipo earned a trip to the All-Star game and excelled on both ends of the court. He led the NBA in steals. The steals leader is not something that gets high-profile coverage, but coaches and old-school pros shower the NBA's top pickpocket with praise and respect.
After a sensational bounce-back season, Oladipo won the 2018 NBA Most Improved Player Award. Oladipo's success didn't last very long before injuries threw him for a loop. He missed more than half the season in 2018-19 and appeared in only 36 games after he ruptured his quad. In 2019-20, he appeared in just 19 games after missing nearly 13 months of action. After the pandemic shutdown last March, Oladipo chose to opt-out of the restart in Orlando.
Oladipo appeared in just nine games with the Pacers before he got traded for a third time in his career. The Pacers included Oladipo in the Harden four-team-mega-deal that involved the Houston Rockets, Brooklyn Nets, and Cleveland Cavaliers.
So, it seems like there are only a few days remaining before the Rockets trade Oladipo and the shooter joins his third team this season.
Check out more NBA trade rumors.