Kendall Jenner is wicked pissed that her boyfriend, Devin Booker, was snubbed and left off the 2021 NBA All-Star Team. You can't blame her; Booker should've earned a nod over teammate Chris Paul. In addition to the Booker snub, Domantas Sabonis and Trae Young were also left out of the All-Star Game.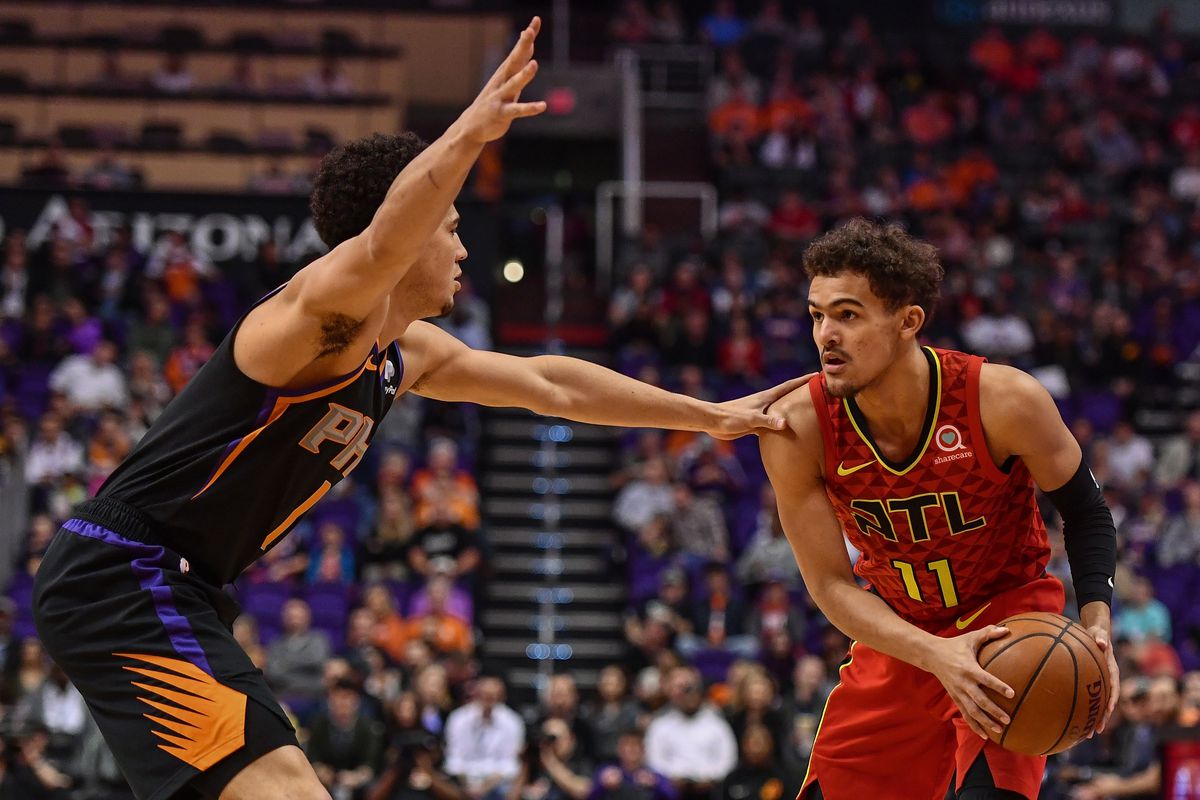 This is the time of the season when fans come out of the woodwork to express their disdain that their favorite players and hometown heroes were omitted from the All-Star squad. Snubs happen every season and there will always be a half-dozen or so worthy players who deserved a spot, but didn't get one.
Last year, Brady Beal was one of the most egregious All-Star snubs. The slight definitely fired up Beal in the second half of last season, which spilled over into this season. That's why it was difficult to ignore him this time around. After all, Beal leads the NBA in scoring and jacked-up a career-high 60 points in January.
You can expect players like Young, Sabonis, and Booker will carry this chip on their shoulders for the rest of the season. I'd actually be pumped if any of those guys were on your fantasy basketball teams because they're gonna tear up the league in the second half of the season.
Devin Booker is the most disrespected player in our league!!! Simple as that.

— LeBron James (@KingJames) February 24, 2021
No Love for Domantas Sabonis
Sabonis became the first player in NBA history to post a 20/10/5 stat line and earn an All-Star snub. Sabonis, the Indiana Pacers' MVP, averages 21.5 points, 11.6 rebounds, and 5.7 assists per game.
The Pacers are currently the #4 team in the Eastern Conference and they achieved this without Victor Oladipo, whom the Pacers sent to the Houston Rockets as part of the four-team James Harden trade to the Brooklyn Nets. The Nets sent Caris LeVert to the Pacers, but he never suited up for the team. During a routine physical, Indiana's medical staff found a mass on LeVert's kidney. He had emergency surgery and is currently in recovery.
Sabonis posted three triple-doubles this season, including one last week. He scored 36 points, hauled down 16 rebounds, and dished 10 assists in an overtime win against the Minnesota Timberwolves.
Domantas is the son of Arvydas Sabonis, the legendary center from Lithuania who spent the best years of his career playing behind the Iron Curtain in the 1980s. Arvydas finally got his shot to join the NBA in the mid-1990s after the Berlin Wall fell, but by then, he was in his late 30s. The elder Sabonis still cobbled together a seven-year career as the starting center with the Portland Trail Blazers.
Booker Snub, Jenner Love
This same exact thing happened to Booker just last year. The Suns' top-scorer was snubbed in 2020, but Booker earned a spot as an injury replacement for Damian Lillard. NBA insiders think Booker will earn another spot in the 2021 All-Star Game as an injury replacement. But for now, Booker was snubbed for the second year in a row.
In 26 games this season, Booker led the Suns in scoring 17 times. He averaged 24.7 points, 4.3 assists, and 3.8 rebounds per game. His scoring is down by full two points from last season, but he's averaging 26.8 ppg in February.
Kendall Jenner recently confirmed her relationship with Booker as "Instagram Official" via an Instagram post on Valentine's Day. But Jenner isn't as pissed off as LeBron James. LeBron expressed his frustration on Twitter.
"Devin Booker is the most disrespected player in our league!!! Simple as that," tweeted King James.
The Suns have a much better supporting cast this season, including the addition of Chris Paul. But it's CP3 who actually sunk Booker's chances at joining the All-Star squad. Paul earned a spot as a point guard averaging 16.6 ppg and 8.5 assists per game.
Mighty Trae Young
Young averages 27 points per game for 10th-best in the NBA. He's also ranked #3 in assists with 9.6 per game. His PER advanced metrics are 23.77, making him #15 overall in the NBA.
So why was Young snubbed from the All-Star team?
Young got caught up in no man's land as the best player on a crappy team that will most likely bubble the playoffs. Young got a pass in his first two seasons in the NBA. But now that this is his third season, expectations are much higher. Youth and inexperience is no longer an excuse after he logged two seasons in the pros. But is it really Young's fault that the Hawks blow leads, falter down the stretch, and can't win in crunch time?
A couple of weeks ago, Young put on a shooting clinic with eight 3-pointers against the lowly Minnesota Timberwolves.