Shooting guard Caris LeVert will miss an undetermined amount of time with the Indiana Pacers while recovering from surgery to remove a mass on his kidney, according to general manager Kevin Pritchard.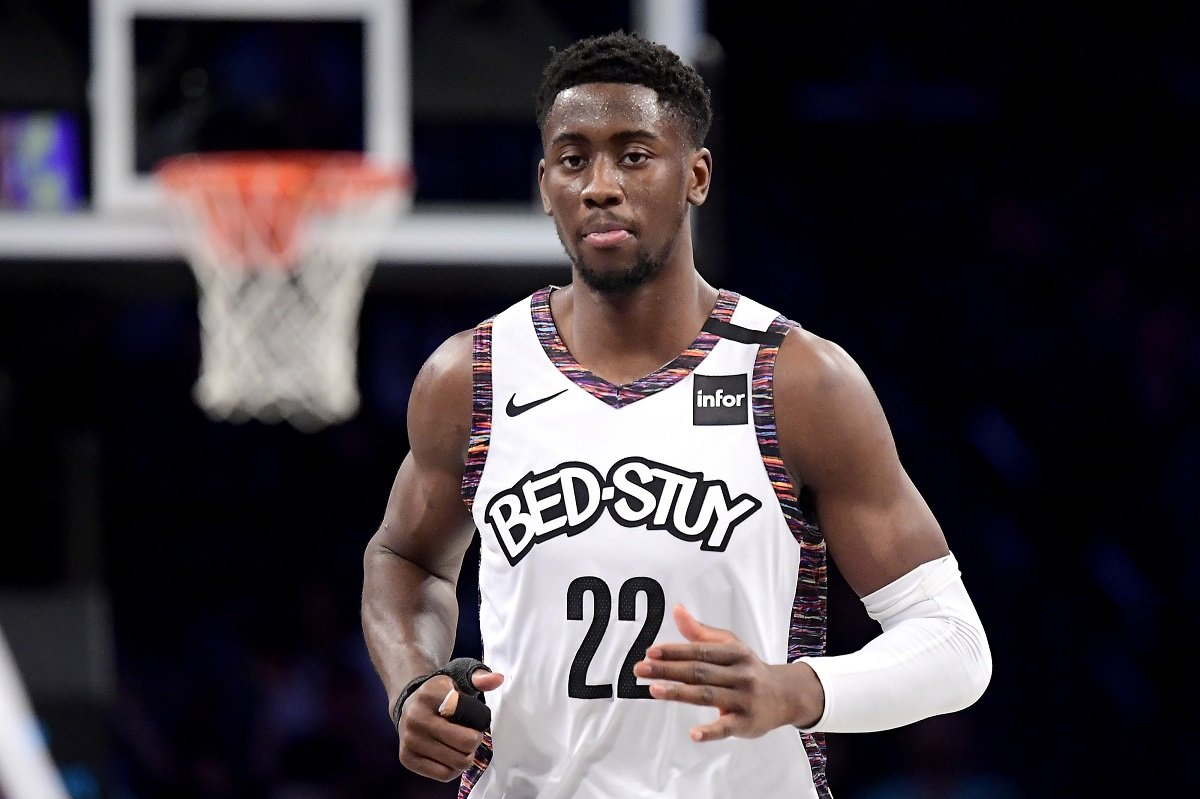 LeVert, 26, incurred two bad beats this week. The Brooklyn Nets traded him to the Indiana Pacers in a four-team mega-deal that brought disgruntled Houston Rockets star James Harden to the Big Apple. The Pacers shipped Victor Oladipo to Houston, and received LeVert in return from Brooklyn.
LeVert got sidelined before he even suited up for the Pacers. During a physical examination with team doctors, an MRI revealed a mass on LeVert's kidney.
"On behalf of my family and myself, we want to thank the Indiana Pacers for their support and guidance," said LeVert via an official statement. "We are grateful for their extreme thoroughness during the physical process, and I am looking forward to joining the team and being part of this great organization as soon as possible."
The Pacers listed him out indefinitely while they discuss treatment options including surgery.
"We acquired Caris because of who he is as a young man first and foremost," said Pritchard. "His basketball skill and on-court play speaks for itself, and we know he has a great career ahead of him. We will support Caris through this time and know that he will join us on the court as soon as he is able."
Great Start in Brooklyn for LeVert
In 12 games with Brooklyn this season, LeVert averaged 18.5 points, 6.1 assists, and 4.3 rebounds per game. Over his previous five games before the trade, LeVert was on a heater, averaging 26 points per game. He scored 20-plus in five straight before the trade.
After a strong start, LeVert found himself on the shortlist for Sixth Man of the Year. Between the Nets losing Spencer Dinwiddie, and Kyrie Irving missing games due to "personal reasons," LeVert became the Nets' secondary option on offense as the team's second-highest leading scorer behind Kevin Durant. LeVert replaced Irving in the starting lineup and found his groove before the Nets included him in the four-team trade that brought Harden to Brooklyn.
At the start of the new year, LeVert slipped into a minor shooting slump. He busted out of it during a loss to the Memphis Grizzlies. The Nets didn't have Irving or Durant, so head coach Steve Nash relied on LeVert as the Nets' primary scorer. He responded with an offensive explosion. The red-hot LeVert dropped a season-high 43 points. He shot 15-for-23 overall from the floor, including 7-for-9 from downtown.
Last season, one week before the NBA shut down the season during the first onset of the coronavirus pandemic, LeVert unleashed a career-high 51 points in a comeback win against the Boston Celtics.
LeVert Originally Drafted by Pacers
LeVert, a 6-foot-6 guard, played his collegiate ball at Michigan under John Beilein. He was a part of a strong recruiting class of 2012 that also included Glenn Robinson III, Spike Albrecht, and Nik Stauskas. Beilein mostly used LeVert as a shutdown defender when he first arrived in Ann Arbor. In his sophomore season, Michigan went to the 2013 Final Four, but lost in the championship game to Louisville.
LeVert struggled with foot injuries at Michigan, including a Jones fracture, but the Pacers selected him with the #20 pick in the 2016 NBA Draft. On draft day, the Pacers traded LeVert to the Brooklyn Nets for Thaddeus Young.
LeVert improved every season he spent with Brooklyn, mostly as a bench player and spot starter. In five seasons, LeVert appeared in 225 games and started in 96. He saw the biggest jump last season when he increased his scoring five points per game to 18.7 ppg. He worked on his long-range sniping, and his 3-point shooting increased to 36.4%.
The Pacers expected LeVert to start in Indiana and replace All-Star Victor Oladipo.
"Last year when I was with Toronto, the Raptors played against Caris in the first round of the playoffs, where he was very hard to handle," said Indiana head coach Nate Bjorkgren. "Very good player and very dynamic, so I've watched a lot of him, coached against him, and now looking forward to having him on our Indiana Pacers team."
LeVert is currently under contract through the 2023 season. The Pacers hope that LeVert can return this season after surgery.
The Indiana Pacers are +4000 odds to win the 2021 NBA Championship, according to the Mirage Casino and Sportsbook in Las Vegas.