Domantas Sabonis was the ultimate NBA high guy this week with a 36-point triple-double Wednesday night for the Indiana Pacers in an overtime victory against the Minnesota Timberwolves. On Monday night, James Harden posted a triple-double for the Brooklyn Nets. Meanwhile, Jimmy Butler became the first player in Miami Heat history to post a triple-double in back-to-back games.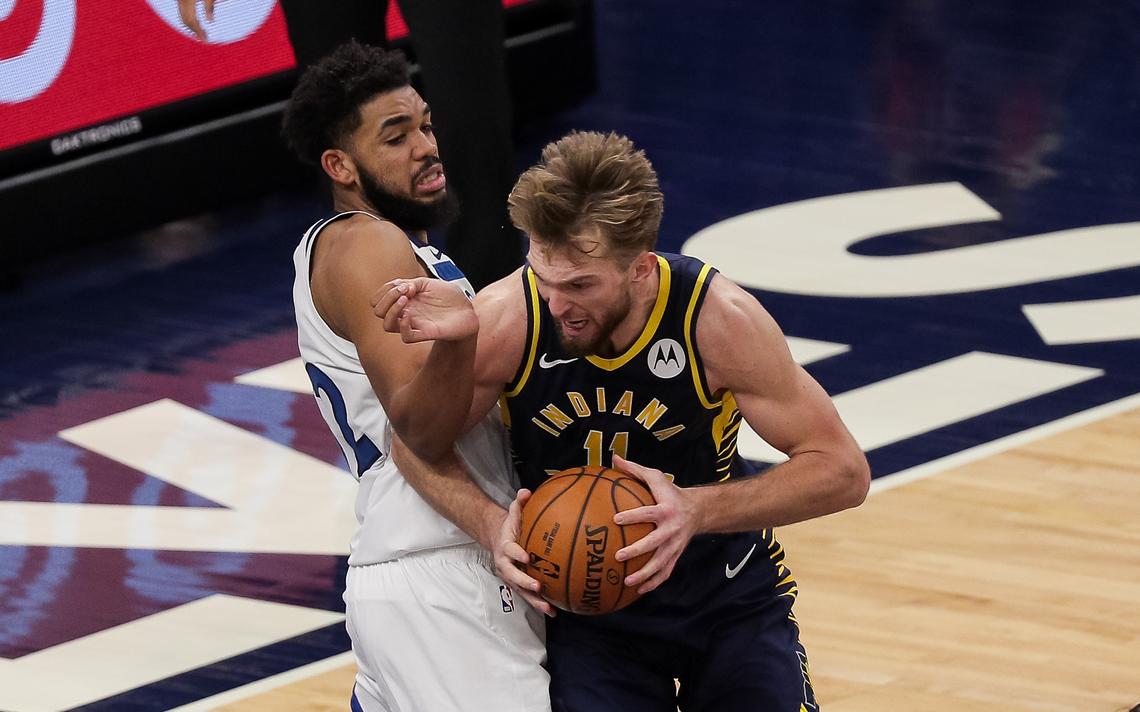 Butler posted his third triple-double of the season for the Heat. He has 12 over his career and 10 in the regular season with both the Heat and Chicago Bulls.
Sabonis, the son of legendary Lithuanian big man Arvydas Sabonis, recorded a triple-double seven times in his short career with the Pacers.
---
| | | | | |
| --- | --- | --- | --- | --- |
| | Points | Rebounds | Assists | Opponent |
| James Harden | 29 | 13 | 14 | Sacramento |
| Domantas Sabonis | 26 | 17 | 10 | Minnesota |
| Jimmy Butler | 30 | 10 | 10 | LA Clippers |
| Jimmy Butler | 13 | 12 | 11 | Golden State |
---
Harden recently tied a Nets record with his 10th straight double-double. He notched his fifth triple-double of the season, and all of them happened with the Brooklyn Nets. Over his storied career, Harden posted a triple-double at least 51 times in the regular season. He tallied a 32-point triple-double in his debut with the Nets.
Stellar Sabonis
The Indiana Pacers have been a team in flux this season. They were involved in the four-team, James Harden trade and had to ship Victory Oladipo to the Houston Rockets. Sabonis became Mr. Reliable in Indy. He's averaging a career-high 21.5 ppg, 11.6 rebounds, and 5.7 assists per game.
Sabonis scored 36 points the old-fashioned way with buckets and free throws (and just one trey). He shot 13-for-21 from the floor and 9-for-11 from the charity stripe. He completed a triple-double with 17 rebounds and 10 assists. This triple-double marked the third time Sabonis pulled off the rare feat this season.
Back-to-Back Triple-Doubles for Jimmy Buckets
The Miami Heat are now 11-17 after dropping three games in a row. They are in the middle of a hellacious West Coast road trip. Butler did what he could to make the Heat competitive against the LA Clippers and Golden State Warriors this week. The Heat dropped both games, but Butler posted a triple-double in both close losses. The Warriors defeated the Heat in overtime last night. Butler posted a lo-fi triple-double with 13 points, 12 rebounds, 11 assists, and three steals.
Butler now has three triple-doubles this season. He's second all-time in Heat history with eight triple-doubles after passing Dwyane Wade. Only LeBron James has more triple-doubles in a Heat uniform with 14.
Triple-Double Harden
The Brooklyn Nets only had two-thirds of their Big 3 against the Sacramento Kings. Kevin Durant missed the game with a mild left hamstring strain. Kyrie Irving burned the Kings for 40 points, while Harden scored 29 points and tallied a triple-double with 13 rebounds and 14 assists. Harden knocked down six 3-pointers on 6-for-10 shooting from beyond the arc. He also had seven turnovers for the sloppy Nets.
Check out more installments of NBA High Guys.