Can anyone beat Steph? Steph Curry seeks his first NBA All-Star Game 3-Point Contest championship since 2015 and he's the favorite at +150 odds according to an update by DraftKings.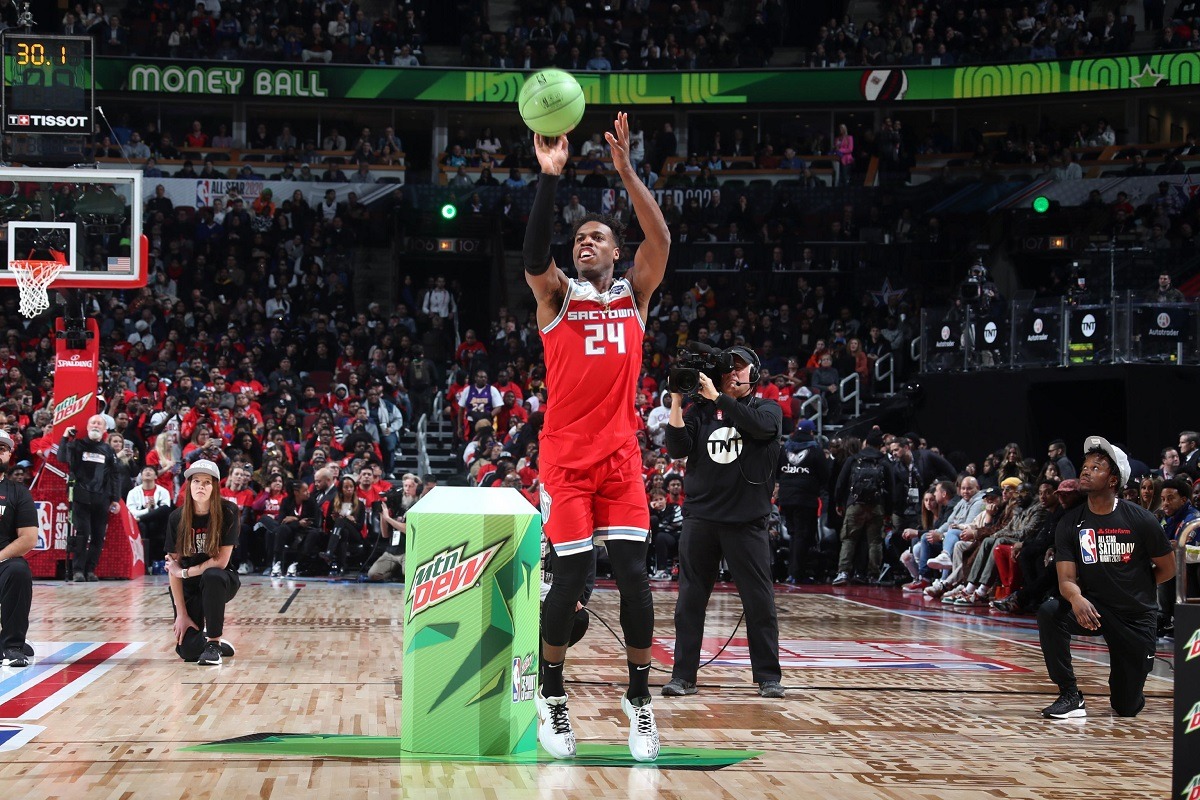 Buddy Hield from the Sacramento Kings is the NBA 3-Point Contest defending champion, but he's not participating in All-Star Weekend this year. He's having an off-year shooting treys and opted to spend the break with his family.
Devin Booker was one of the other favorites before he pulled out of All-Star weekend festivities. Mike Conley from the Utah Jazz replaced the banged-up Booker (sprained knee) on the All-Star roster. Conley will also sub in for Booker in the 3-Point Contest.
The 3-Point Contest takes place on Sunday before the start of the NBA All-Star Game. Tune into TNT to watch or stream the action.
2021 NBA ALL-STAR 3-POINT CONTEST ODDS
Steph Curry +150
Donovan Mitchell +450
Zach LaVine +500
Mike Conley +500
Jaylen Brown +700
Jayson Tatum +700
---
Zach LaVine and Donovan Mitchell are trying to become the first player to win the NBA All-Star Slam Dunk Contest and the 3-Point Contest. It's never been done before, so there's a chance we could witness NBA history this weekend in Atlanta.
Mountain Dew sponsors the event. There's also a chance to secure extra points from a few feet behind the arc with the special green 3-ball. Too bad Damian Lillard is not in the 3-Point Contest this season, because Dame hits some of the deepest 3-pointers in the league.
Another 3-Point Contest Trophy for Curry?
A lot of people who don't know much about the NBA still know that Curry is the best shooter in the NBA. It's only a matter of time before Curry passes Ray Allen and takes over the top spot on the NBA all-time 3-pointers list. Curry is a career 43.3% 3-point shooter with a 41.1% success rate this season. Curry looked rusty from downtown to start the season shooting only 31.8%. But he got his groove back during a 57-point performance and knocked down 11 3-pointers against the Dallas Mavericks in February. Curry is the favorite at +150 odds to win his second NBA 3-Point Contest.
With Booker out, it's really Curry's event to lose. Booker, the former 2018 3-Point Contest champ, is a better sharpshooter than Conley. However, the 36-year-old Conley has experience on his side. Booker was only 11 when Conley knocked down his first NBA 3-pointer.
Conley shot a career-high 42.2% for the highly-efficient Jazz this season. He averages 6.6 attempts per game and set a season-high with 7 3-pointers on New Year's Day against the LA Clippers. Conley is a value pick at +500 odds.
Trey Dunkers: Spida and LaVine
As a rookie, Donovan Mitchell won the 2018 NBA Slam Dunk Contest. He's trying to become the first champion dunker to also win the 3-Point Contest. Mitchell recently set an NBA record as the fastest and youngest player to reach 600 3-pointers. You can back Spida at +450 odds.
The Chicago Bulls should do everything in their power to retain Zach LaVine, but his name is mentioned in numerous trade rumors including the New York Knicks and Miami Heat. LaVine won the NBA Slam Dunk Contest as a rookie in 2015. He won again the next year in 2016.
LaVine knocked down 43.5% of his 3-pointers this season and averaging 3.5-for-8.1 per game this season from downtown. Earlier this season, LaVine caught fire against the LA Clippers and lit them up for 45 points with 10 treys on 10-for-16 shooting. Last month, LaVine torched the New Orleans Pelicans for a season-high 46 points with nine treys on 9-for-14 from beyond the arc. If you're looking for a value pick, you can back LaVine at +500 odds.
Last season, LaVine sniped a personal-high 13 treys in a game against the Charlotte Hornets.
Beantown Long Shots
It's been a two man show in Boston led by Jaylen Brown and Jayson Tatum. Marcus Smart missed significant time this season with an injury and Gordon Hayward signed a free-agent deal with the Charlotte Hornets, so it's been Brown and Tatum picking up the slack from 3-point range. Both Brown and Tatum are long shots +700 odds to win the 3-Point Contest this weekend.
Brown averages around six 3-point shots per game with a 38.8% success rate. During the first week of the season, Brown shot a season-high 7-for-10 from 3-point land against the Memphis Grizzlies.
The streaky Tatum averages seven 3-point shots per game and shooting 36.8% from downtown. He can shoot 3-for-10 on some nights, and then shoot an efficient 5-for-6 the next night. His season high is only six treys against Greek Freak and the Milwaukee Bucks in the season opener when he shot 6-for-13 from long range.