In the latest fresh batch of NBA trade rumors, the Miami Heat are on the hunt for a pure scorer, which is why John Wall and Bradley Beal are on Pat Riley's radar.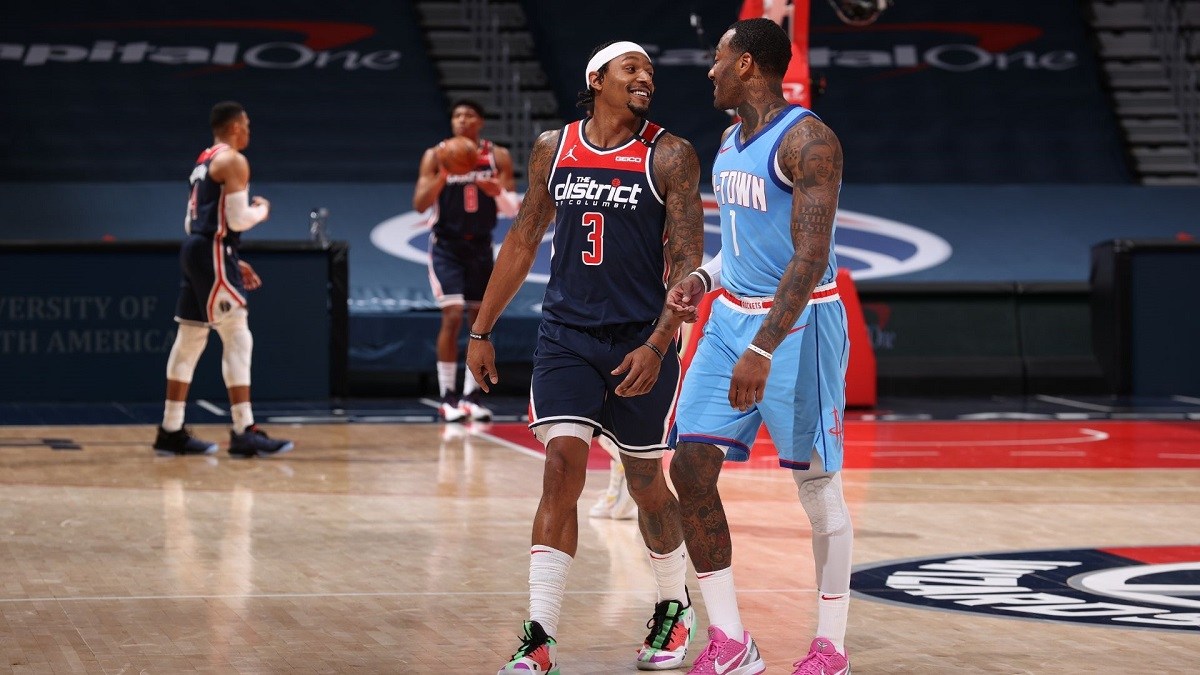 Beal doesn't want to leave Washington, DC, or the Washington Wizards, but that doesn't prevent his name from being mentioned in multiple trade rumors involving championship contenders such as the Miami Heat.
The Wizards traded Wall and a first-round draft pick in the offseason to the Houston Rockets for Russell Westbrook. Wall played with James Harden for a couple of games before the Rockets traded Harden to the Brooklyn Nets in a blockbuster four-team deal. Now Wall is stuck picking up the pieces of a gutted franchise while trying to ignore the latest rumor that the Rockets will trade him to the Miami Heat.
Jimmy Butler ran the table in the NBA Bubble in Orlando to win the 2020 Eastern Conference title and secure a spot in the NBA Finals. The banged-up Heat lost to LeBron James and the LA Lakers. Heat fans and general manager Pat Riley both know that if Goran Dragic and Bam Adebayo were healthy, they could've beaten the Lakers.
But that was during the pandemic. This season, the Heat need more firepower if they expect to compete with the big dogs in the East, and the high-flying teams in the Western Conference.
The Heat (18-18) are +3300 odds to win the 2021 NBA Championship, according to a recent update by DraftKings.
Miami Wall
If you're playing on one of the worst teams in the NBA, like the Rockets, who are currently riding a 13-game losing streak, it would probably be a dream to play for a contender like the Heat instead.
Wall, the former #1 pick in the 2010 NBA Draft out of Kentucky, averaged 19 ppg in nine seasons with the Wizards. He missed last season with multiple injuries, including a torn Achilles.
Wall, now 30, averages 21 points and 6.4 assists with the Houston Rockets this season. He's shooting 34% from 3-point range. When Christian Wood went down with a sprained ankle, Wall became the Rockets' go-to scorer.
The Rockets are in rebuilding mode, so it feels like it's only a matter of time before Wall joins a new team. Players experience different recovery times for Achilles injuries, but Wall looks like his old self.
Beal is a better player than Wall and would boost Miami to the top of the Eastern Conference. However, Wall coming to Miami seems more likely than Beal at this point. On paper, the Heat would have to give up more to acquire Beal over Wall. No matter what deal goes down, the Heat would have to part ways with Tyler Herro. Multiple teams approached Riley about Herro, and he's the big name mentioned in any trade for Beal or Wall.
Beal South Beach Moon Shot
For the last couple of seasons, there's been no shortage of Beal trade rumors. Who wouldn't want the NBA's leading scorer on their roster? But no matter how many trade ideas we can conjure up, Beal stands firm in his statement that he intends to finish his career with the Wizards. He loves DC and loves the Wizards, even though they're a flawed franchise.
You have to respect Beal's old-school sensibilities as someone who wants to spend his entire career with one team. However, in the modern NBA, it's not uncommon for superstars to switch teams or force trades.
If you're a huge fan of Damian Lillard, and not familiar with Beal's exploits, Beal has been described as the East Coast Dame. He has that stealth quality to him where you look up and he quietly scored 30 points on you. Beal also has the Dame-like ability to heat up quickly and score a dozen points in a flash, including deep-range 3-pointers in crunch time.
Beal leads the NBA with 32.9 points per game and set a career-high with 60 points back in January. His 24.91 PER rating is ranked #10 in the NBA. Beal is money at the free-throw line with a 90.3% success rate. His long-range shooting is only 33.5% this season, but he's a 37.7% career sniper, and logged at least three seasons in which he knocked down 40% or better from 3-point land.