In the latest batch of NBA trade rumors, the Chicago Bulls (8-12) are putting their star, Zach LaVine, on the trading block and would like to work out a deal with the New York Knicks (10-13), who are loaded with young talent and on the playoff bubble in the Eastern Conference.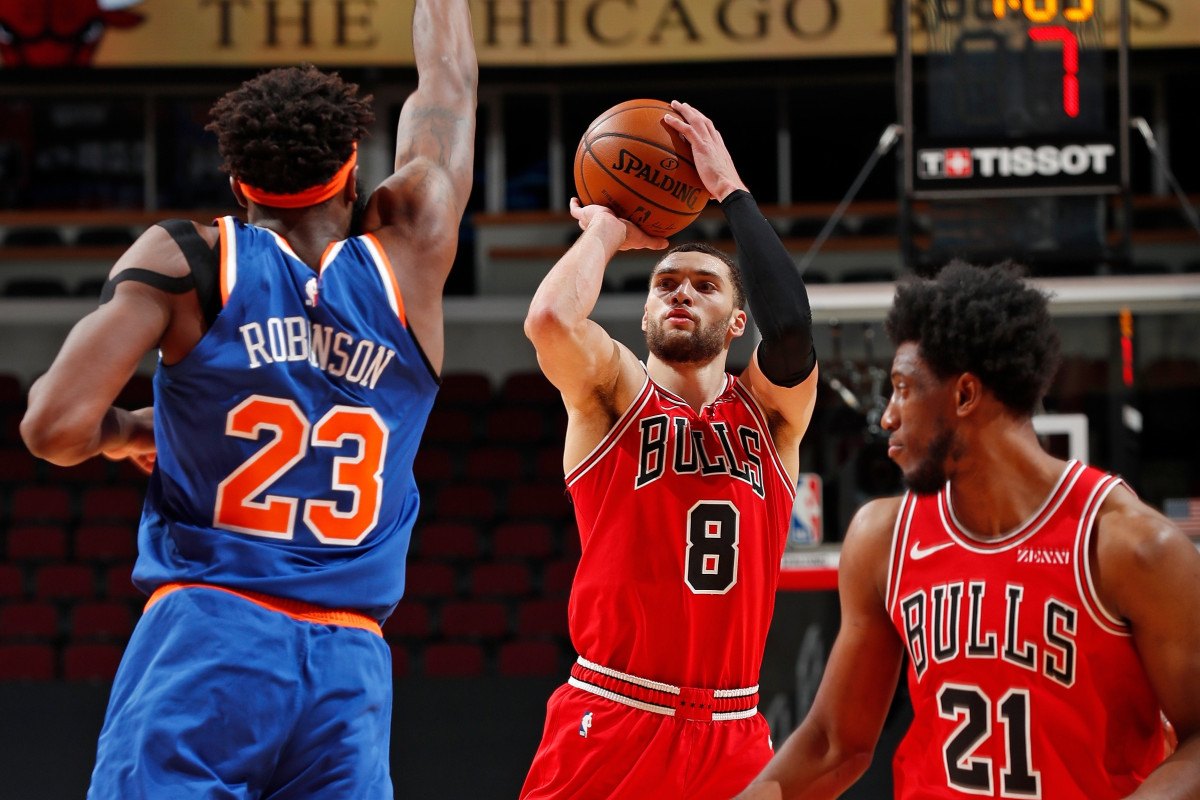 LaVine, ranked #11 in the NBA in scoring, averages 26.5 ppg.
The Bulls are seeking to move their two best tradeable assets in LaVine and Lauri Markkanen. In addition, the Bulls are also open to moving Otto Porter and Wendell Carter, Jr.
The chatter out of Chicago suggests the Bulls want Knicks' starter RJ Barrett in any deal for LaVine. The Knicks reportedly aren't interested in trading one of their most talented youngsters.
LaVine has also been linked to the Knicks in a potential three-team trade with the Orlando Magic. The Magic had playoff aspirations at the start of the season, but they've been plagued with injuries. They've lost two starters to injuries with Aaron Gordon (ankle) out for at least a month, and Markelle Fultz (knee) out for the entire season while recovering from a blown ACL. The Magic are shopping big man Nikola Vucevic.
One crazy trade rumor suggests the Magic would send Vucevic to the Bulls, the Bulls would send LaVine to the Knicks and ship Carter and Porter to the Magic. The Knicks would send a first-round draft pick, Dennis Smith Jr., and Kevin Knox to the Bulls.
The Zach LaVine Show
LaVine, 25, grew up in the Seattle suburbs as the son of a former NFL player named Paul LaVine. He earned the title of Mr. Basketball in the state of Washington, but headed to SoCal to play his collegiate ball.
The Minnesota Timberwolves selected LaVine with the #13 pick in the 2014 NBA Draft after the 6-foot-5 guard spent a one-and-done season with UCLA. He started 73 games in his first two seasons with the Timberwolves. In his third season, LaVine finally earned a starting job and averaged 18.9 ppg before he blew out his ACL.
"He's a great athlete," said Tom Thibodeau, who coached LaVine in Minnesota. "But he's a great guy, a hard worker. So you knew he would continue to improve. He's playing at a very high level."
The T-Wolves traded LaVine to the Bulls in 2017 as part of the deal that brought Jimmy Butler to Minnesota. LaVine became a full-time starter in Chicago. Last season, he averaged a career-high 25.5 ppg, 4.8 rebounds, and 4.3 assists per game. Last season, LaVine lit up the Charlotte Hornets for a career-high 49 points.
Sparse Playing Time at MSG
Under new head coach and former Bulls head honcho Tom Thibodeau, the Knicks have a short and tight rotation of eight players. If you're a reserve player under Thibs who's not one of the first three guys to come off the bench, there's very little chance you'll see any daylight. As a result, several decent players are floundering and doing nothing but getting "splinters in their butt" while riding the pine.
There's there the Kevin Knox and Obi Toppin conundrum. It's not that both first-round picks have similar games, but they're stuck fighting for the 8th spot in the rotation. The Knicks selected Knox three years ago as a one-and-done player out of Kentucky. The Knicks knew Knox was a raw talent that needed some work, but you can't improve if you don't get playing time.
Toppin, the Knicks top pick from the 2020 NBA Draft, has shown flashes of brilliance, but he's been overshadowed by fellow-rookie Immanuel Quickley. IQ has quickly become a fan favorite at Madison Square Garden, and fans from Wall Street to the Bronx have been calling on Thibs to start IQ.
(Cheap) Point Guards For Sale
There's a huge competition for playing time in the Big Apple. The Knicks designated point guard Dennis Smith, Jr. to their developmental league team in order to remain sharp.
The Knicks don't know what to do with Smith, whom they acquired in a trade with the Dallas Mavericks for Kristaps Porzingis. If Smith were any other player, the Knicks would've moved on long ago. The organization doesn't want to feel like they got totally hosed in the Unicorn trade. They held onto Smith like that pair of underwear in the back of your drawer that has a huge hole in it, but for sentimental reasons, you cannot get rid of it.
Point guard Frank Ntilikina, a former first-round pick, toils in no man's land at the end of the Knicks bench. When David Fizdale coached the Knicks, "Frankie Cigs" fell into the category of a soft European player that Fizdale loathed. Frankie Cigs was in Fizdale's doghouse from Day 1 and never recovered. If Ntilikina thought life sucked under Fizdale, he's having a rougher time under Thibs. If you don't play hard defense, there's zero chance you'll crack a Thibs lineup. Like many European players, defense is Frankie Cigs' Achilles heel. Hence why Ntilikina averages just 4.5 minutes of garbage time in only four games.