The John R. Wooden Award recognizes the top player in college basketball. Sabrina Ionescu (Oregon) and Obi Toppin (Dayton) both won the 2020 Wooden Award as the premier women's and men's college basketball players.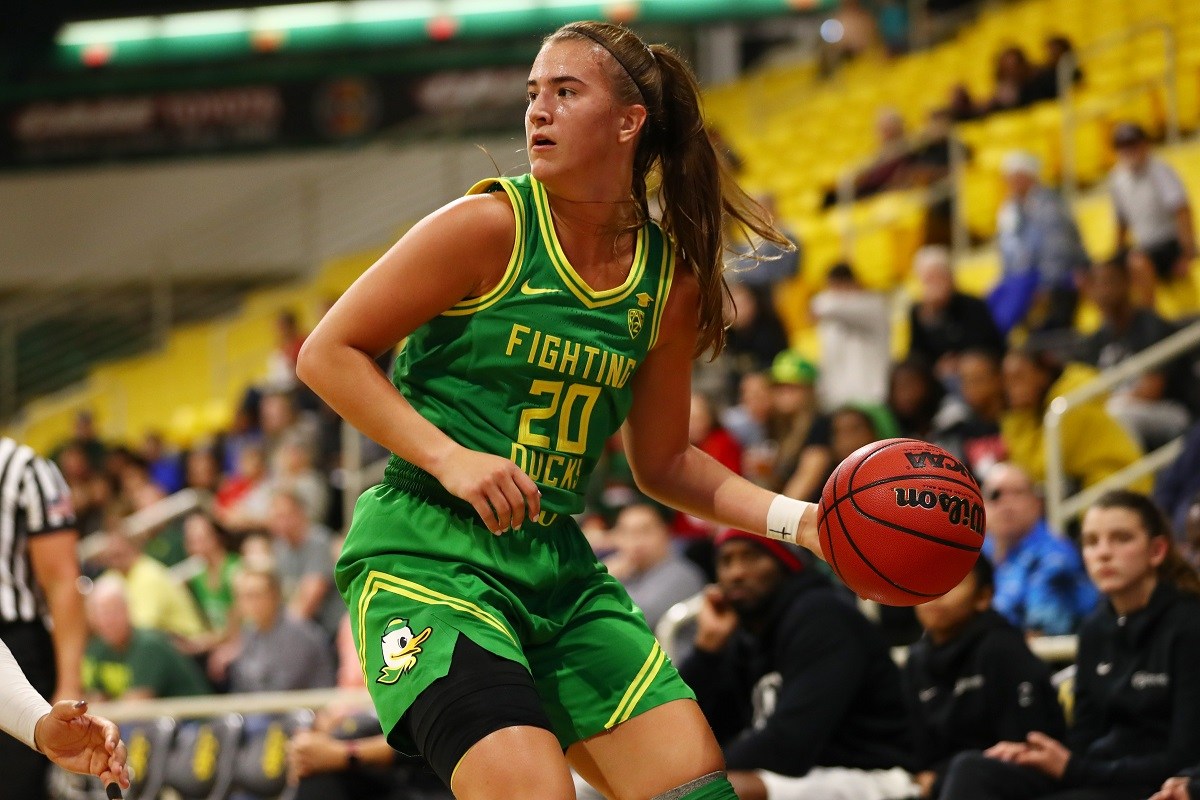 Ionescu won the Wooden Award in consecutive years. She joined an elite group of five other women who earned that distinction, including Breanna Stewart, Brittney Griner, Candace Parker, Maya Moore, and Seimone Augustus.
Ionescu, arguably the best player in college basketball for the past two seasons, is projected as the #1 pick in the 2020 WNBA Draft.
Toppin saw his NBA stock rise during this past season. As the Dayton Flyers steadily rose in the AP Top 25 Poll, so too did Toppin's exposure as one of the best players in the country. Toppin became the first sophomore to win the Wooden since Trey Burke (Michigan, 2013).
Both Ionesecu and Toppin were hoping to lead their respective teams to NCAA championships this year. However, the coronavirus pandemic canceled both the men's and women's versions of March Madness.
Sabrina Sweep
Ionescu, 5-foot-11 guard, returned to Oregon for her senior season with a specific goal to win the national championship. The Lady Ducks (31-2) were ranked #2 in the country when the NCAA suspended the season due to the coronavirus outbreak.
In her senior season, Ionescu led the nation in assists. She could have been a little more selfish and shot more, but she averaged 9.2 dishes per game. She led Oregon with 17.5 points per game and was second in rebounding with 8.6 boards per game.
It seemed like Ionescu set a new record in almost every game this season.
She became the first player (man or woman) in NCAA history to accumulate 2,000 points, 1,000 assists, and 1,000 rebounds over their career.
She's also a triple-double machine. No other college player (again, man or woman) notched more triple-doubles than Ionescu with 26. She recorded eight triple-doubles in her senior season, with four in February.
No shocker here, but Oregon went 26-0 in games in which Ionescu recorded a triple-double.
"It's so humbling to see how far that notoriety has come for me and for our team in general," she said.
Ionescu completed a sweep of all the major awards in women's college basketball with the Naismith Award, the Wooden Award, and the Wade Trophy (top player in women's college hoops).
Top Toppin
Obi Toppin also completed a sweep of the postseason awards in men's college basketball with the Naismith, AP Award, and now the Wooden.
Dayton (29-2) finished the season with the #3 ranking. They were a projected #1 seed in March Madness before the coronavirus outbreak shuttered the postseason tournament.
Toppin, a 6-foot-9 sophomore forward, grew up in Brooklyn where he honed his skills on the blacktopped-playgrounds of New York City. He averaged 14.4 points per game as a rookie during his first season in Dayton.
In only his second season, Toppin emerged as one of the top scorers in college basketball. He averaged 20.0 points, 7.5 rebounds, and 2.2 assists per game during a magical season in Dayton. Led by Toppin, the high-octane Flyers lost only two games.
"Our team could've made it to the national championship game, just because of what we were so able to do this season and the amount of skills we had on the team," Toppin said in an interview with ESPN. "Everybody bought into what the coaches were asking, and we were dominating every single game this year."
Many NBA scouts project Toppin as a legit lottery pick in the upcoming NBA Draft. Toppin can knock down shots during transition and half-court sets.
Toppin drew comparisons to James Worthy from LA Lakers. He's a quick forward who can fill the lane and finish during a fast break. For a more modern comparison, scouts liken him to Kyle Kuzma (Lakers) as someone who can adapt to the flow of the game and score in different situations.