The New York Knicks traded 7-foot-3 center Kristaps "Unicorn" Porzingis to the Dallas Mavericks in a seven-player trade that includes Dennis Smith, Jr. and two future first round draft picks.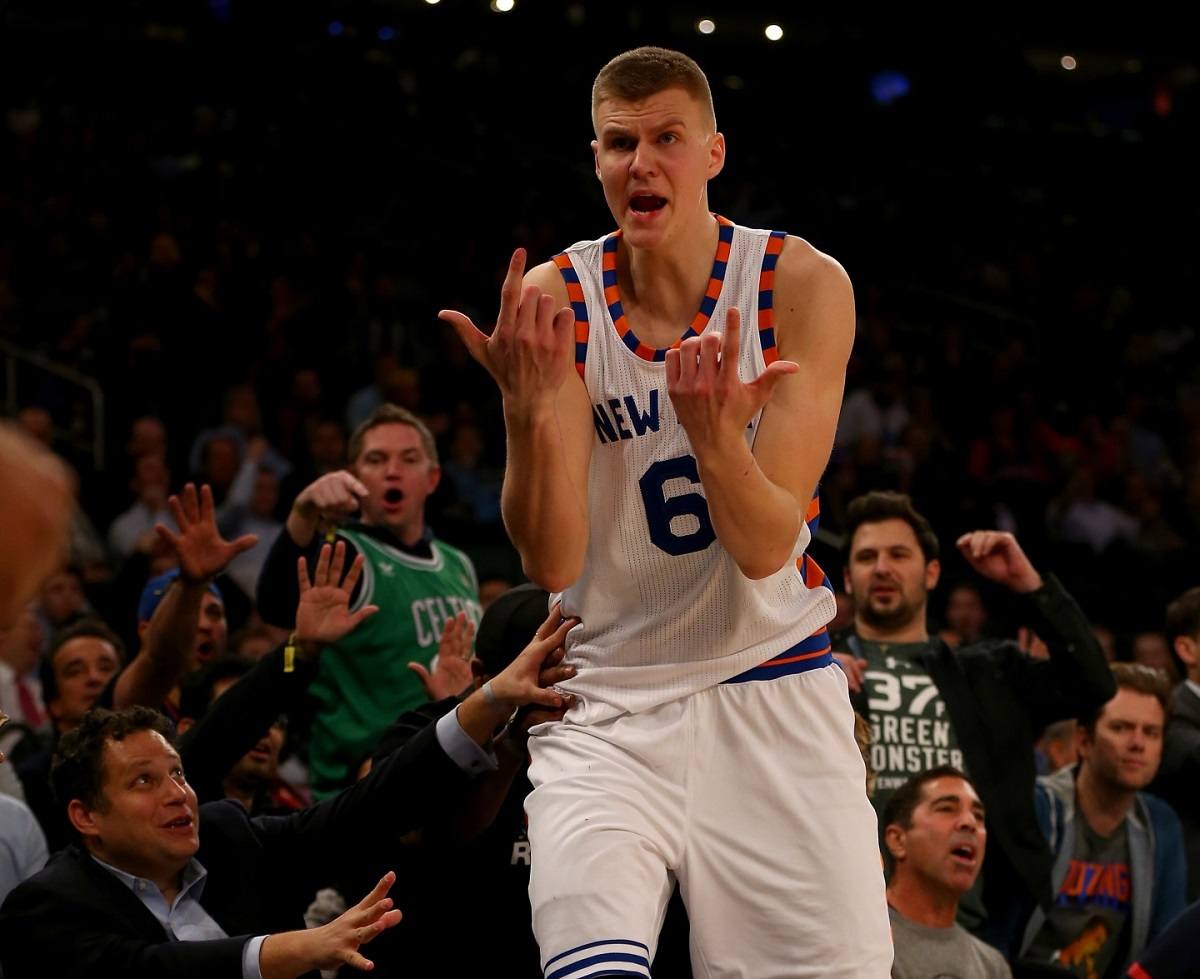 The Knicks will send Porzingis, shooting guard Tim Hardaway, Jr., shooting guard Courtney Lee, and point guard Trey Burke to the Mavericks. In return, the Mavs are shipping out point guard Dennis Smith, Jr., shooting guard Wes Matthews, center DeAndre Jordan, and a pair of first-round picks in 2021 and 2023. Smith, who is averaging 12.9 points per game, asked the Mavs to trade him last month.
The Knicks selected Porzingis, 24, with the #4 overall pick in the 2015 NBA Draft. Kevin Durant nicknamed Porzingis as the "Unicorn" during his rookie season because Durant was impressed with his versatility and his ability to shoot three pointers.
Porzingis sat out this season rehabbing his left knee after blowing out his ACL last season. The third-year player from Latvia was named to the All-Star team before he went down. Porzingis averaged 22.7 points and 6.6 rebounds per game last season.
TRADE DETAILS
NY Knicks trade: Kristaps Porzingis, Tim Hardaway, Jr., Trey Burke, Courtney Lee
Dallas Mavs trade: Dennis Smith, Jr. DeAndre Jordan, Wes Matthews, 2021 first round pick, 2023 first round pick
The two future draft picks could be re-packaged in other trade offers for the Knicks. The 2021 pick is unprotected, while the 2023 is a protected top-ten pick.
7-Way Swap
Tim Hardaway, Jr. led the Knicks in scoring with 19.1 points per game, but he is due for a huge raise next season at $18.2 million. Point guard Trey Burke fell out of the starting rotation, yet still averaged 10.8 points in 20 minutes of action. Shooting guard Courtney Lee (4.7 ppg) was buried deep on the Knicks bench.
Dennis Smith will step in and start for the Knicks after losing point guard Emanuel Mudiay to a shoulder injury. The Knicks passed up on drafting Smith two years ago and selected Frank Ntilikina from Belgium instead. Ntilikina barely plays and averages 5.9 points per game.
The Knicks are expected to buy-out the expiring contracts of DeAndre Jordan (11.0 ppg and 13.7 rebounds) and nine-year vet Wes Matthews (13.1 ppg). Supposedly, Jordan is tight with Kevin Durant. The Knicks might possibly retain him if that entices Durant to join the team.
Doncic and the Unicorn
The Mavs made a slick trade with the Atlanta Hawks on draft day to acquire Luka Doncic in exchange for Trae Young. The teenage Doncic played pro ball in Spain when he was only 13-years old. The Mavs had no idea their new draft pick would make a major impact so soon.
Doncic is averaging 20.4 points per game in his rookie season. Doncic dropped a 35-point triple double last week. Doncic success impacted point guard Dennis Smith, Jr. Smith had an excellent rookie season the year before, but he struggled to find his way with Doncic becoming the focal point of the offense. Smith demanded a trade. He sat a couple of games before returning to the lineup. It appeared the Mavs were going to keep Smith, but then news broke about the big trade with the Knicks.
Rocky Road for Unicorn
Porzingis and ex-general manager Phil Jackson did not see eye-to-eye. Jackson dangled the Unicorn's name in a trade and the rookie skipped an exit meeting with the team. Shortly after Jackson's brief tenure with the Knicks came to an end. Things were looking up for Porzingis except the Knicks continued to lose.
Only two other teams in the NBA (Phoenix and Brooklyn) lost more games than the Knicks since the Unicorn's arrival. The Knicks had become the laughing stock in the league. Jaded fans created hashtag such as #lolknicks to vent their frustration on social media.
Porzingis and head coach David Fizdale had a communication issue regarding the progress of his knee rehabilitation earlier in the season. That seemed innocuous at the time, but it indicated the cold war between Porzingis and the Knicks continued.
Someone in the Knicks organization leaked out that Porzingis was unhappy with management's commitment to losing. The Knicks were obviously in tank mode to secure one of the top three picks in the upcoming draft.
"When you are trying to think about how you want to build your team for the long-term, you don't want to commit a max contract to a player who clearly says he doesn't want to be here," Knicks GM Steve Mills said.
With Porzingis' health still in question, he clearly did not want to continue to play in New York. The Knicks found a couple of potential suitors, including the Dallas Mavericks.
When word got out that Anthony Davis wanted out of the New Orleans Pelicans, the Knicks contacted them about a potential trade. The Pelicans rejected any of the Knicks offers for a potential Unicorn for Unibrow swap.
Future: KD, Kyrie, and Zion
The Knicks cleared $71 million in cap space to be able to grab both Durant and Irving. They have a good chance at landing Zion Williamson from Duke, who hinted that he'd love to play at MSG.
Rookie Kevin Knox has show flashes of brilliance during a season with plenty of lowlights for the Knicks. Knox would flourish alongside veterans like Irving and Durant. Toss in Zion and Dennis Smith that's a solid starting lineup.
Of course, that's a big "if" because there's no guarantees that Durant and Irving both end up at MSG. There's a strong possibility that only one or neither sign with the Knicks. What good is all the cap space in the world if no one wants to play on your team?
James Dolan Factor, Cursed MSG?
Knicks owner James Dolan inherited a cable television empire. He sold Cablevision, his father's company for billions, but held onto the Knicks and New York Rangers. Dolan granted a rare interview with ESPN shortly before Christmas last year. Dolan passive-aggressively put the Knicks up for sale and hinted at a $5 billion price tag.
Ever since head coach Jeff Van Gundy left the Knicks in the wake of the 9/11 terrorist attacks in 2001, the franchise went into a tailspin. The team seems to be jinxed. Every head coach or general manager who came through Madison Square Garden failed.
With Dolan focusing his energies on his brainchild MSG Sphere entertainment venues, he gave Knicks president and GM Steve Mills full autonomy to run the team. Dolan is finally out of the everyday picture, but Mills made a questionable trade to clear $74 million in cap space.
Will his gamble pay off? If the Knicks sign Kevin Durant and Kyrie Irving, then the Unicorn trade will become an afterthought. However, if the Knicks fail to acquire a premier free agent like Durant, Irving, or Kawhi Leonard, then Mills will become persona non grata at MSG. Mills will become another villain, on the long list of villains, who tormented Knicks fans over the years.
According to the South Point Casino and Sports Book in Las Vegas, the NY Knicks are 5,000/1 odds to win the NBA title. The Dallas Mavs are 300/1 odds to win the NBA championship.