Houston Rockets' big man Christian Wood (at even money) and Detroit Pistons forward Jerami Grant (+175 odds) are the top two favorites to win the 2021 NBA Most Improved Player Award. Wood and Grant both got fresh starts with new teams, and didn't squander their opportunities, leading their respective teams in scoring this season. Chris Boucher (Toronto Raptors), Julius Randle (New York Knicks), and Shai Gilgeous-Alexander (Oklahoma City Thunder) are also among the favorites to win the 2021 NBA MIP, according to a recent update by DraftKings.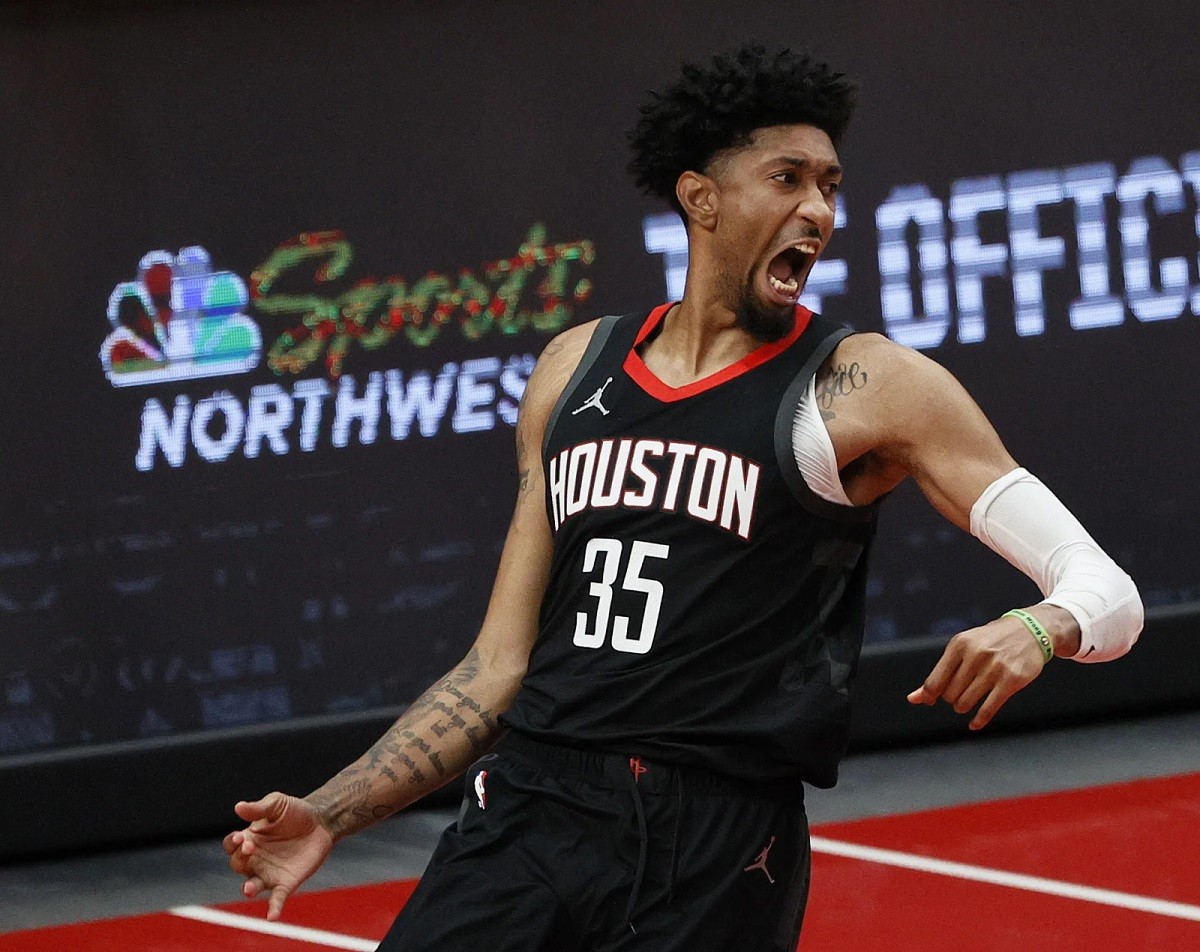 Previous NBA MIP winners include Pascal Siakim (2019), Victor Oladipo (2018), Giannis Antetokounmpo (2017), CJ McCollum (2016), Jimmy Butler (2015), and Paul George (2013).
Brandon Ingram from the New Orleans Pelicans won the 2020 NBA Most Improved Player Award after he led the team with 23.8 ppg. His teammate, Zion Williamson, is listed with long-shot odds for 2021 NBA MIP, but someone like Zion is really too good to be considered at +8000 odds.
---
2021 NBA MOST IMPROVED PLAYER ODDS
Christian Wood +100
Jerami Grant +175
Chris Boucher +900
Julius Randle +2000
Shai Gilgeous-Alexander +2500
Jaylen Brown +3300
Michael Porter Jr. +3300
Collin Sexton +5000
Domantas Sabonis +5000
Mikal Bridges +8000
---
Several notable players are also listed as MIP long shots at +8000 or higher, including Jarrett Allen (Cleveland Cavs), Shake Milton (Philadelphia 76ers), Tyler Herro (Miami Heat), and our favorite NBA player, OG Anunoby (Toronto Raptors).
Rockets Future: Christian Wood
Wood, 25, went pro after his sophomore season at UNLV, where he earned All-Mountain West first-team honors. He went undrafted in the 2015 NBA Draft and kicked around the G League. He paid his dues with teams like the Delaware 87ers and the Greensboro Swarm.
Wood is playing for his sixth team in six seasons. He had a cup of coffee with the New Orleans Pelicans in 2019, where he started two games and averaged 16.9 ppg during an eight-game stint in the show. Wood signed with the Detroit Pistons last season for the league minimum ($1.5 million). He started 12 games and appeared in 62 total games, averaging 13.1 points and 6.3 rebounds per game. The Houston Rockets signed him in the offseason ($41 million for three years) to bolster their big-man ranks after a failed small-ball experiment at the end of the D'Antoni/Harden era.
In 12 games with the Rockets, Wood averages 23.5 points, 10.8 rebounds, and 1.8 blocks per game. In his debut, Wood scored 31 points and hauled down 13 rebounds. Wood also posted seven double-doubles, and hasn't scored fewer than 18 points per game thus far.
Wood is the favorite at +100 odds to win the 2021 NBA Most Improved Award.
Jermi Grant in the Big D
Grant, a power forward originally out of Syracuse, found a home with his fourth team since the start of the 2014-15 season. Last season, Grant came off the bench for the Denver Nuggets (12 ppg, 3.5 rebounds).
This season, Grant started all 14 games with the Detroit Pistons and nearly doubled his scoring output. He's currently ranked #12 in the NBA in scoring, averaging 25.4 ppg, 6.1 rebounds, and 2.6 assists per game. His 21.69 PER rating is ranked #27 overall.
Grant emerged as the Pistons' primary scoring option, and he's averaging 10 more points per game than Derrick Rose, and 12 points more than Blake Griffin.
You can currently back Grant at +175 odds to win the 2021 NBA MIP.
Looking Good: Boucher, Randle, SGA
Shai Gilgeous-Alexander is currently +2500 odds to win MIP. If he didn't play in obscurity in Oklahoma City, then his odds would be slightly better. SGA is a former Kentucky player who went #11 in the 2018 NBA Draft. The LA Clippers packaged SGA in the Paul George trade. He started 70 games for OKC and had a strong mentor in Chris Paul. SGA averaged 19 ppg, 5.9 rebounds, and 3.3 assists per game. This season, SGA averages 21 points, 6.2 assists, and 5.3 rebounds per game. He's knocking down 50.5% of his shots and increased his 3-point shooting to 36.5% per game.
Julius Randle, another first-round pick out of Kentucky, is one of the reasons why the New York Knicks are somewhat good this season. A slimmed-down Randle emerged as the Knicks' primary offensive weapon. Fans love his blue-collar work ethic and his glass-cleaning skills, where he's ranked #8 in the league in rebounding. Randle averages 22.8 points, 11 rebounds, and 6.1 assists per game. All his stats are improved from his first season with the Knicks (19.5 ppg, 9.1 rebounds, 3.1 assists).
Chris Boucher averages 15.5 points, 6.6 rebounds, and 2.4 blocks per game for the Toronto Raptors this season. His 28.46 PER rating (ranked #3 in the NBA) is off the charts. Fantasy nerds love Boucher, despite the fact he's only averaging 23.8 minutes off the bench. During the Raptors' championship run, Boucher was buried at the end of the bench and relegated to garbage time (3.3 ppg in less than six minutes of playing time per game). When Kahwi Leonard skipped Toronto for LA last season, Boucher saw an opportunity with increased playing time (6.6 ppg). This season, Boucher earned the coveted job as Toronto's Sixth Man with four double-doubles off the bench.
MIP Long Shots: JB, Sexton, or Sabonis
Jaylen Brown (25.8 points, 5.8 rebounds, 3.8 assists) is having a career season for the Boston Celtics. He's averaging 5.5 more points per game than he did last season, and is shooting nearly 52% from the floor. Brown's NBA MIP odds are +3300.
Cleveland Cavs guard Collin Sexton recently lit up the Brooklyn Nets for a career-high 42 points in a double-overtime victory. Sexton spoiled the debut of Brooklyn's Big 3. Sexton might be in "too good to be considered" Most Improved Player territory. For now, Sexton offers great MIP value at +5000 odds.
Domantas Sabonis (21.9 ppg, 12.6 rebounds, 5.6 assists) is the anchor for the Indiana Pacers after the fallout from the four-team James Harden blockbuster trade. The Pacers shipped Victor Oladipo to Houston and got Caris LeVert in the deal. Team doctors found a mass on LeVert's kidney and he'll be out while recovering from surgery. In the meantime, Sabonis is the big dog in Indiana, and he's worthy of a flier at +5000 odds to win MIP.