The New York Knicks started the season with a 4-3 record and currently occupy the #5 seed in the Eastern Conference thanks to Julius Randle and RJ Barrett. But will the Knicks finally turn around their losing ways with their first playoff appearance at Madison Square Garden since 2013? Or will the "same old Knicks" rear its ugly head?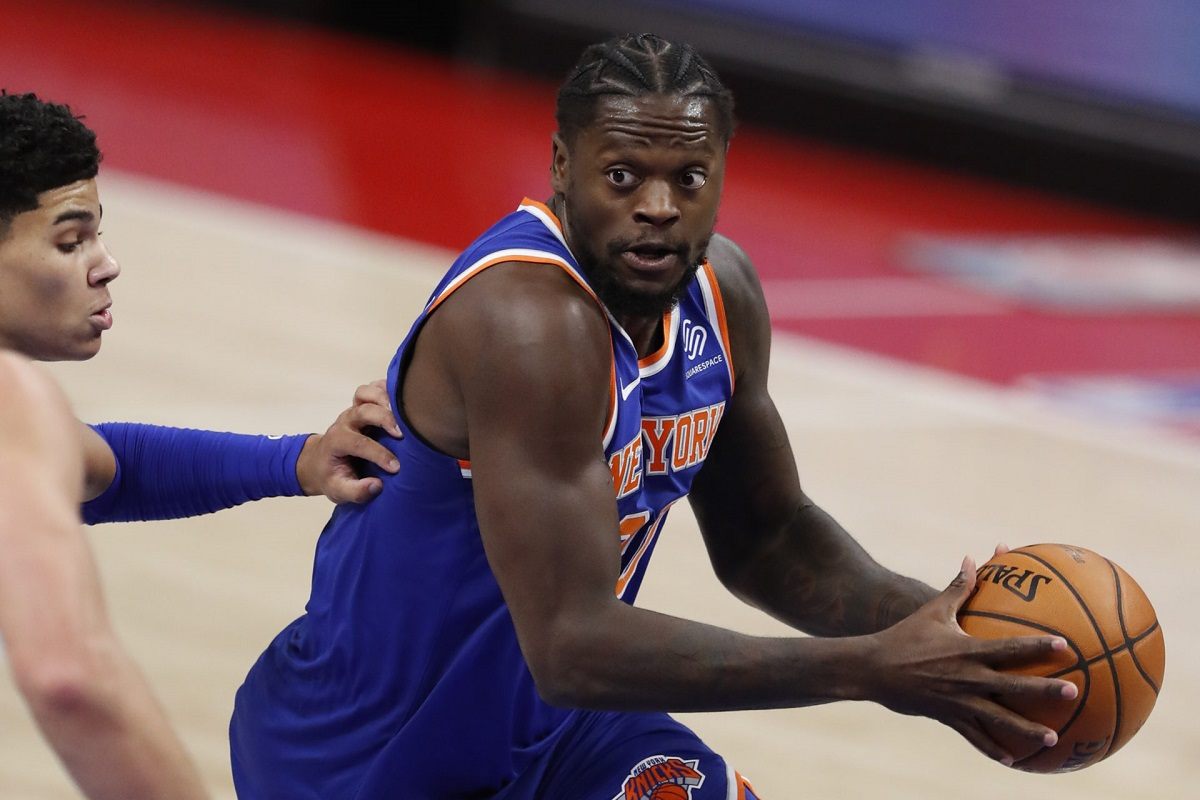 The Knicks have not secured a playoff berth since the 2012-13 season when they went 54-28 and won the Atlantic Division under Mike Woodson. They finished second overall in the east that magical season, but were eliminated in the Eastern Conference Semifinals by the Indiana Pacers.
Since that high-water mark, the Knicks posted losing records in seven consecutive seasons never winning more than 37 games. During that stretch, the Knicks won fewer than 21 games three times including two seasons in which they went 17-65.
| | |
| --- | --- |
| 2019-20 | 21-45 |
| 2018-19 | 17-65 |
| 2017-18 | 29-53 |
| 2016-17 | 31-51 |
| 2015-16 | 32-50 |
| 2014-15 | 17-65 |
| 2013-14 | 37-45 |
---
The Knicks were actively tanking two seasons ago in an effort to select Zion Williamson in the 2019 NBA Draft, but only secured the #3 pick. They selected the best player available, RJ Barrett, who has evolved into one of the top players for the Knicks. Barrett led the Knicks to a 21-45 record in his rookie season, but the toxic Knicks fired head coach David Fizdale.
The Knicks gambled by hiring defensively-minded Tom Thibodeau as their next head coach. It's a small sample size, but after seven games (or 10% of the season), the Knicks have a winning record and are actually fun to watch.
Julius Randle and RJ Barrett MSG Show
Julius Randle is putting up All-Star numbers. Randle leads the Knicks with 22.1 ppg, 11.4 rebounds, and 7.4 assists per game. The veteran power forward is posting career-numbers in his seventh season in the NBA. After a breakout season with the New Orleans Pelicans in 2018-19, the Knicks signed Randle to a three-year deal worth $57 million when they realized they were unable to persuade Kevin Durant to join the Knicks.
"Last year was a great learning experience for me," said Randle. "This year, I wanted to come back a better player and come back in great shape. That's part of the culture that we're building."
Randle's new head coach took notice of a revamped Randle.
"Julius has a pretty good understanding of his teammates and what their strengths are," said Thibs. "He's playing unselfishly. That's probably the biggest thing. He's shooting the ball a lot better also. That's opened up other things for us as a team."
Meanwhile, RJ Barrett averages 18.3 points, 7.6 rebounds, and 3.7 assists. He's playing this season with a chip on his shoulder after he was snubbed from the NBA All-Rookie Team last season, despite posting impressive numbers with 14.3 ppg, 5.0 rebounds, 2.6 assists.
Alec Burks played only three games this season, but the Knicks are eager to get him back in the lineup. Burks averaged 20.3 ppg off the bench to provide a much-needed boost with the second unit. Many of the greatest teams in Knicks history had a reliable Sixth Man and they need Burks to play that pivotal role if they expect to finally make a postseason run.
Kentucky Kids, IQ Rising
It's a slight exaggeration to say that half of the Knicks are loaded with one-and-done players from Kentucky. But a quick glance at the roster sheet will tell you that they have four players that played under Coach John Calipari at Kentucky.
The Knicks might've secured one of the big steals in the draft with point guard Immanuel Quickley, who went #25 overall. The rookie impressed Thibs early on and he secured significant minutes in preseason. A hip injury sidelined Quickley to start the season, but he's become a part of the point guard rotation with Elfrid Payton. In three games off the bench, Quickley averaged 10 ppg.
KENTUCKY PLAYERS ON KNICKS
Kevin Knox, SF
Nerlens Noel, C
Immanuel Quickley, PG
Julius Randle, PF
---
Quickley has become a film geek, much to the delight of Thibs. His ability to draw fouls is another reason why the rookie won over his new coach.
"IQ is a real student of the game," added Thibodeau. "He's watched quite a bit of Trae Young, and the one thing about NBA players, they're very intelligent, they're always going to figure out how the game is being refereed, and how they can take advantage of things. Some guys have really mastered it."
Bad News for Smith and Frankie Cigs
With Quickley earning coveted playing time, the other point guards on the roster are buried deep on the bench. That includes Dennis Smith, Jr., who was one of the main players the Knicks secured after they traded Kristaps Porzingis (aka The Unicorn) to the Dallas Mavericks. While the Unicorn struggled with injuries in Dallas, Smith has been nothing short of a disappointing bust.
Frank Ntilikina, the former #8 pick in the 2017 Draft out of France, has been another bust. Nicknamed 'Frankie Cigs', Ntilikina struggled to adjust to the NBA. He averaged only 6.0 ppg in his first three seasons with the Knicks including 51 games as a starter.