The Knicks (10-35) are currently the second-worst team in the NBA after losing six-straight games and 19 out of their last 21 games.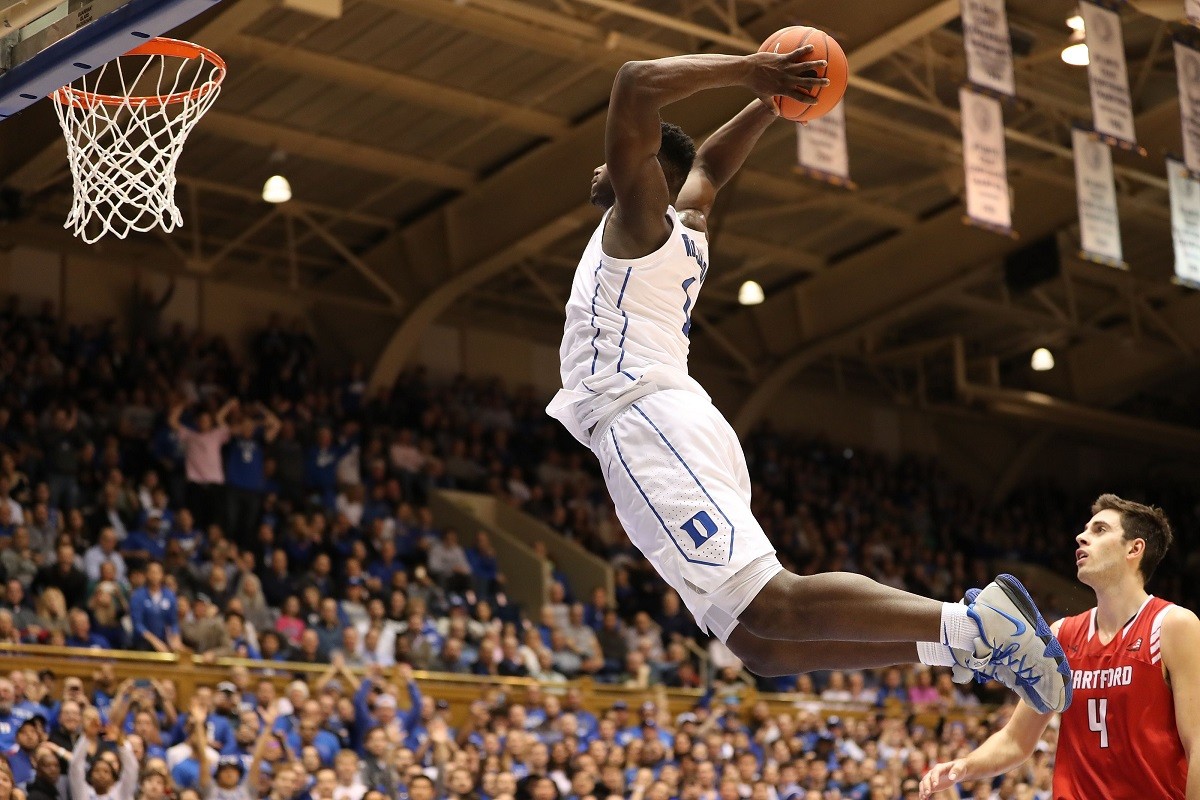 Despite the ugly record, the Knicks have a bright future next season with the return of Kristaps Porzingis, potentially drafting Duke's Zion Williamson with a lottery pick, and the hopeful signing of free agent Kevin Durant.
With the NBA trade deadline approaching, Enes Kanter and Noah Vonleh, are rumored to be shipped out of New York City. Meanwhile, the Knicks are in bull-blown tank mode as they prepare to land a lottery pick in the 2019 NBA Draft. With a 10-35 record, only the Bulls have fewer wins (9) than the hapless Knicks.
Suck for Zion?
The Knicks are contending for the top pick in the upcoming draft. They have their eyes on Zion Williamson from Duke. In a recent game at Madison Square Garden, Zion mentioned that he'd love to play at MSG in the future.
"Forty-one games at the Garden," said Zion Williamson. "I mean, it would probably be incredible. This is the Garden. A lot of greats have come through here. Playing 41 games here wouldn't be so bad."
The 6-foot-6 Williamson has been a social media star before he even suited up for Duke. His monstrous dunks have been spliced together for highlight clips on YouTube. Williamson is poised to become the first YouTube star in the NBA. He has 1.5 million Instagram followers and the media-trained big man could step into a massive media market like New York City and thrive.
Williamson has been compared to Charles Barkley. As Syracuse coach Jim Boeheim summed up Zion, "He's Charles Barkley except he shoots better and he's not as fat."
Unhappy Turk
Center Enes Kanter got even more bad news. Head coach David Fizdale informed Kanter that he fell even further in the rotation. With the return of Mitchell Robinson, Kanter will not see much action. He already lost serious playing time to Luke Kornet.
Kanter wants to play, but he's caught up in the Knicks philosophy to develop young players. Which means a veteran like himself sits at the end of the bench while all the rubes get the playing time.
"Everybody knows I love it here, man," Kanter said. "I just saw one more time (Monday night) when I went out there. It's like my home. I love it here but in the end, I want to play basketball. I miss playing basketball, man."
Kanter wants to stay in New York and would rather not get traded. His hefty $18.6 million salary is the biggest problem with moving him to another team.
Kanter has been become a pawn for international politics due to the instability of his home country, Turkey. The current government issued an arrest warrant for Kanter because of his outspoken remarks about the regime in power.
Frankie Out
Point guard Frank Ntilikina quickly fell out of Fizdale's rotation. The second-year guard from France struggled early on. He's in a catch-22 situation because he can't contribute without playing time, and without playing time, he can't show his true value.
"I know me as a player and I know my ceiling is really high, higher than everyone thinks," said Ntilikina.
Ntilikina's name has not come up in trade rumors such as Noah Vonleh or Kanter, but the Knicks will move him if they know it will put them in a better position to land Kyrie Irving.
Unicorns, KD, and Rainbows
The Knicks have eight expiring contracts at the end of the season. Next year's team will look vastly different than the current squad.
Kristaps Porzingis' return cannot come any sooner. The Unicorn from Latvia has been sidelined the entire 2018-19 season after blowing out his ACL last season. The Knicks are only 16-57 since the Unicorn went down.
"I'll tell you what, we have a monster waiting in the wings," Fizdale said about Porzingis.
Knicks fans have been praying for several years that Kevin Durant will sign with the Knicks this summer. Durant is on the inside track to winning his third-straight NBA title with the Golden State Warriors. With Klay Thompson rumored to be heading south to Los Angeles, KD is supposedly bound for New York City. Durant's agent and business partner, Rich Kleiman, is a lifetime Knicks fan. He's also close friends with Knicks coach David Fizdale. A connection is already in place. The Knicks have the money. It comes down to KD's final decision.
If Durant signs with the Knicks, the Knicks draft Zion Williamson, and Porzingis returns to full form after his injury, then the Knicks would become overnight contenders in the Eastern Conference.