In the latest batch of NBA trade rumors, the Toronto Raptors could trade veteran guard and six-time All-Star Kyle Lowry before the deadline. Teams interested in a Lowry trade include the Philadelphia 76ers, Miami Heat, and LA Clippers, but all signs indicate that the Raptors won't be quick to get rid of a veteran like Lowry who helped them win a championship two seasons ago.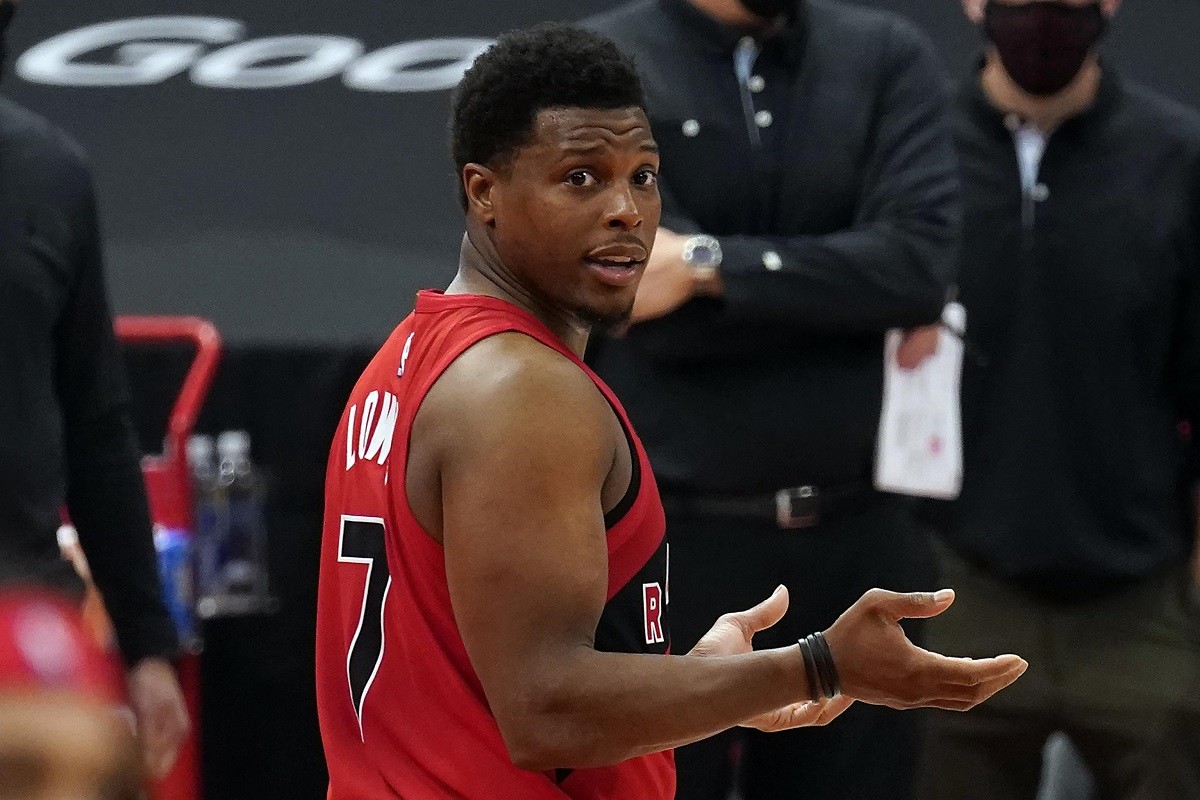 Lowry, 34, averages 18 points, 6.6 assists, and 5.7 rebounds with the Raptors this season. He's shooting an impressive 40.5% from 3-point range. He turns 35 on the same day as the NBA trade deadline on March 25.
The Raptors are currently fighting to contain a COVID-19 outbreak that started within the coaching staff. Last week, they lost six coaches, including head coach Nick Nurse, to COVID-19 health protocols. Since then, the NBA postponed multiple Raptors' games and it looks like they might get shut down through the All-Star Break.
One of the many suggestions for a replacement head coach included Lowry. As a 15-season veteran, Lowry has the most seniority on the team and could be the logical choice as a player/coach if the team loses any more assistant coaches.
Raptors Trending Up
The Raptors (17-17) started the season 2-8, including a 1-6 record on the road. By the end of January, the Raptors lost three games in a row and slipped to 7-12 overall. Since then, the Raptors went 10-5 with some impressive wins in February, including back-to-back wins over the Bucks in Milwaukee.
The Eastern Conference has a wide gap between elite teams and a cluster of break-even teams. Nothing against the revamped New York Knicks, but at 18-17, they're currently in the #4 spot in the Eastern Conference playoff standings. Only a few games separate the #4 and #12 seeds in the East this season. Every game in the second half carries a little extra importance with so many mediocre teams jockeying for playoff spots.
It took a couple of months before the Raptors finally adjusted to their new home in Tampa Bay. Canada prevented the Raptors from playing in Toronto this season in order to prevent any COVID-19 outbreaks. The Raptors were slow to adjust to playing their home games in Tampa, where they shared an arena with the Stanley Cup champion Tampa Bay Lightning.
Lowry and Kawhi Reunion in LA?
If the Raptors think they have a legit shot as a contender, then they'll keep Lowry. If, however, they punt on this season and focus on rebuilding for the future, then they'll trade Lowry.
"I'd be surprised to see Kyle Lowry in anything but a Raptors' uniform this season," said ESPN's Adrian Wojnarowski.
The Raptors' organization has a ton of respect for Lowry, especially general manager Masai Ujiri. He doesn't want to exile Lowry to no man's land with a basement-dwelling franchise like the Detroit Pistons or Sacramento Kings.
Lowry, currently in his ninth season with Toronto, leads the Raptors in all-time assists with 4,118.
The Miami Heat, Philadelphia 76ers, and LA Clippers are all title contenders that could use a boost, especially with perimeter shooting. Lowry won a title with Kawhi Leonard two seasons ago in Toronto. Leonard and Lowry could link up once again to help the Clippers by adding a sharpshooter with significant postseason experience.
After a slow start, the Heat finally woke up from their slumber and pulled even at 17-17 thanks to a six-game winning streak. If the Heat continue to play well, they won't be in the trade market for a veteran like Lowry. It's also important to note that the 76ers have an edge on the Heat because Lowry grew up in Philly as a fan of the team.
Lowry to Hometown Team?
The 76ers are still shopping for a veteran gunslinger, which is why their name comes up in almost every trade rumor involving a big-time guard. Alec Burks (NY Knicks) and Buddy Hield (Sacramento Kings) are both gunners who were linked to the Sixers in trade rumors. You can add Lowry to that shortlist as well.
Lowry grew up in Philly, which is why he's been linked to his hometown 76ers. He played high school ball in North Philly and played his collegiate ball with Villanova.
The Memphis Grizzlies selected Lowry with a late first-round pick in the 2006 NBA Draft. The Griz traded him to the Houston Rockets in 2009. He finally became a starter in 2010-11 and averaged double digits (13.5 ppg) for his first time. Lowry and head coach Kevin McHale didn't get along, however, and the Rockets traded Lowry to the Toronto Raptors before the start of the 2012-13 season.
At the peak of his NBA powers, Lowry averaged 22.4 ppg during the 2016-17 season.
When Leonard joined the Raptors as their primary scorer, Lowry averaged only 14.2 ppg yet dished a career-high 8.7 assists per game. During their playoff run in 2019, Lowry averaged 15 ppg and 6.6 assists in the postseason.
Check out more NBA Trade Rumors.