Adam Sandler plays Howard Ratner, a degenerate gambler from New York City's Diamond District in "Uncut Gems," a 2019 film directed by the Safdie Brothers (Benny and Josh). This intense and neurotic gambling movie takes place in 2012 and also stars Kevin Garnett playing himself.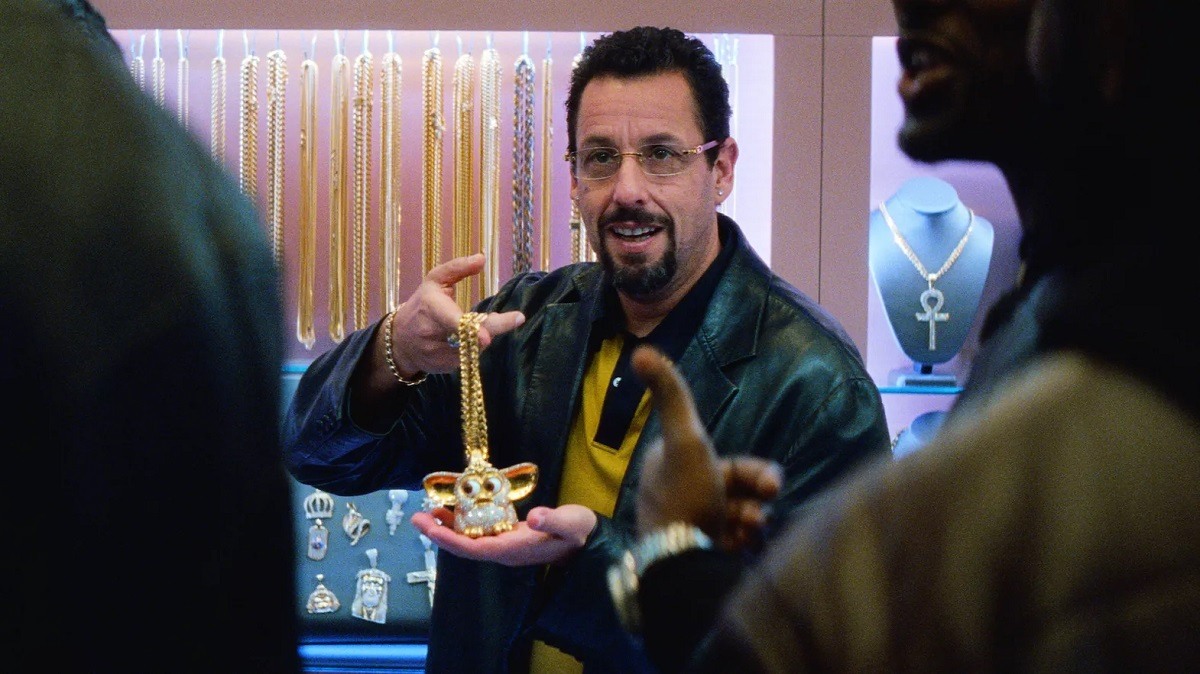 The 2012 NBA Eastern Conference playoffs are a huge part of the story as Ratner gambles on specific games played by Kevin Garnett and the Boston Celtics. The film hinges on whether or not Ratner hits his huge $1.2 million bet to bail himself out of debt, including money he owes his loan-shark brother-in-law played by Eric Bogosian.
UNCUT GEMS
Release Date: December 2019
Directed by: Benny and Josh Safdie
Produced by: Scott Rudin, Eli Bush
Written by: Ronald Bronstein, Benny and Josh Safdie
Distributor: A24, Netflix
The Safdie Brothers first gained notice for their edgy and super-hyper work in "Good Time" (2017), a psychedelic romp featuring two brothers who rob a bank in NYC.
It took the Safie Brothers almost a decade to get this film made. "Uncut Gems", an A24 film that Netflix purchased, got released in theaters mainly to be eligible for the Oscars and other awards.
The Safdie Brothers' gambling movie became an unexpected hit. They made "Uncut Gems" with a $19 million budget and it grossed $50 million.
The Plot: Degens Gonna Degen
SPOILER ALERT: Obviously, the plot synopsis for this gambling movie has spoilers.
The film opens in Africa with Ethiopian miners discovering a rare black opal. The opal is smuggled out and arrives, hidden inside a fish, to the office of Howard Ratner (Adam Sandler), located in New York's Diamond District. The debt-ridden Ratner spends time with his mistress, Julia (Julia Fox), who also works in his showroom. He also owes one particular loan shark $100,000.
Ratner's associate, Demany (Lakeith Stanfield), sells fake Rolexes out of his showroom. Demany brings NBA star, Kevin Garnett (then with the Boston Celtics) to the store. Howard shows Garnett the uncut gemstone that he acquired. Garnett gets a good vibe holding the rock and thinks that it will bring him good luck in that night's game against the Philadelphia 76ers. Ratner loans Garnett the uncut gem in exchange for his 2008 NBA Championship ring.
Ratner then hocks Garnett's ring for $21,000. Instead of paying off his debts to Anro (Eric Bogosian), he gives the money to his bookie, Gary (Mike Francesa). Ranter makes a ridiculous six-way parlay that also includes a lightning bet.
Garnett has a great game and Howard wins his bet worth $600,000. However, while attending his daughter's school play, he finds out that Arno told Gary to kill the wager. Arno and his goons chase Howard around the school parking lot before stealing his clothes and locking him inside his trunk. He calls his wife Dinah (Idina Menzel) to let him out. At Passover dinner, we learn that Arno is Howard's brother-in-law.
KG Auction and the Big Bet
Garnett finally returns the uncut gem, but Ratner tells him he can bid on it at an auction. Ratner thinks he can get $1 million for it. In order to jack up the price, Ratner begs his father-in-law, Gooey (Judd Hirsh), to raise the bidding against Garnett.
The auction house gives a lower appraisal than Ratner wants and Garnett and Gooey bid on the uncut gem. Garnett backs off when the price gets too high. Gooey wins the auction and Howard is on the hook for the auction price. Luckily, Garnett still wants the black opal. He offers Ratner $165,000 in cash for it. Ratner agrees.
Now, stuck in a deeper hole, Ratner decides to make one last big bet to get unstuck. He sends Julia to Mohegan Sun Casino to put in a bet on Garnett's next game. She places another multi-leg parlay that includes the opening tip.
Arno and his henchmen confront Ratner at his showroom. He locks them in a safety door while he watches the game and sweats his bet. Garnett wins the game and Ratner wins his parlay worth $1.2 million. One of Arno's henchmen seeks out Julia at Mohegan Sun, but she is able to collect the money at the cashier and escape unharmed.
Ratner unlocks the safety door, but one of Arno's goons shoots him out of spite.
Did You Know?
The Safdie Brothers' jeweler father inspired the film. They essentially grew up in the Diamond District and sought to pay homage to their father and his colleagues with a glimpse into the hustle and bustle where high-class clients often rub shoulders with shady underworld types and con men.
Sandler initially turned down the role when the Safdie Brothers pitched him "Uncut Gems" back in 2011. They considered Harvey Keitel, Sacha Baron Cohen, and Jonah Hill. They almost went with Hill, but felt he was too young and wanted someone closer in age to Sandler.
Idina Menzel, a Tony Award winner and singer, played Howard's wife. She nailed the role as a spoiled Long Island housewife.
UNCUT GEMS CAST
Howard Ratner (Adam Sandler)
Demany (Lakeith Stanfield)
Julia (Julia Fox)
Kevin Garnett (Himself)
Arno (Eric Bogosian)
Gooey (Judd Hirsch)
Dinah Ratner (Idina Menzel)
Gary the Bookie (Mile Francesa)
Phil the Goon (Keith Williams Richards)
Kevin Garnett plays himself in the film. Initially, the Safdie Brothers wanted current NBA star Joel Embiid to play the role of the NBA player. With Embiid unavailable during the shoot, they opted for Garnett.
New York sports talk radio host, Mike Francesa from WFAN fame, appears in the film. Francesa plays Gary, an Italian restaurant owner and bookie, who thinks Ratner makes foolish bets.
John Amos (Good Times) appears as himself as Howard's neighbor. Hip-hop star The Weeknd and Ca$h Out also appear in the film. The Weeknd plays himself.
Gamblers love to curse. The final cut of "Uncut Gems" includes 408 f-bombs. In case you were counting, that's the seventh-most profane film in the history of American cinema.
Sandler Speech at Indie Spirit Awards
Sandler has pivoted to more serious roles in recent years, similar to when funny-man Robin Williams shifted to dramatic roles. The ex-cast member of "Saturday Night Live" excelled at comedic performances in films like "Happy Gilmore" and "The Water Boy." He played a somewhat sad, stay-at-home dad and son of a self-absorbed artist in "The Meyerowitz Stories (New and Selected)," directed by Noah Baumbach.
Sandler found himself snubbed at the Oscars in the Best Actor department. At the 2020 Oscars, Joaquin Phoenix was a runaway favorite to win Best Actor for his role as the Joker. The other nominees included Leonardo DiCaprio, Adam Driver, Antonio Banderas, and Jonathan Pryce. A tough group for sure, but a lot of people believed Sandler got snubbed.
I guess a degen gambler jeweler doesn't have the same gravitas as other stellar performances that included the Pope, a drug-addled director, a washed-up TV actor, and a soon-to-be divorced dad.
Sandler got recognized for his work in "Uncut Gems" at the 2020 Independent Spirit Awards. He won their version of best actor. His acceptance speech for Best Male Lead is definitely one of the funniest you'll ever hear.
Other Sports Films
"Uncut Gems" is a gambling movie, but not exactly a basketball movie. It's in the neighborhood of other stellar sports movies.
Check out Nolan Dalla's movie review on gambling movie, "Uncut Gems." (Spoiler: he didn't like it).