Looking to get your hoops fix without March Madness? Check out "Blue Chips", a 1994 basketball movie directed by William Friedkin, which features Nick Nolte as head coach Pete Bell from fictional Western University. Bell saw his program fall behind other schools because they were getting killed in the recruiting game. A shady booster (TJ Walsh) helps Bell acquired three "blue chip" recruits (Shaq O'Neal, Penny Hardaway, Matt Nover) by illegal means to put the Western basketball program back on the map.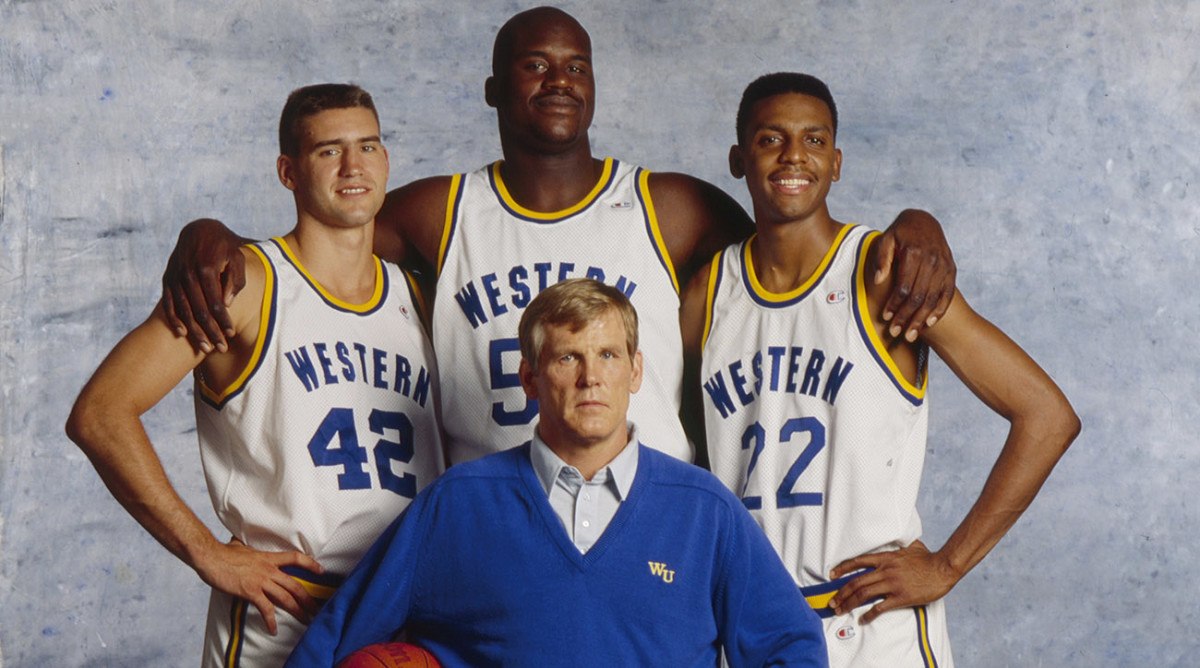 Ron Shelton wrote the screenplay and produced the film. He's most known for his sports movies with Kevin Costner such as "Bull Durham" (1989). Shelton, fresh off his hit "White Men Can't Jump" (1992), opted for back-to-back basketball movies.
William Friedkin ("French Connection", "Exorcist") directed "Blue Chips", which is quite the departure for the legendary cinematic genius. Freidekin's involvement ensured the film had a dark and deviant tone. He also hired real basketball players to lend a level of authenticity to "Blue Chips", which is why future NBA stars, Penny and Shaq, made their film debuts.
BLUE CHIPS
Release: February 1994
Produced by: Ron Shelton
Written by: Ron Shelton
Directed by: William Friedkin
Distributed by: Paramount
With a budget of $35 million, 'Blue Chips' bombed at the box office with only $23 million domestic gross.
"That script was in development for 12, 13 years. People were afraid it wasn't commercial," said producer Michele Rappaport.
The realness of the film turned a lot of hoops fans off because they really do not want to know about the dark side of college basketball. It's big business and this film shines a light on the hypocrisy of the NCAA and the so-called academic institutions that want a quick buck through winning basketball teams.
In meetings with Friedkin, both Shaq and Bob Knight confirmed the stories in the script. That's why they signed on.
Plot: Will a Coach Bend the Rules to Win?
Pete Bell (Nick Nolte) and the Western University Dolphins were one of the top college basketball programs in the country before they fell upon hard times. Western no longer dominates because their competitors steal away top recruits with cash and other bribes. The Western football team is in the top 10 because their booster and alum, Happy (TJ Walsh), found ways to compensate football stars under the table. Happy convinces Bell to let his "friends of the program" to assist in recruiting new players.
Butch McRae (Penny Hardaway), the top recruit in America, plays at a Catholic high school in the South Side of Chicago. His principal (Lou Gossett, Jr.) chastises the bevy of college coaches and recruiters by comparing them to slave traders. The key to Butch will be his mother (Alfre Woodard), who wants a house and a no-show job in order for her son to sign a letter of intent with Western. The boosters secure her demands and Western landed the best guard in the country.
Ricky Roe (Matt Nover) plays for a tiny high school in French Lick, Indiana, which is renown as Larry Bird's hometown. During a recruiting trip, Roe's father hinted that the current bid for Ricky's services will be a brand new tractor. Ricky also asked for $30,000 in cash, much to the disgust of coach Bell. A friend of the program delivers a gym bag with cash and a tractor, and Roe promptly signs with Western.
Bell heads deep into the Louisiana bayou to visit Neon Boudeaux, a 7-foot-4 giant that crushes the local pick up game. After the visit, an unknown guy shows up with a Lexus, which Neon did not ask for, but the boosters sent him one anyway.
Bell persuades his ex-wife Jenny Bell (Mary McDonnell) to tutor Neon to pass his SATs. However, once she learns Happy and the boosters are involved, she distances herself from coach Bell.
Western revitalizes their program with three blue chips. Bell quickly realizes he sold his ethics and soul for a couple extra wins. He also discovers one of his upperclassman shaved points to make a quick buck. At that point, Bell has a "come to Jesus" moment. Bell eventually confesses to his compromised morals and outs Happy and the booster club during a press conference.
Did You Know?
For his role in "Blue Chips", Nick Nolte shadowed Bobby Knight. Nolte is no stranger to sports films. He starred in "North Dallas Forty", which exposed the dark side of the NFL before many of us were aware of what really happened in the locker room and behind the scenes with management.
At different times during the development stages, actors such as Al Pacino, Kurt Russell, and Andy Garcia were all interested in playing coach Pete Bell.
The inclusion of real basketball players gave the film an authentic angle.
"My agent said they were looking for real basketball players," said Penny Hardaway. "They didn't want actors."
The film did not use a handsome star with marginal hoops skills when they had to cut away from the shots because he always missed. In "Blue Chips" Shaq threw down all those thunderous dunks himself, while Penny and Nover knocked shots on cue without missing.
CAST
Coach Pete Bell (Nick Nolte)
Booster 'Happy' Kuykendahl (JT Walsh)
Tutor Jenny Bell (Mary McDonnell)
Reporter Ed (Ed O'Neill)
Neon Boudeaux (Shaquille O'Neal)
Butch McRae (Penny Hardaway)
Ricky Roe (Matt Nover)
Coach Mel (Marques Johnson)
Western AD (Bob Cousy)
Larry Bird (Himself)
Bobby Knight (Himself)
Jerry Tarkanian (Himself)
Jim Boeheim (Himself)
Several pro basketball players had both credited and uncredited cameos as players and coaches. That list included Bobby Hurley, Allan Houston, Kevin Garnett, George Lynch, Keith Smart, Calbert Chaney.
"If you were going to do the film today you'd cast Zion Williamson," said Friedkin when asked who would play the role of Shaq in a "Blue Chips" remake.
Basketball Movies
Without any March Madness this season, you will have to turn to Hollywood to get your basketball fix. We also published previews of other classic sports movies.
Netflix has a solid library for sports films and basketball movies such as "High Flying Bird", directed by Steven Soderbergh.