"Major League", a 1989 comedy written and directed by Academy Award winner David S. Ward and starring Charlie Sheen, Tom Berenger, Bob Uecker, and Wesley Snipes, is one of the most-quoted baseball movies of all time.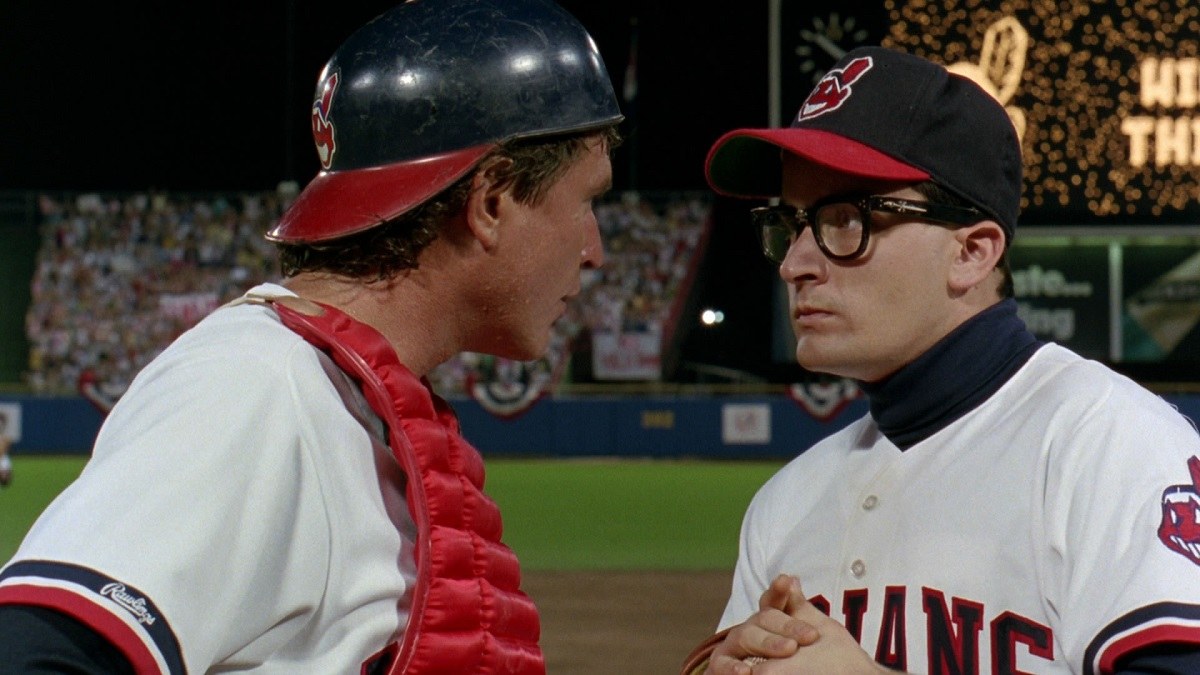 "Major League" marks the film debut of Rene Russo and Dennis Haysbert. Former catcher and announcer Bob Uecker, portrays the Indians alcoholic announcer. Uecker utters many of the best lines in the film, almost all of which he ad libbed on the spot.
With an $11 million budget, "Major League" earned approximately $50 million at the box office. The R-rated comedy finished as the 26th highest grossing film in 1989.
MAJOR LEAGUE
Release: April 1989
Produced by: Chris Chesser
Directed by: David S. Ward
Written by: David S. Ward
Production Company: Morgan Creek Productions
Distributor: Paramount Pictures
David S. Ward, won an Oscar for penning the screenplay to "The Sting" featuring Paul Newman and Robert Redford. He also penned the screenplays for "Sleepless in Seattle", "King Ralph", and "The Sting II". In addition, Ward wrote and directed the college football movie "The Program", starring James Caan.
The Plot: The Miami Indians?
"Major League" is your standard underdog sports movie in which a rag-tag group of misfits come together as a team.
Team owner Rachel Phelps is a former Vegas show girl and widow who inherited the team. Phelps wants to relocate the team to Miami, where they will build her a new stadium and luxury boxes. To ensure no one comes to the games, she assembled a team of has beens and unknowns. With the Indians in full-blown tanking mode, they are playing for last place.
Lou Brown (James Gammon), who does not have any big league experience, is hired as manager. The most notable player is washed-up catcher Jake Taylor (Tom Berenger), who has bad knees and struggled in the Mexican Leagues. Roger Dorn (Corbin Bernsen) is a philandering and overpriced veteran who can't field a lick and more concerned with his stock portfolio than improving his defense.
The Cleveland Misfits
Pedro Cerrano (Dennis Haysbert), a Cuban slugger who practices voodoo, cannot hit a curveball. Former juvenile delinquent and car thief, Ricky Vaughn (Charlie Sheen), joins the team after being released from prison. Speedster Willie Mays Hays (Wesley Snipes) crashes the Indians spring training camp in Arizona. Mays can't hit, but he's too fast for Lou Brown to let him go.
Eddie Harris (Chelcie Ross) plays a crafty veteran pitcher than uses multiple illegal substances on the baseball when he's on the mound.Harris is also a devout Christian who objects to Cerrano's voodoo worship. Cerrano sets up a shrine to his god, Jobu, and sacrifices cigars and rum in hopes that Jobu can help him hit better.
Harry Doyle (Bob Uecker), the comic relief of the film, is a jaded announcer who imbibes with Jack Daniels during games.
Lynn Weslin (Rene Russo), a former Olympic swimmer and ex-girlfriend of Jake Taylor, is now a librarian and engaged to a yuppie attorney. Taylor is determined to win her back.
Meanwhile, rookie Ricky Vaughn gets the nickname "Wild Thing" for setting an MLB record with four wild pitches in a single inning. The coaching staff discovers Vaughn has poor eyesight, which impacted his control issues. As soon as they get him fitted with eyeglasses, Vaughn's pitching vastly improves.
Beat the Yanks
The Indians go on a winning streak after they discover the owner has been tanking on purpose so she can move the team out of Cleveland and down to Florida. They decide if they win the pennant, then the owner won't be able to move the team.
The Indians end the season with a tie with the Yankees. They need to play a play-in game to determine the division winner (this film took place in 1989 when baseball did not have a Wild Card round in the playoffs).
The Yankees beat up on the Indians all season, but the Indians pull it together to defeat their rival. Ricky Vaughn gets a huge strikeout, Cerrano finally hits a curveball, Willie Mays Hays gets on base late in the game to score the winning run after cagey vet Jake Taylor wins the game with a trick play.
Major League Casting
Tom Berenger and Charlie Sheen previously worked together on Oliver Stone's Vietnam flick "Platoon".
Former MLB players Pete Vuckovich, Willie Mueller, and Steve Yeager appeared in the film. Vuckovich and Mueller played members of the hated New York Yankees. Steve Yeager played the role of Indians hitting coach, but also acted as a consultant and ran the baseball boot camp for the actors.
MAJOR LEAGUE CAST
Jake Taylor (Tom Berenger)
Ricky "Wild Thing" Vaughn (Charlie Sheen)
Roger Dorn (Corbin Bernsen)
Owner, Rachel Phelps (Margaret Whitton)
Manager, Lou Brown (James Gammon)
Lynn Weslin (Rene Russo)
Announcer, Harry Doyle (Bob Uecker)
Willie Mays Hayes (Wesley Snipes)
Eddie Harris (Chelcie Ross)
Pedro Cerrano (Dennis Haysbert)
Chelcie Ross, who played 40-something pitcher Eddie Harris, actually played collegiate baseball in Texas for a season. Tom Berenger played baseball in high school, but never as a catcher. Ex-Dodgers catcher Steve Yeager spent extra time with Berenger to help him transform into the role of Jake Taylor.
The film went into production in the summer of 1998. The crew was unable to use the stadium in Cleveland because the Indians were sharing the facility with the Cleveland Browns, who were in the middle of the NFL preseason.
The crew shifted production to Milwaukee. All the baseball scenes were filmed in the old County Stadium.
Wild Thing Sheen
Charlie Sheen was a standout baseball player at Santa Monica High School. He wanted to become a pro ballplayer and did not want to follow in his father's footsteps in show business. After Sheen got kicked off the team, he realized he lacked the talent and discipline to make it in the pros. He pivoted into acting and the rest is history.
Through Hollywood magic, Sheen acted in two baseball movies including a member of the Chicago Blacksox. John Sayles film, "Eight Men Out", appeared in theaters in 1988, or the year before the release of "Major League" in April 1989.
Sheen was perfect for the role of Ricky "Wild Thing" Vaughn. He also threw all of his own pitches. A couple of decades after the release of the movie, Sheen admitted that he took steroids during production. He said his fastball perked up to the high-80s.
For other sports films, be sure to check out our coverage of the golf classic "Caddyshack", along with "Field of Dreams" with Kevin Costner, and the hoops film "High Flying Bird" by Steven Soderbergh.