In 1988, John Sayles wrote and directed "Eight Men Out", a baseball movie starring John Cusak and Charlie Sheen, which chronicles the Chicago Black Sox scandal after the team fixed the 1919 World Series.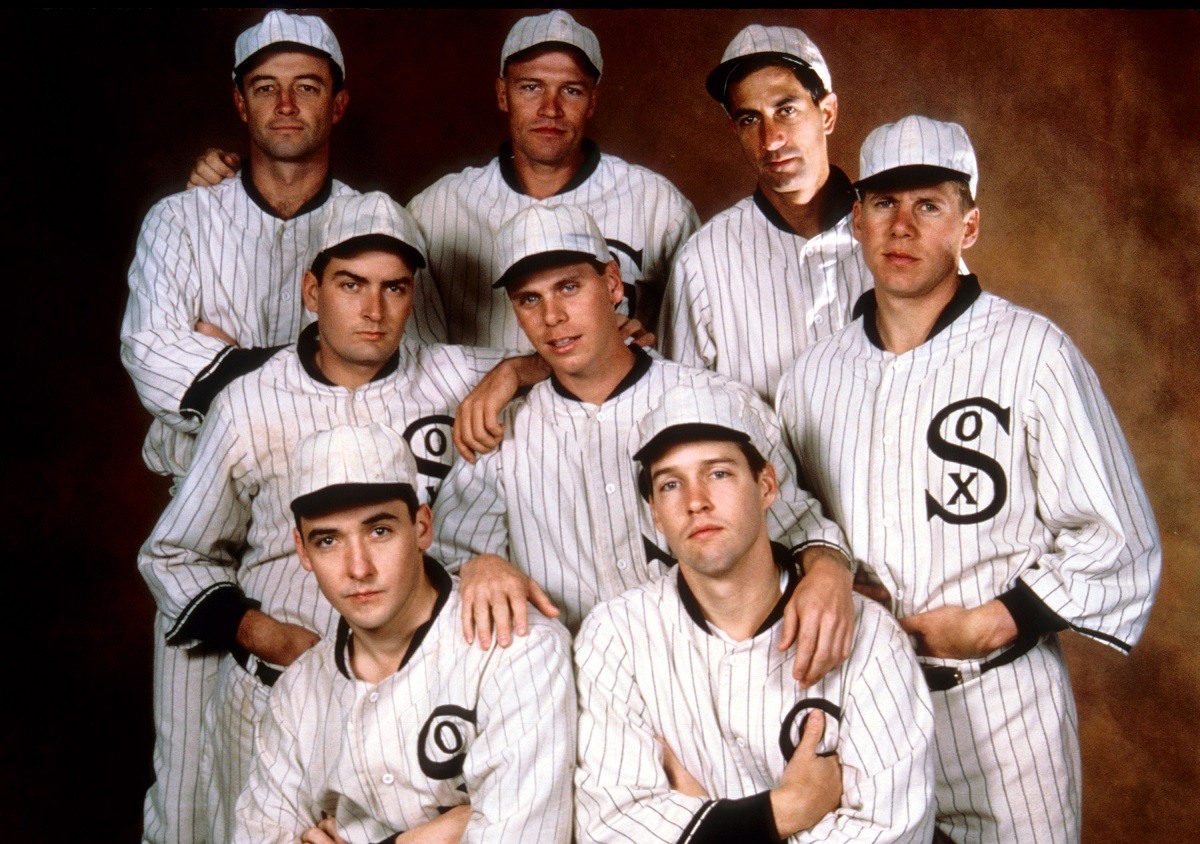 The Chicago White Sox won the World Series in 1917 but were favorites to win the 1919 Series against the Cincinnati Reds. The Sox lost 5-3 in a best-of-nine series that made writers and fans suspicious from the opening game.
Sales's baseball movie is based on a book by Eliot Asinof titled "Eight Men Out: The Black Sox and the 1919 World Series".
'EIGHT MEN OUT' CAST
Shoeless Joe Jackson = DB Sweeney
Buck Weaver = John Cusak
Happy Gelsch = Charlie Sheen
Eddie Cicotte = David Strathairn
Chick Gandil = Michael Rooker
Swede Risberg = Don Harvey
Lefty Williams = James Read
Ray Schalk = Gordan Clapp
Eddie Collins = Bill Irwin
Manager Kid Gleason = John Mahoney
Arnold Rothstein = Michael Lerner
Sleepy Bill Burns = Christopher Lloyd
Charles Comiskey = Clifton James
This popular baseball movie is also a period piece set in 1919 Chicago during an era before games were broadcast on television and players rode trains from city to city. Sayles cast himself as Chicago sportswriter Ring Lardner, meanwhile, Studs Terkel played columnist Hugh Fullerton.
The Black Sox Origins
Charles Comiskey, a former player in the 1880s and manager in the 1890s, owned the Chicago White Sox. Comiskey (Clifton James) was a well-known miser. For many years leading up to the scandal, the Sox were dubbed the "Black Sox" because Comiskey was too cheap to clean the uniforms during the season.
Comiskey's stingy ways is at the heart of the Black Sox Scandal. The players were visibly irked when they discovered their bonuses for winning the American League pennant were a couple of bottles of flat champagne.
Star pitcher Eddie Cicotte (David Strathairn) finished the 191 season with a 29-7 record. He was due a $10,000 bonus if he had won 30 games. Comiskey forced manager Kid Gleason (John Mahoney) to shut down Cicotte for two weeks towards the end of the season. The penny-pinching owner wanted to rest his best pitcher for the upcoming playoffs, but Cicotte knew it was a cost-cutting move.
After being swindled out of a promised bonus, Cicotte was open to throwing the World Series.
1919 World Series Fixing Scandal
Two different sets of gamblers, Sleepy Bill Burns (Christopher Lloyd) and Sporty Sullivan (Kevin Tighe), approached first baseman Chick Gandil (Michael Rooker) about throwing games in the nine-game series. Gandil realized he could get paid twice on the same fix.
The gamblers wanted to know that key players were interested in throwing games, including their top two starting pitchers Lefty Williams and Eddie Cicotte. Several position players would be involved including the team's best player, Shoeless Joe Jackson (DB Sweeney).
Manager Kid Gleason, a former pitcher who once beat Walter Johnson by tossing a no-hitter, suspected something is up with his team. He underestimated the severity of the fix. He thought they would drop a game or two but then finish off the Reds.
Several members of the White Sox refused to throw games including catcher Ray Schalk (Gordan Clapp), third baseman Buck Weaver (John Cusak), second baseman Eddie Collins (Bill Irwin), and rookie pitcher Dickie Kerr.
Two Baseball Movies for Shoeless Joe Jackson
Although Joe Jackson is implicated in the scandal, he tried to give the money back and did not tank the World Series. Jackson hit .375 in the 1919 Series and made several outstanding plays in the outfield. Despite all parties involved stating Jackson was not involved, the new commissioner, Kenesaw Mountain Landis, issued a lifetime ban against Jackson and several of his teammates.
To this day, Shoeless Joe Jackson is the best player not in Cooperstown. Despite many attempts by his family and colleagues to clear his name, Jackson is not included in the Hall of Fame. Both Jackson and Pete Rose were denied plaques in Cooperstown because of their ties with gamblers.
The White Sox acquired Jackson in a trade in 1915. He won the World Series with the Sox in 1917. Jackson missed the 1918 season because of World War I. Jackson served in the military instead of playing baseball, which is the primary reason they did not win the 1918 World Series. With Jackson back for the 1919 season, the Sox were favorites to recapture the title.
Jackson finished with a lifetime .356 average. He recorded 1,772 hits in 1,332 games with 307 doubles and 168 triples. Jackson hit 54 home runs in an era with gigantic ballparks. He drove in 785 RBIs and struck out only 158 times.
Jackson became the subject of another baseball film in the late 1980s. "Field of Dreams", starring Kevin Costner and Ray Liotta as Shoeless Joe, debuted in 1989.
In early 2019, Steven Soderbergh released his latest basketball movie "High Flying Bird" on Netflix.