The 153rd Belmont Stakes wraps up an unpredictable 2021 Triple Crown season with what should be the best race of the three for horseplayers.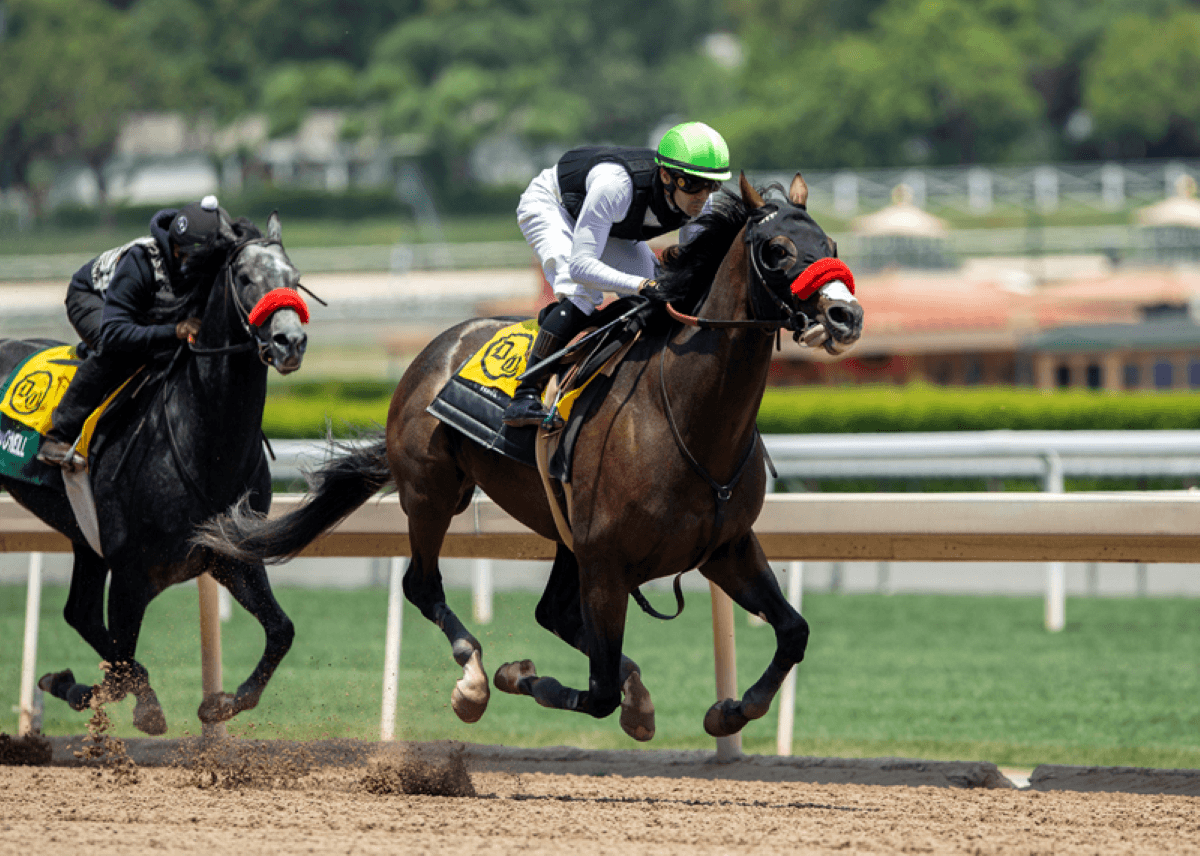 If 12/1 Medina Spirit winning the Kentucky Derby was a shock to the handicapper's system, what was 11/1 Rombauer winning the Preakness Stakes? Two horses considered good, but not great 3-year-olds taking the first two Triple Crown jewels.
The third jewel? It's as wide open as ever.
VSiN's Ron Flatter noted that only six times in more than 100 years have all three Triple Crown race winners gone off at 5/1 or greater. The last time that happened was two years ago, when Country House won his asterisk Derby at 65/1, followed by 7/1 War of Will taking the Preakness and Sir Winston winning the Belmont at 10/1.
Belmont Stakes becomes 'Test of the Champion' again
Saturday's Belmont Stakes headlines a 13-race bacchanalia at Belmont Park. It's one of eight Grade 1 races and it claims its "Test of the Champion" moniker again. That's because it returns to its customary 1 ½ miles after shortening to 1 1/8 miles as the first Triple Crown race of 2020.
The Belmont Stakes puts its charges through a race none of them have ever run – or will ever run – again. American Thoroughbreds are not bred to run 12 furlongs, especially if they've run 9 ½ three weeks earlier in the Preakness. Or 10 five weeks earlier in the Derby. The Belmont Stakes is the one and only time any horse in this field will go 1 1/2 miles.
This means several things. That running style isn't as important as it is in the other Triple Crown races. Closers can and have won the Belmont. So have pace-setters, pressers and stalkers. Instead, stamina and pedigree to handle 1 ½ miles and finding a good pace rhythm becomes important.
Stamina, breeding crucial to Belmont Stakes success
How well is a horse bred? How well can a horse maintain its speed for 12 furlongs? Those are the questions horseplayers need to ask themselves when looking at the Belmont.
And this year's edition puts handicappers to the test. The eight-horse field is the smallest since 2015, when American Pharoah's looming presence scared off all but seven other horses. But unlike that year, there is no Triple Crown-in-waiting threat. Of the eight horses, five make legitimate claims for passing the "Test of the Champion."
Four of the eight horses own Grade 1 wins: Essential Quality, Rombauer, Known Agenda and Rock Your World. Hot Rod Charlie and Bourbonic own Grade 2s. This is a field where quality makes up for quantity. And a field somewhat evened out by a variety of running styles Belmont Park puts to the test.
Favorites better come to play
But pitfalls await every one of them. Even 2/1 morning-line favorite Essential Quality. That's because the average finish of a Belmont Stakes favorite in the last 10 years is 3.8. Three of the last six favorites found the winner's circle: Tiz the Law last year, Justify in 2018 and American Pharoah in 2015. Two others: Tacitus in 2019 and Irish War Cry in 2017, finished second. But there's also Exaggerator in 2016 (11th), Dullahan in 2012 (seventh) and Animal Kingdom in 2011 (sixth).
Four times in the last decade, the winning horse came in at 10/1 or greater odds. A fifth was 9/1. And this doesn't factor in what happened in the previous decade, when Sarava won the 2002 Belmont at 70/1, Birdstone took the 2004 edition at 36/1 and Da'Tara captured the 2008 Belmont at 38/1. This is a race that tests a bettor's resolve as hard as it tests a horse's resolve.
With that, OG News breaks down our field for Saturday's race in categories, worst to first. The listed odds are the morning-line odds.
Why are you here?
France Go de Ina (Post 5-30/1): Yes, everyone's favorite foreign adventuring equine returns for his second American Classic adventure. The Japanese-based colt wheels back after his seventh-place finish in the Preakness Stakes. As predicted, trainer Hideyuki Mori sent jockey Joel Rosario forward in the backstretch, where he maneuvered into third behind Medina Spirit and Midnight Bourbon. Alas, that was France Go de Ina's last act of Preakness defiance. He hit the far turn and the wall simultaneously, finishing 17 ½ lengths behind winner Rombauer. As always, we applaud the moxie. We also shake our heads at the concept of France Go de Ina tangling with Rombauer … and Essential Quality … and Rock Your World … and Hot Rod Charlie with a career-best 78 Equibase Speed Figure. That's 21 points below the next-worse figure in the field – Overtook's 99. France Go de Ina's American adventures make for a wonderful travelogue. They don't make for a wonderful wager.
Overtook (Post 8-20/1): Here is the first of Hall of Fame trainer Todd Pletcher's three-headed Belmont contingent. That should have your attention, because Pletcher owns three Belmont titles and regularly puts his entries somewhere on the board. In 30 Belmont starts, Pletcher has those three wins (Rags to Riches, 2007; Palace Malice, 2013 and Tapwrit, 2017) six seconds and three thirds. In the last 15 Belmonts, 13 Pletcher horses finished in the superfecta. This being the Belmont, stranger things have happened, but don't expect Overtook to join that club. As the son of 2007 Preakness winner and Belmont runner-up Curlin, Overtook does have the distance pedigree. He does have two stakes placings: a runner-up to Risk Taking in the Withers and a third in the Peter Pan at Belmont Park four weeks ago. That's a third in a Grade 3 where the top two runners: Promise Keeper and Nova Rags, aren't here. Understand Overtook is likely here because of his powerful ownership group, who spent $1 million on him. He's here possibly as a pace rabbit for Known Agenda. Now understand he doesn't have the speed to be that pace rabbit over 1 ½ miles. This all means you can overlook Overtook.
Bourbonic (Post 1-15/1): Say "Hello" to Pletcher Horse No. 2, returning from his 13th-place finish in the Kentucky Derby. It's no secret we're not a fan of this one-dimensional deepest of deep closers, whose running style is as predictable as the second ring on a phone – and not as quick. In the Derby, Bourbonic plugged along in 18th place, then turned on what limited speed he had at the top of the stretch to pick off tired horses. He wound up 13th – 16 lengths behind Medina Spirit and 15 behind Essential Quality and Hot Rod Charlie, both of whom await in the Belmont starting gate. If Bourbonic hit the bottom rung of the superfecta – which is possible, given five horses going off at 10/1 or higher finished fourth in the last 10 Belmonts – this would be a colossal feat. One on par with his 72/1 burp-in-the-universe Wood Memorial victory.
One bounce candidate, one rebound hopeful
Rombauer (Post 3-3/1): There's so much to love about the reigning Preakness winner. The crush starts with that stirring victory three weeks ago, when 11/1 Rombauer reeled in Midnight Bourbon and Medina Spirit in deep stretch. That turned the one-time Triple Crown afterthought into Triple Crown race winner. What did the trick – aside from improbable circumstances and owner John Fradkin's impeccable decision-making – was trainer Mike McCarthy turning Rombauer from a closer to a stalker. McCarthy trusts that style to new jockey John Velazquez, who takes the reins after Flavien Prat returned to Derby mount Hot Rod Charlie. We love that move from a future Hall of Famer to a current Hall of Famer with two Belmont Stakes titles. And we love what Rombauer can do here: stalk the pace and uncoil that underrated speed. It looked poetic in the Preakness. What we don't love is Rombauer running into history. Since beaten Derby favorite Afleet Alex pulled off the Preakness-Belmont double in 2005, only Triple Crown winners American Pharoah and Justify added the Triple Crown's third jewel to the second. We don't love Rombauer's value-devoid odds, which will drop as horseplayers overbet the Preakness winner. And we don't love the bounce shadow hanging over Rombauer after that 102-Beyer career performance.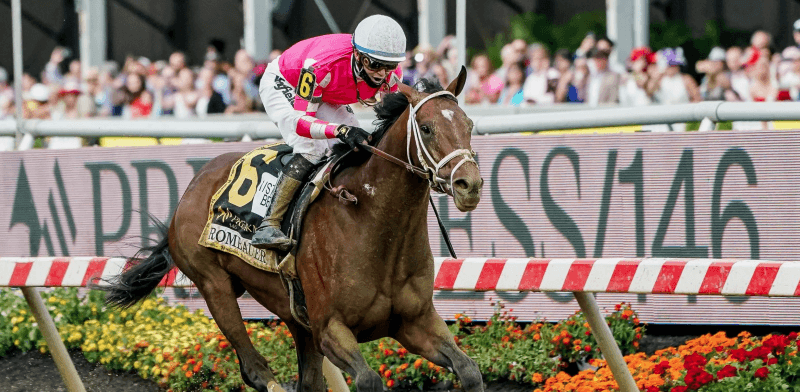 Rock Your World (Post 7-9/2): What's the opposite of "bounce?" Rebound? Redemption? Whatever you call it, that's what Rock Your World's connections hope and pray for coming into the Belmont. Those connections for the Derby's second-favorite watched their Run for the Roses run off the rails seconds after the gate opened. The Santa Anita Derby champion got sandwiched between Essential Quality and Like the King, which sent him on a nightmarish 17th-place trip and his connections into head-scratching disbelief. Well, Rock Your World returns with two-time Belmont Stakes winner Joel Rosario back. He also returns with the pedigree to go 12 furlongs and status as the lone pace-setter in the field. Pace-setters can win the Belmont Stakes, see American Pharoah and Justify. But VSiN's Flatter noted that of the last 36 Belmont Stakes winners, only three led at ever call. Two were the aforementioned Triple Crown winners. The third was 2008 38/1 freak Da'Tara. For Rock Your World to join that club – and given his forgotten status here, he could — Rosario needs more than just a clean break. He needs sensible fractions – along with Essential Quality and Hot Rod Charlie behaving themselves by avoiding a speed duel. It's a big ask.
They would not surprise you at all
Known Agenda (Post 6-6/1): Say "Hello" to the Pletcher in the field. Also, say "Hello" to the equine version of former NBA MVP Allen Iverson. "Practice? We talking about practice?" is the philosophy of a colt who doesn't have the greatest work ethic. In only one of his last six workouts was he better than eighth at a given distance that day. Known Agenda mailed in the Grade 3 Sam F. Davis, finishing fifth behind such 3-year-old forgettables as Candy Man Rocket, Nova Rags, Hidden Stash and Boca Boy. Only one of that quartet entered a Triple Crown starting gate – 14th-place Derby finisher Hidden Stash. Of course, Known Agenda rebounded by winning an allowance by 11 lengths, then putting on a nearly three-length victory clinic in the Florida Derby, one complete with 112 Equibase that leads this field. In the Derby, Known Agenda bounced back to a non-factoring ninth. That was partially a product of his rail post and the cascading traffic and partially a product of him deciding dealing with all this wasn't worth the effort that day. But this is a horse built for the Belmont Stakes, starting with Curlin as his sire and segueing into Pletcher calling the shots. That in turn, segues into Known Agenda's closer/stalker style. Closers hit the board four of the last five Belmont Stakes and closer/stalkers finished third nine of the last 10 years. And Known Agenda, quirks and all, is the best closer in this field. Thanks to the Pletcher factor, don't expect to get him near 6/1. But get him somewhere on your tickets.
Essential Quality (Post 2-2/1): If the Equine Gods designed the perfect Belmont Stakes horse, they would in all likelihood send you Essential Quality. He's the product of Tapit, who already sired three Belmont Stakes winners in the last seven years, along with two runners-up and two third-place finishers. He comes in out of the Derby, where 10 winners in the last 20 years came into Belmont Park from. His stalker style plays well in this field, where the early speed figures to come from Hot Rod Charlie and Rock Your World. And his versatility plays well in this field, because Essential Quality rolled up his 5-for-6 record running as a pace-setter, presser and stalker. Even with star jockey Irad Ortiz Jr. out after a Thursday spill that sent him to the hospital, expect his replacement to stalk the pace, then pounce at the top of the stretch. Up until his fourth in the Derby, that patented formula worked. Where the Equine Gods left an Achilles heel is two-fold. First no Champion 2-Year-Old has ever won the Belmont Stakes. And second, there's Essential Quality's value – or lack thereof. The Derby favorite at 2.90/1 is the 2/1 morning-line favorite here. Throwing out Tiz the Law's 1 1/8-mile pandemic victory at 4/5 last year, only the two Triple Crown winners and Afleet Alex won as favorites since 2005. This proves even the gods want wagering value.
The pick
Hot Rod Charlie (Post 4-7/2): As always, let's dispense with Hot Rod Charlie's flaws. As the half-brother to Champion Sprinter of 2019 Mitole, his pedigree isn't quite in the stamina neighborhood as several of his peers. In the Derby, he got the perfect stalking trip from Flavien Prat, but couldn't catch Medina Spirit, nor Mandaloun. And unlike his four chief rivals here, he doesn't have a Grade 1 win on the resume. Now, let's pick those apart. Hot Rod Charlie is the product of Oxbow, who won the 2013 Preakness at 15/1 and finished second in the Belmont three weeks later at 10/1. Hot Rod Charlie's grandsire is Awesome Again, who won the 1 ¼-mile Breeders' Cup Classic and sired 2019 Belmont winner Sir Winston. Good enough? Then, there's that Derby trip. Hot Rod Charlie lost to that pair by barely a length, while holding off Essential Quality for third. His 102 Beyer from that bears testament to a well-run race. In other words, Hot Rod Charlie didn't lose that race. He got beat — barely. As for that Grade 1 win Hot Rod Charlie lacks, he's hit the board in four consecutive graded stakes races, a feat equaled only by Essential Quality here. His presser/stalker style sets up well in this race, he doesn't need the lead and Prat is far too savvy to engage in a speed duel with Rock Your World. Simply put, Hot Rod Charlie doesn't mail in a race. Finally, there's value in a California-based colt with a California-based trainer in Doug O'Neill running in New York. Anything at or above 7/2 is stealing here. As for O'Neill, his best Belmont opportunity came nine years ago, when Derby and Preakness winner I'll Have Another was scratched with an injury the day before the Belmont. This year, Hot Rod Charlie rectifies that oversight in O'Neill's resume.