Understand that when France Go de Ina enters the starting gate for Saturday's 146th Preakness Stakes, you're seeing a true Triple Crown rarity.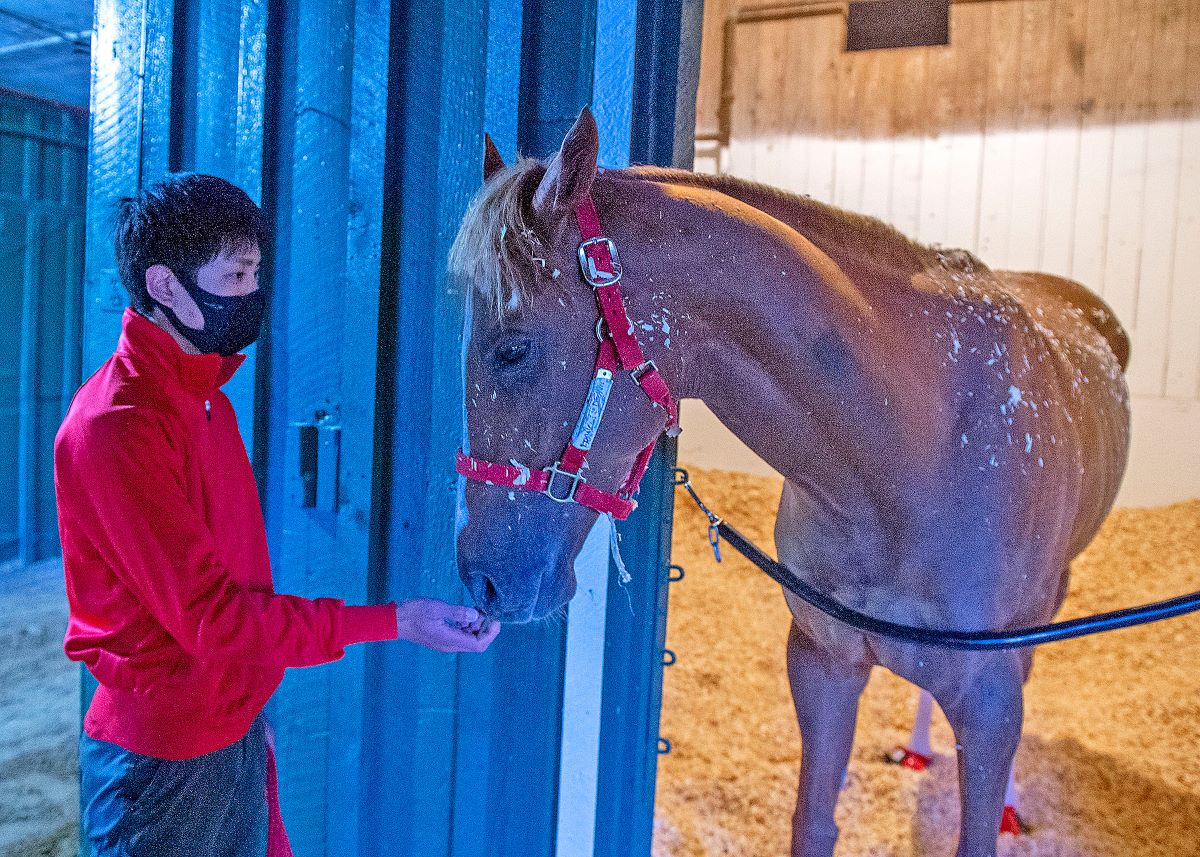 Not just a Japanese horse running a Triple Crown race. That's rare enough. After all, France Go de Ina will be the first Japan-based horse running the Preakness since Lani finished fifth in 2016. Two years ago, Master Fencer crossed the 2019 Kentucky Derby finish line sixth. He was promoted to fifth in the wake of Maximum Security's disqualification, then finished fifth five weeks later in the Belmont Stakes.
But in France Go de Ina, you're seeing the rare Japan-based jet-setting horse. Rare is the Japanese horse who travels long distances by air.
Hideyuki Mori, France Go de Ina's 62-year-old trainer, is no stranger to worldly jaunts and France Go de Ina is no stranger to starting gates in foreign lands. Mori sent six horses to US Grade 1 races, starting with Sky Captain, who finished 14th in the 1995 Kentucky Derby. Last year, Mori brought Jasper Prince to Keeneland for the Breeders' Cup, watching him finish 14th in the Sprint.
France Go de Ina is Mori's second Triple Crown race contender.
The world is Mori's pearl
Mori doesn't just send his charges to the US. In 1998, he sent Seeking the Pearl to a milestone victory in the Group 1 Prix Maurice de Gheest at Deauville in France.
"He's been traveling since he first launched his stable," Kate Hunter, the Preakness field representative for the Japan Racing Association and an expert on Japanese racing, told the Maryland Jockey Club. "He was the first Japanese trainer to win a Hong Kong International race and now (Japanese horses) win that every year. He was the first to win an international Group 1 abroad, it was in France … He's quite the pioneer and continues to prove that year after year, sending these horses abroad. He likes to travel and give his owners a unique experience."
And even though he's run only four times, France Go de Ina qualifies as "well-traveled." After finishing fourth in his debut, France Go de Ina won two consecutive races at Hanshin Racecourse, capping off his 2-year-old campaign. Then, Mori took him to Dubai, where he finished sixth at 9/2 in the UAE Derby, enduring a difficult trip on the track.
France Go de Ina already travel-tested
"You're looking at a horse who can deal with a lot," Hunter said. "American horses, in general, are probably more used to traveling than most of the Japanese horses. They're pretty good at long van rides, but they don't fly very much in Japan. So to have a horse who can handle not only flying to America, but flying to Dubai and back and then over here … If he can give us a solid performance, it will be pretty amazing because that's real tough on the horse."
A Will Take Charge progeny, France Go de Ina returned to Japan after the March 27 UAE Derby. He arrived in the US on May 5, spent two days in quarantine in Los Angeles, then arrived last Saturday at Pimlico. He'll put in his work by himself each morning due to quarantine restrictions. Hunter said he'll breeze Wednesday.
She also said he'll get plenty of gate schooling. That's to prevent France Go de Ina repeating the troubled break he and jockey Joel Rosario endured at the UAE Derby. Rosario gets the reins again for the Preakness.
Getting his gate work in is crucial
"He didn't break very well or quickly out of the gate. In Japan, it's not so much of a big thing because the racing is slower there over the dirt, so he's been good at regaining ground or taking the lead even in some of those races," Hunter said. "We'll probably leave a lot of it up to Rosario at the end of the day, but getting him out of the gate quickly will be a priority. We're going to work him in the gate and make sure he gets used to having an assistant starter in there, because he's never had one and we didn't use one in Dubai and probably should have."
Regardless of his break or trip, France Go de Ina is a Kentucky-bred Japanese celebrity. Mori clearly understands what it means having the $100,000 purchase at the 2019 Keeneland September Sale in the Pimlico starting gate.
"It's a great honor in Japan to say, 'I raced in Saudi Arabia. I raced in America. I raced in the Preakness.' It's something special and a unique opportunity to provide his clients," Hunter said.