Before we break down the field for the second jewel of the Triple Crown, we'll dispense with the news everyone waited for concerning Saturday's 146th Preakness Stakes from Pimlico Race Course in Baltimore.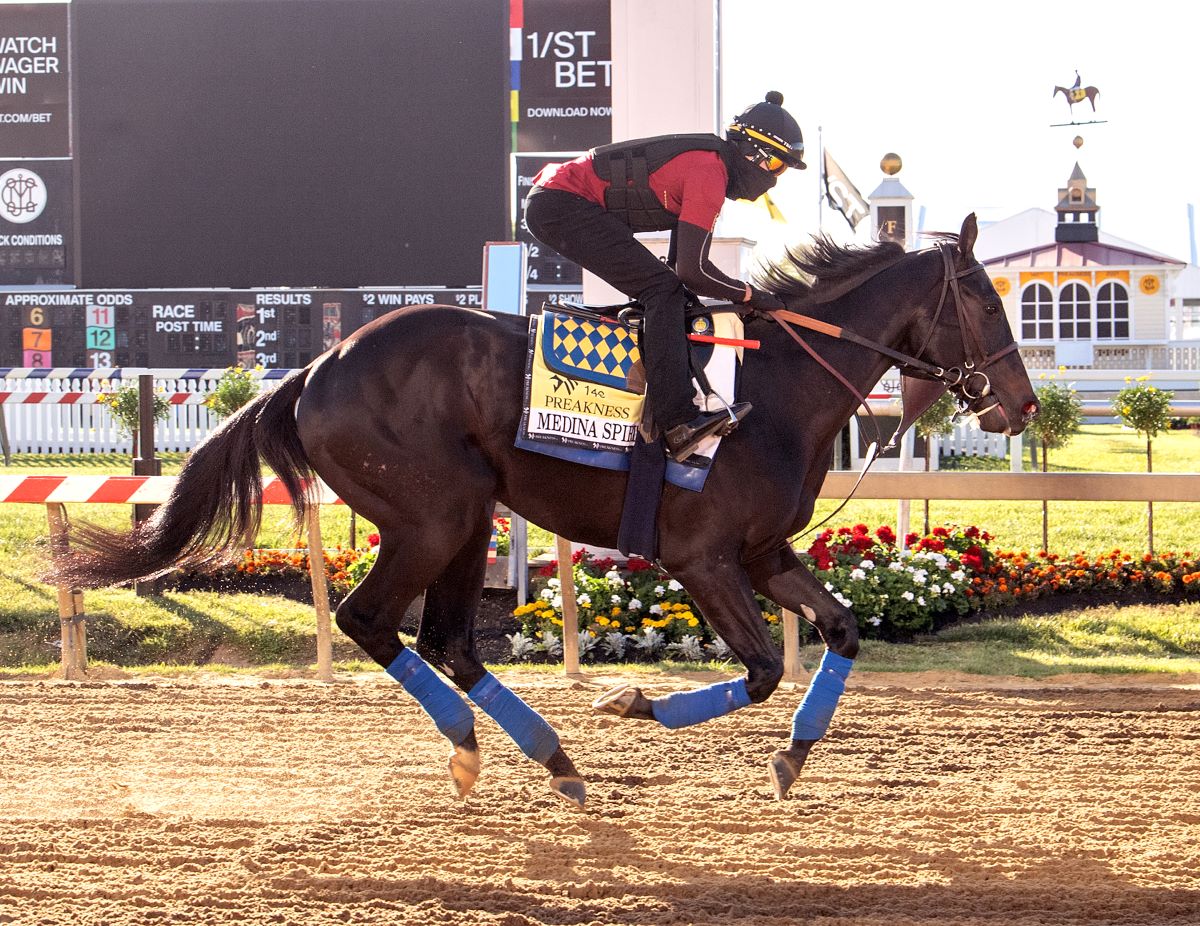 Both Kentucky Derby winner Medina Spirit and Concert Tour passed their three pre-race drug tests, meaning they are eligible to run the 1 3/16-mile Preakness. This was a provision of the agreement the Maryland Jockey Club and Pimlico's owner, The Stronach Group, reached with trainer Bob Baffert to allow his runners in the field.
Had either those two or Black-Eyed Susan contender Beautiful Gift tested positive on any of the samples, Baffert had to scratch them.
This came after Medina Spirit tested positive for excessive amounts of the anti-inflammatory betamethasone in the wake of his Derby win. The medication is legal, but must be out of a horse's system by race day.
Meanwhile, there's a Preakness to win here
While Baffert and Medina Spirit's connections await the results of the split sample that holds that colt's fate as a Derby winner in the balance, he comes in as one of the horses to beat. And with good reason, given what wins a Preakness in the modern era.
First, Medina Spirit is a speed horse who won the Derby. This particular genus shines in the Preakness, as we've seen with Baffert's Justify and American Pharoah and earlier, with California Chrome, I'll Have Another, Smarty Jones, Funny Cide and Big Brown.
Second, Medina Spirit, along with Midnight Bourbon (who finished sixth) and Keepmeinmind (seventh) all ran at Churchill Downs. Since 2000, only three horses: Red Bullet (2000), Bernardini (2006) and Cloud Computing (2017) won the Preakness without running in either the Derby or Kentucky Oaks. That latter race encompasses fillies Rachel Alexandra (2009) and Swiss Skydiver last year.
Preakness Stakes new shooters face old trouble
New shooters are a tough ask. Not impossible, mind you, as you'll see. But they're better used underneath in vertical exotics. So are closers, who hit the Preakness board with regularity, but rarely at the top. Only Exaggerator in the slop of 2016 won as a closer in the last decade.
While speed horses win the Preakness most this century, it's rare to see them fill both exacta spots.
Mike Shutty, who writes the Preakness Super Screener, illustrated that closers filled the second exacta spot in nearly half of the last 20 Preakness'. Shutty points out only twice in the last 20 years has a pace and a presser – the two front-running types – went 1-2. That happened last year with Swiss Skydiver and Authentic and in 2018 with Justify and Bravazo.
Picking the right Preakness Stakes closer is key
In each of the last four years, closers filled the bottom spots of the trifecta. Three of those: Jesus' Team last year (40/1), Tenfold in 2018 (26/1) and Senior Investment in 2017 (31/1) went off a double-digit odds.
The Preakness wagering message is clear. Bet speed up top and find closers underneath.
With that, let's begin. OG News breaks down our field for Saturday's race in categories, worst to first. The listed odds are updated as of Friday, 3:30 p.m. PT.
Why are you here?
Ram (Post 1-13/1): D. Wayne Lukas and the Preakness Stakes go together like Black Eyes and Susans. The 85-year-old trainer owns six Woodlawn Vases over four decades, winning his first in 1980 with Codex – in his Preakness debut — and his last in 2013 with Oxbow. He's hit the Preakness board 13 times in a record 44 starts and sprung upsets they'll be talking about for decades. Upsets like Charismatic winning the 1999 Derby at 31/1, Cat Thief stealing the 1999 Breeders' Cup Classic at 19/1 and the aforementioned Oxbow winning his Preakness at 15/1. Alas, they won't be dropping Ram's name in this company. He's a nice ridgling with two victories: a two-length win in an Oaklawn Park maiden claimer and a 3 ½-length score in an allowance-optional claiming race on the Derby undercard. Along with allowance-level speed figures, neither make him remotely competitive here. Not even for upset-prone legends.
Unbridled Honor (Post 8-13/1): The flip side of Lukas and the Preakness is Todd Pletcher and the Preakness. Pletcher and the Preakness go together like oil and water. The newly elected Hall of Fame trainer makes a point to pass the second jewel of the Triple Crown, running his charges only when he brings in a Derby winner. And this Honor Code progeny reminds nobody of a Derby winner. Not with modest speed figures (a 90 Beyer, 98 Equibase), and a win and a second in five starts – none of which scare anyone in this field. That second came in a third-tier Derby prep: the Lexington Stakes, to King Fury. That Pletcher sends a horse to Pimlico with a second in the Lexington Stakes and a fourth in a weak-field Tampa Bay Derby tells us all we need to know here.
We always love a good story, comeback or otherwise
France Go de Ina (Post 7-18/1): Hideyuki Mori loves to travel, sending seven horses to the US for Grade 1s. He loves a challenge, telling reporters he plans sending Joel Rosario and this Kentucky-bred son of Travers Stakes winner Will Take Charge out to challenge for the early lead. Yes, Mori wants an early piece of race favorites and pace-setters/pressers Medina Spirit, Concert Tour and Midnight Bourbon. How can you not love this, especially since both of France Go de Ina's two wins came either from the lead or right off it in second? Well, we love all of it: the travel, the moxie, Rosario at the reins, and the love of a challenge a lot of foreign trainers pass up. What we're not enamored of is France Go de Ina's non-threatening sixth by 10 ½ lengths in the unimpressive UAE Derby. We also don't love the question marks concerning speed and class following France Go de Ina into the starting gate. That's too much of a challenge to digest for anything above your deep exotics.
Risk Taking (Post 9-17/1): Your mission, should you choose to accept it, is to determine if this aptly named Chad Brown charge will be manic or depressive. Will you get the Risk Taking who captured a December maiden nine-furlong race at Aqueduct? Will you get the Risk Taking who took the Grade 3 Withers over the same distance at the same track? Will you get the Risk Taking who finished seventh as the 2/1 favorite in an awful Wood Memorial field? Or will you get the Risk Taking who opened his career finishing seventh and sixth in maiden special weight fields? Brown took a calculated risk guessing you'll get the Dr. Jekyll Risk Taking and not the Mr. Hyde Risk Taking here. That, along with Risk Taking handling two turns better, explains why Brown scratched him from the Grade 3 Peter Pan for the Preakness. If you think Risk Taking reverts to Dr. Jekyll here and his closer style fits this race, he'll be there for the taking at juicy odds.
Your exotics thank you here
Keepmeinmind (Post 2-11/1): Props and praise rain in on Keepmeinmind for outrunning his 49/1 odds in the Derby to finish seventh – seventh. This, after another awful start preceded a decent finish, where he went eight-wide in the stretch and actually made up ground in the middle of the track. Going from 19th to seventh counts as one of the best efforts of any Derby also-ran. But keep in mind Keepmeinmind still finished 8 ½ lengths behind Medina Spirit and his 2021 record consists of a sixth, fifth and that seventh – by a combined 26 ½ lengths. He's this high because of his Derby presence and what he showed there. That said, Keepmeinmind's speed figures put him in the middle of the pack and you'd be best served keeping Keepmeinmind at the bottom of your vertical exotics.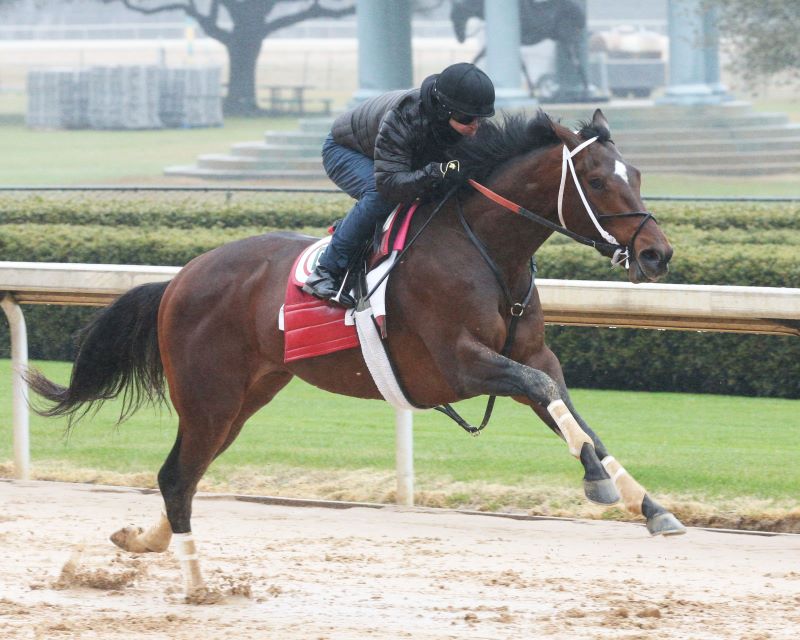 Rombauer (Post 6-11/1): Wine connoisseurs, rejoice. You've found your horse, especially if you're a fan of closers with a twist. This California-based son of Twirling Candy drew his name from a Napa Valley winery known for its Chardonnays. He drew his Preakness spot with a last-to-first finishing flourish in the El Camino Real Derby at Northern California's Golden Gate Fields. Yet in the Blue Grass Stakes at Keeneland, arguably the best Derby prep of 2021, Rombauer hung with Highly Motivated and eventual winner Essential Quality. Understand, Rombauer was never in danger of winning that race, finishing nearly six lengths behind those two. And understand that, barring a pace meltdown, he won't be in danger of winning this one. But understand that Rombauer is a decent vintage, who — in this field and with top-shelf rider Flavien Prat aboard – isn't a "Sideways" entry on any of your exotic tickets.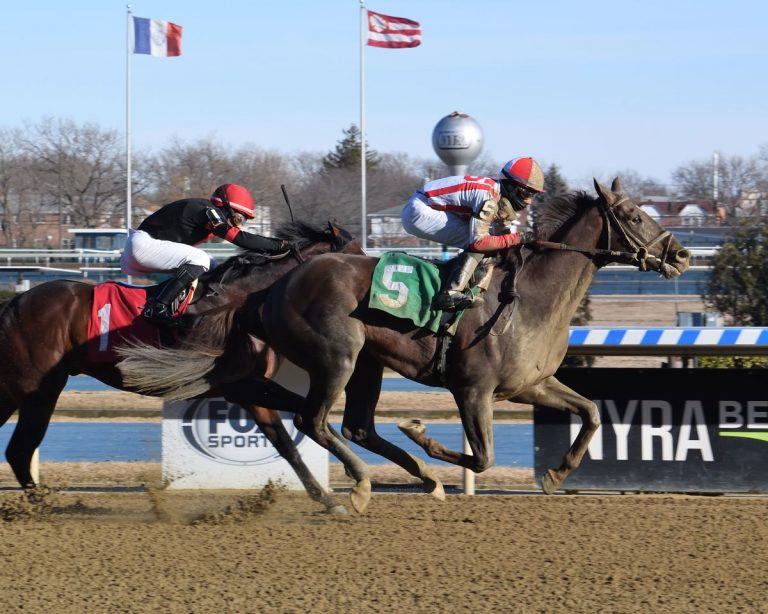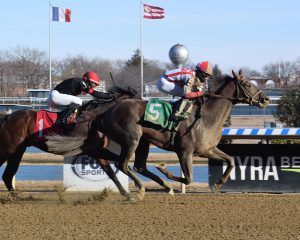 Crowded Trade (Post 4-7/1): Four years ago, Brown swiped the Preakness with 13/1 Cloud Computing. We mention this here because this lightly raced More than Ready son draws comparisons to Brown's '17 Preakness winner. They're both plucky colts with more talent than meets the initial eye. And both come to you from Brown's main client: Seth Klarman's Klaravich Stables, one of the dominant New York stables. So you have one of the best trainers in the country bringing you a horse from a deep barn. And you have Crowded Trade's career-best 95 Beyer, which ranks third in this field? What could go wrong? Well, this is Crowded Trade's first race outside of Aqueduct, where he owns a win in a maiden sprint, a second to Weyburn in the Gotham Stakes and a third to Bourbonic and Dynamic One in that glacial Wood Memorial. It's also a true test of how well he can stalk Concert Tour, Medina Spirit and Midnight Bourbon. That's a crowd Crowded Trade has never bargained with before.
They could find a way
Medina Spirit (Post 3-3/1): There's a lot to unwrap here for obvious reasons. But we'll start with the obvious fact that Medina Spirit has no idea what his human handlers endured this week. For Bob Baffert, assistant Jimmy Barnes – who is handling the Kentucky Derby champion in Baltimore this week — and owner Amr Zedan, this is a good thing. All the Derby winner knows is he's running again. As for the rest of us, we unwrap the fact that Medina Spirit has yet to finish outside the exacta in six races (3-3-0). He's yet to lose a race where he takes the lead and he's among the most tenacious, gutsy horses you'll ever see at this level. We open another package to find Medina Spirit's 102 Beyer from that Derby win is six points better than the next-best Beyer: Midnight Bourbon's 96. The next package tells us that Baffert is unbeaten in non-pandemic-postponed Preakness' with his Derby winners: 5-for-5. Now, for the spoilers. Medina Spirit has yet to win a race where he wasn't on the lead and both stablemate Concert Tour and Midnight Bourbon will ensure any lead will be contested from the outset. We wonder if there's a package labeled "bounce," as in will he bounce after that all-out Derby win? Baffert and Barnes say Medina Spirit looks good coming into Pimlico. We'll accept this on our tickets. But like the sentiment surrounding this colt in the wake of his Derby positive for betamethasone, we'll accept it with reservations.
Midnight Bourbon (Post 5- 5/2): Yes, you read this right. Here's your pre-race favorite as of Friday afternoon. And it's not hard to figure out why. Midnight Bourbon brings the most experience into the Preakness (eight starts). He brings a consistent knack for in-the-money finishes (2-2-3), with all but his maiden debut win coming in graded stakes. He brings the best rider in America – Irad Ortiz Jr. – in the irons. And he brings the pace-pressing speed that wins the Preakness. Midnight Bourbon's only misfire came in the Derby, when he broke sloppy and slogged through a brutal trip before he closed strong and finished sixth. He finished second to Hot Rod Charlie in the Louisiana Derby at this same distance. And unlike his notorious frustrations in the Derby, trainer Steve Asmussen won the Preakness twice with Curlin (2007) and the incomparable filly Rachel Alexandra (2009). It shouldn't surprise you at all if all this adds up to Asmussen's third Preakness. There are two bitter chasers here: Midnight Bourbon doesn't have the true speed to run down Concert Tour and Medina Spirit, which is why he's in this spot. And as expected, Midnight Bourbon's value can be measured in shotglass size, instead of tumbler size.
The pick
Concert Tour (Post 10-4/1): We'll take our usual path and dispense with Concert Tour's flaws out of the gate. He didn't run the Derby and — counting the two fillies — only five new shooters this century won the Preakness. Because Concert Tour is a pace-setter starting from the outside post, new jockey Mike Smith could go full kamikaze and send him out hard from the gate. That opens the door for a possible speed duel with John Velazquez aboard stablemate Medina Spirit. That, in turn, fries both horses and opens the winner's circle for either Midnight Bourbon or a closer. Or Smith could tentatively keep Concert Tour back and watch him misfire, like what happened in his disappointing third in the Arkansas Derby. OK, that out of the way, you don't get the nickname "Big Money" for being reckless or stupid. Smith is far too savvy and Baffert is far too wise to have his two pace horses commit speed hara-kiri. Let's not forget Concert Tour was Baffert's best Derby prospect from late March forward. Let's remember he is 3-for-4 and got better each race until that Arkansas Derby burp. And let's not overthink that loss. As Santa Anita Park morning line author Jon White pointed out in his Xpressbet column, Secretariat lost his last Derby prep. And let's remember Concert Tour's profile as a pace-setting/pace-pressing speed horse who likes to be up front fits the profile of a Preakness winner. It also fits the profile of a stablemate Triple Crown spoiler.