Horse racing and the face of horse racing – Hall of Fame trainer Bob Baffert – took two more punches to their collective integrity Sunday when Kentucky Derby-winning horse Medina Spirit tested positive for an anti-inflammatory drug, betamethasone.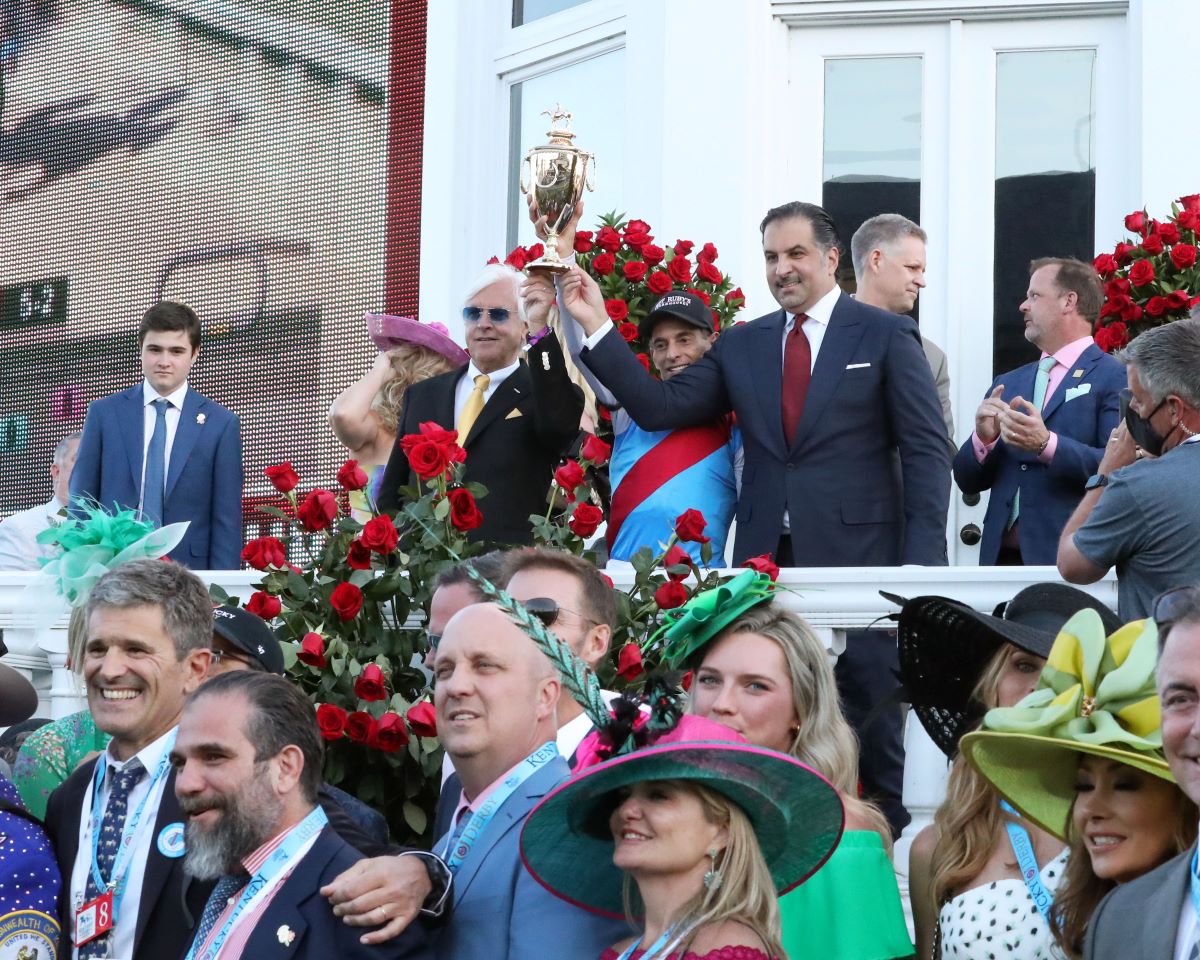 Baffert confirmed the test to reporters in an impromptu press conference at his Churchill Downs barn Sunday morning. As Baffert was vehemently denying the accusations, Churchill Downs immediately suspended him from racing horses at its track. Track officials issued a statement leaving no equivocation on what will happen if Medina Spirit's split sample, or "B" test, comes back positive.
"It is our understanding that Kentucky Derby winner Medina Spirit's post-race blood sample initiated a violation of the Commonwealth of Kentucky's equine medication protocols," the statement read. "The connections of Medina Spirit have the right to request a test of a split sample and we understand they intend to do so. To be clear, if the findings are upheld, Medina Spirit's results in the Kentucky Derby will be invalidated and Mandaloun will be declared the winner."
The statement continued, "Failure to comply with the rules and medication protocols jeopardizes the safety of the horses and jockey, the integrity of our sport, and the reputation of the Kentucky Derby and all who participate. Churchill Downs will not tolerate it. Given the seriousness of the alleged offense, Churchill Downs will immediately suspend Bob Baffert, the trainer of Medina Spirit, from entering any horses at Churchill Downs Racetrack. We will await the conclusion of the Kentucky Horse Racing Commissions' investigation before taking further steps."
Medina Spirit remains on Preakness path
As for Baffert's next steps, he told reporters he intends to race both Medina Spirit and Concert Tour in Saturday's Preakness Stakes at Pimlico Racecourse. Both horses are scheduled to be vanned to Baltimore on Monday.
Medina Spirit's drug test came back with a positive result for betamethasone. That's a corticosteroid used as an anti-inflammatory in a horse's joints. It is legal under the Kentucky Horse Racing Commission, up to 10 picograms. That's 10-trillionths of a gram.
Baffert told reporters that assistant Jimmy Barnes was given notice by the Kentucky Horse Racing Commission that Medina Spirit had more than double the KHRC limit: 21 picograms. At the same time, Baffert vehemently denied the accusations. He said he never administered betamethasone to Medina Spirit, in any amounts.
Baffert plans on fighting this latest accusation
"I'm going to fight it tooth and nail because I owe it to the horse, I owe it to the owner, and I owe it to our industry," Baffert told reporters. "Yesterday, I got the biggest gut punch in racing for something that I didn't do. It's disturbing. It's an injustice to the horse."
This would be Baffert's fifth drug-related violation since May of 2020. Charlatan and top filly sprinter Gamine were both disqualified after testing positive for excessive amounts of lidocaine on the Arkansas Derby card. Both had their victories reinstated by the Arkansas Racing Commission.
As for Gamine, she later tested positive for betamethasone after finishing third in the 2020 Kentucky Oaks. That brought her a disqualification and Baffert a $1,500 fine. Last July, Merneith tested positive for dextrorphan after her runner-up finish in a Del Mar allowance race. Baffert was fined $2,500.
Mandaloun will still not run the Preakness
"I don't know what's going on in racing right now, but there's something not right. I don't feel embarrassed, I feel like I was wronged," Baffert said.
Under KHRC rules, Medina Spirit remains Derby champion until the split sample test results are confirmed. As for Mandaloun, trainer Brad Cox told Horse Racing Nation he had no plans to run the colt in the Preakness.
Derby drug issues have happened before
There is historic precedent here. In 1968, Churchill Downs stripped Dancer's Image of his Derby victory after he tested positive for phenylbutazone. The decision stripping Dancer's Image of his Derby victory and promoting Forward Pass remains controversial to this day.
At the time, it was illegal for "bute" to be in a horse's bloodstream on race day, but Dancer's Image's veterinarians gave him the drug a week before the race. That should have allowed the drug to clear his system, but traces were found in the post-race urinalysis.
Owner Peter Fuller immediately appealed the DQ, following that with legal action that initially awarded first-place money to Dancer's Image. That decision was overturned on appeal in 1972 by the Kentucky Court of Appeals.
To his dying day in April 2012, Fuller insisted he was victimized by parties unknown because he donated Dancer's Image's $62,000 winning purse from the Wood Memorial to Coretta Scott King. Fuller, a wealthy car dealer and avid civil rights supporter from Boston, donated the money two days after Martin Luther King Jr. was assassinated in Memphis.