While Bob Baffert's speed tandem of Kentucky Derby champion Medina Spirit and Concert Tour suck all the oxygen out of the 146th Preakness Stakes, there's Midnight Bourbon being Midnight Bourbon.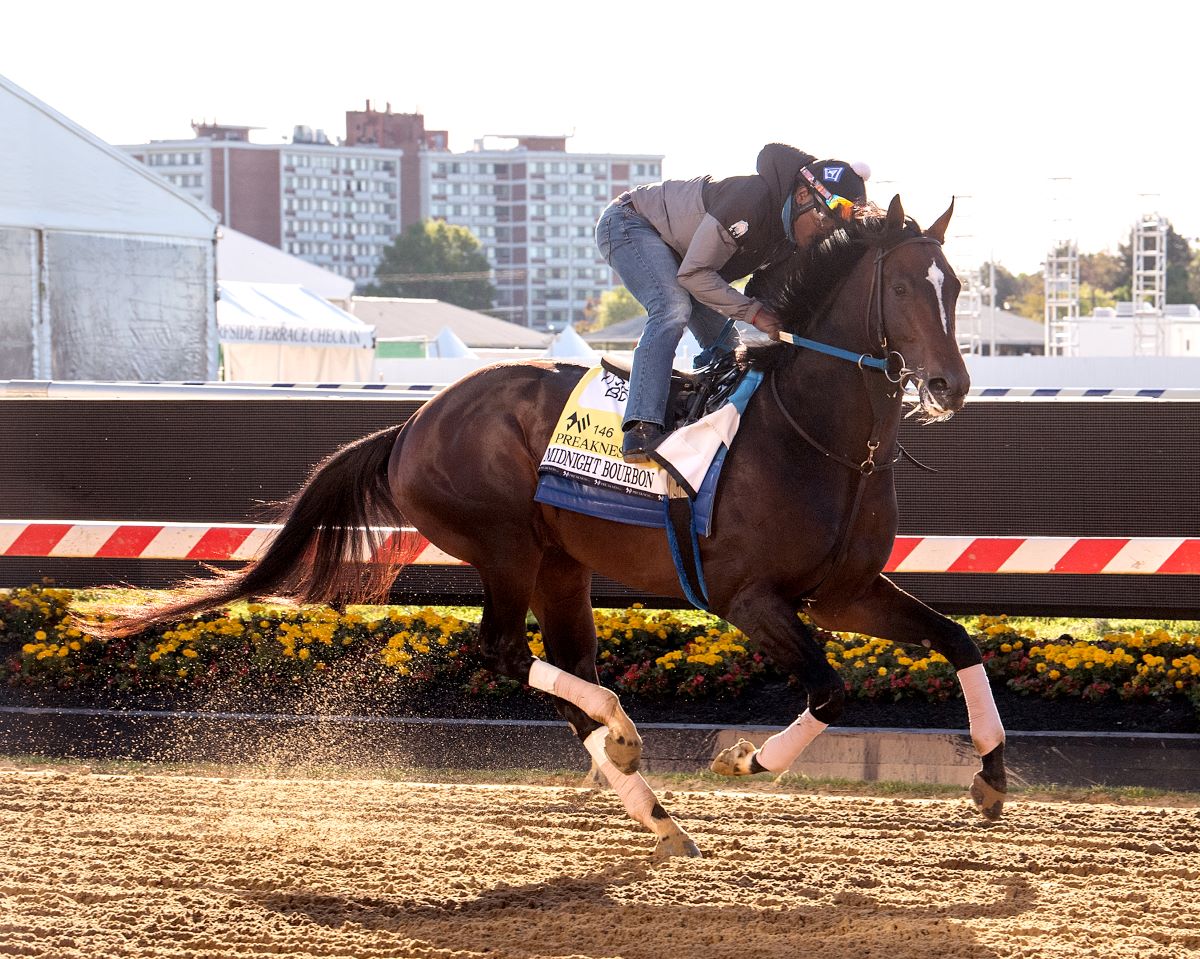 As Medina Spirit's medication soap opera plays out and Derby passer Concert Tour captures attention as possibly only the third new shooter in the last decade to win the Preakness, there's Midnight Bourbon calmly going through his paces without fanfare.
Well, hold the "without fanfare" part. As Saturday's second jewel of the Triple Crown nears, Midnight Bourbon's bandwagon is taking on fans and bettors. Even with Baffert's pace-setting tandem dominating the toteboard and the headlines, the Preakness is known for value chasing. Its smaller field and often-clearer-cut favorites who get overbet put every horse in the mix for lower-rung exotics.
So horseplayers search for alternatives to chalk, which brings us back to Midnight Bourbon, a consistent, board-hitting, pace-chaser you like to see – and wager on. Especially in a race like the Preakness, where Derby runners fare better than new shooters.
Midnight Bourbon's Derby sixth better than it looked
Midnight Bourbon may not go off at his 5/1 morning-line price. Even as a colt used to running under the radar – whether it's in Louisiana against Mandaloun or Hot Rod Charlie – or in Kentucky, at the Derby. But he's a horse who will draw plenty of money in this 10-horse field.
This, even after Midnight Bourbon finished a better-than-it-looked sixth in the Derby. All things considered, Midnight Bourbon's first off-the-board finish in eight races (2-2-3) was a great finish. That's because he overcame a poor start when his hind end slipped out from underneath him. That deprived Midnight Bourbon of his preferred spot up near the front or just off the leaders.
At the three-quarters pole, Midnight Bourbon was 14th, nowhere near where he spends his races. This seemed to unnerve the usually calm Mike Smith in the irons. No stranger to Derby traffic jams, Smith and Midnight Bourbon never seemed to jibe through the early going. Smith held the horse back, taking away the colt's chief weapon – his tactical, pressing speed.
Along with that, Midnight Bourbon got hung out wide on both turns before Smith found an opening and Midnight Bourbon found his after-jets. Smith pushed the horse from 14th to 11th at the mile mark, and to eighth at the top of the stretch. With that, a sixth-place finish didn't seem so bad.
As for the riders, Irad Ortiz Jr. takes the reins from Smith, who moves to Concert Tour.
Every big racing title on the mantel — except the Classics
"I said before the race, 'If he doesn't come by the first time and he's not in the first five or six spots, we're pretty much toast,'" owner Ron Winchell told the Maryland Jockey Club's Dave Joseph. "That's just how the Derby seems to be working now."
Winchell's family is no stranger to how the Derby works. His late father, Verne, who started Winchell Thoroughbreds in the 1950s, started four Derby horses before he died in 2002. Verne Winchell's best Derby finish was fourth with Classic Go Go in 1981. Ron Winchell's best Derby finish with his eight contenders was Gun Runner's third in 2016.
This illustrates how hard it is to win an American Classic. By any measure, the Winchells own a fantastic record as owner/breeders. Gun Runner won the 2017 Breeders' Cup Classic and followed that with a score in the $16 million Pegasus World Cup. He was the 2017 Horse of the Year.
Untapable won the 2014 Kentucky Oaks and the Breeders' Cup Distaff. Tapizar won the 2012 Breeders' Cup Dirt Mile, Summerly the 2005 Kentucky Oaks, and Pyro the 2008 Louisiana Derby. And on and on.
Yet, this decorated stable lacks a Triple Crown title.
Can Midnight Bourbon be Winchell's breakout colt?
"We're getting to the Derby; we're just not performing in the Derby," Winchell said. "However, Kentucky Oaks starters, we've started four with two winners. A little better record there. But it's one of the categories that has been very elusive for our stable: winning Classic races. Breeders' Cup races, yeah, we've won a number of those. We've brought some pretty good horses to the Derby. I think Gun Runner had a pretty good chance, but at that stage of his career, he couldn't get to the finish line first. I mean, it is what it is."
For Winchell, Midnight Bourbon is his third Preakness starter. He finished third with Tenfold in the Pimlico fog of 2018. Last year, he brought promising Pneumatic to the October pandemic Preakness. That colt failed to fire, finishing 10th.
"It is one of those great races you grow up hearing about," Winchell said. "I'd love to win. I'd love to get it behind me, honestly, because we've performed well in all sorts of races. There's probably not a lot that we haven't won over the course of my involvement in racing and my dad's. These are the ones that have eluded us. It's a super cool race to win. The trophy (the Woodlawn Vase) is one of the best. I'd love to have a spot for it on the mantel somewhere."
The bandwagon is hitting another gear
Winchell comes into the Preakness with more than cautious optimism. He said that Derby escapade didn't take much out of the Tiznow colt. Nor should the Preakness' 1 3/16-mile distance, the same distance Midnight Bourbon easily covered when he finished two lengths behind Hot Rod Charlie in the Louisiana Derby.
"I've got people calling me, (saying) 'I really like your horse,'" he said. "It's like, 'No. Stop it! Stop it!"
The Midnight Bourbon bandwagon isn't listening.