He remains the Lion in Winter, albeit a lion overseeing a smaller pride these days. But D. Wayne Lukas is back at Oaklawn Park. He's back to the winter jungle he ruled for most of the 1990s, and back without many of the high-profile clients who helped put him in the Hall of Fame.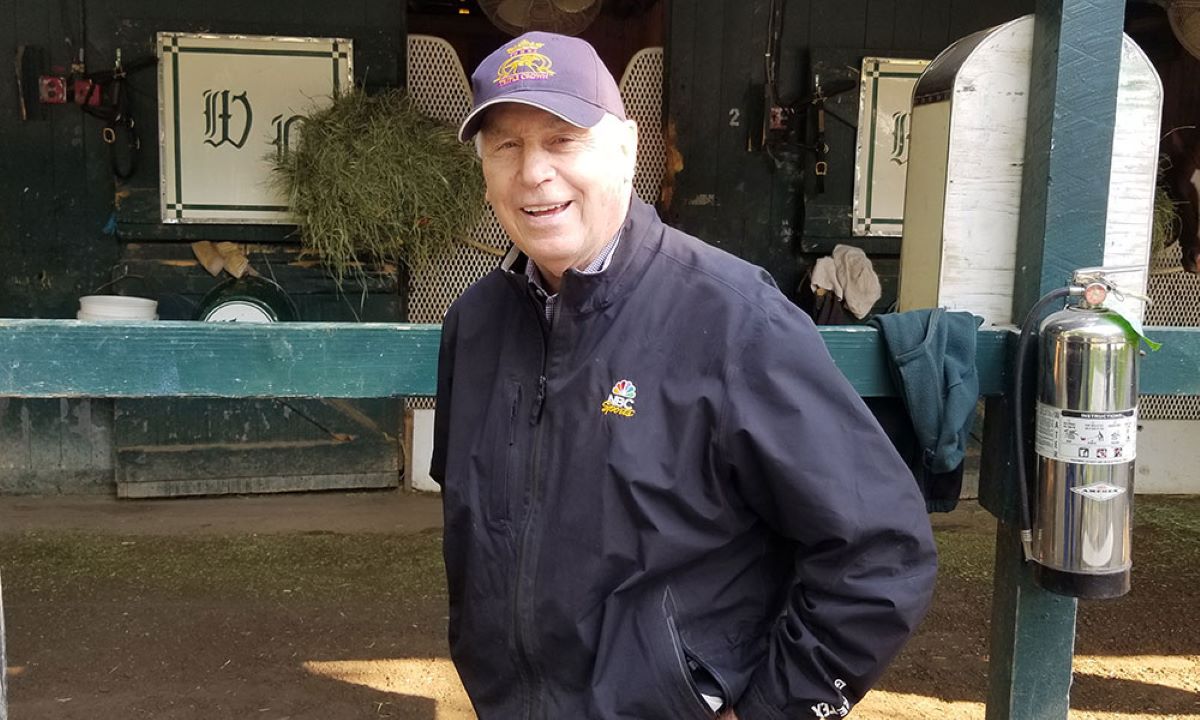 The 85-year-old Lukas is back at Oaklawn, where his familiar face once again will hold court when the Arkansas track opens its Winter/Spring meet Friday. He's back with a slimmed-down, 27-horse barn, along with two 20-something exercise riders he's mentoring.
He's back after heart and back problems put him on the shelf recently. Then, there was a COVID-19 scare last summer, when Lukas tested positive.
And yes, Lukas is back at Oaklawn, where he won trainer titles 24 years apart – in 1987 and 2011. He's back at the site that vaulted him to three of his four Eclipse Awards as the country's outstanding trainer. Lukas won Eclipses in 1985, '86, '87, and '94.
---
D. Wayne Lukas-By The Numbers
| | |
| --- | --- |
| Age | 85 |
| Career Training Victories | 4,842 |
| Career Earnings | $282,785,442 |
| Kentucky Derby Victories | 1988, 1995, 1996, 1999 |
| | |
| --- | --- |
| Preakness Stakes Victories | 1980, 1985, 1994, 1995, 1999, 2013 |
| Belmont Stakes Victories | 1994, 1995, 1996, 2000 |
| Breeders' Cup Victories | 20 |
| | |
| --- | --- |
| Eclipse Awards for Outstanding Trainer | 1985, 1986, 1987, 1994 |
| | |
| --- | --- |
| Eclipse Award-Winning Horses | 25 |
---
"We're down in numbers, like most barns, other than two or three," Lukas told Oaklawn's Jennifer Hoyt. "Some of them are up, but we're not. I think what we've got will give us a competitive meet, but I don't have any grandiose ideas that we're going to have a dominant meet."
Lukas' Legacy Includes Charismatic, Thunder Gulch
This past year, Lukas lost one of his longtime owner/clients, Robert Baker. He lost Eugene Klein in 1990, W.T. Young in 2004, Robert Lewis in 2006, and Bob French in 2013. Every time one of those patrons passes on, they leave a gaping hole in Lukas' stable. There's nobody to replace them.
Who wants to give the Lion in Winter a horse like Lewis' Charismatic, the 1999 Horse of the Year who came within two lengths of winning the 1999 Triple Crown? Where is another Lewis with another Timber Country, who gave Lukas the 1995 Preakness – one of his six? Does anyone have another Thunder Gulch, who bookended Timber Country's Preakness by winning the Kentucky Derby and Belmont Stakes that year?
Does anyone out there want the only trainer to sweep the Triple Crown races with two different horses? How about a trainer with 4,842 victories and more than $282.7 million in career earnings? A trainer with 14 Triple Crown victories, including four Derbies, six Preaknesses, and four Belmonts? Perhaps you're interested in a trainer with 20 Breeders' Cup victories – more than any other trainer?
Fewer Horses, Bigger Owner Egos Mean Smaller Barns
"I'm from the old school," Lukas said. "The five major clients that I've had have all died. That hurts. You don't replace Bob Lewis, somebody like that, at least in this age. That's five guys that were 100 percent behind me in the sale ring and everything. But we're here, 85 years old, on a pony every day. What the hell?"
This is one of the occupational hazards of being a Lion in Winter in today's horse game. In the COVID-19-meets-a-declining-foal-crop era, it's more of a zero-sum game now than it's ever been. Your super trainers, your Bob Bafferts, your Chad Browns, your Todd Pletchers, your Steve Asmussens and yes, we can put Brad Cox on that list now, remain the Alpha males in the game.
High six-figure and seven-figure horses somehow wind up in one of their barns, and there are fewer and fewer of those these days, thanks to declining foal crops. So the big boys continue eating with a big spoon and, well, you can see what that means for everyone else.
Perhaps Lock Up Can Lock Up Another Title
"Everyone else" now includes Lukas. His last Triple Crown victory came in the 2013 Preakness with Oxbow. His last Breeders' Cup win came with Take Charge Brandi in the 2014 Breeders' Cup Juvenile Fillies.
But Lukas refuses to let go of his spoon, smaller though it may be. Among his Oaklawn charges is Lock Up, a 3-year-old half-brother to Grade 1 winner Sinister Minister, who just broke his maiden at Churchill Downs. He's entered in Friday's Smarty Jones Stakes, Oaklawn's first of four Derby preps.
"Lock Up just broke his maiden, but he did it pretty impressively," Lukas said. "You look at that video, it was very impressive and the time was excellent."
Behind him is 3-year-old ridgling Ram, a $375,000 American Pharoah progeny the late Baker purchased in 2019. Ram is 0-for-4 with a strong second in a September maiden special weight race. Lukas said he expects Ram to improve as the meet progresses.
This is Where Lions Go in the Winter
Lukas also expects himself to improve as the meet goes on. He and his 324 Oaklawn victories – a total that includes 47 stakes – are back at his home, located on the northeast corner of the track's property.
The Lion in Winter is back with a spring in his step.
"I'm 100%. In fact, I feel really good. My energy is better here than any place where I go," he said. "I think it's the air. I think it's the oxygen. What do they say? The trees filter the air. But I have more energy and go on less sleep here than any place I go. I've got a beautiful home in the woods in Kentucky, but I feel better here than any place. You see why people come here and retire."