Last month, Kenny McPeek was a coronavirus odyssey away from sending Swiss Skydiver to England for the 1000 Guineas. So why wouldn't he turn the standout filly loose against the boys in Saturday's Grade 2 Blue Grass Stakes at Keeneland?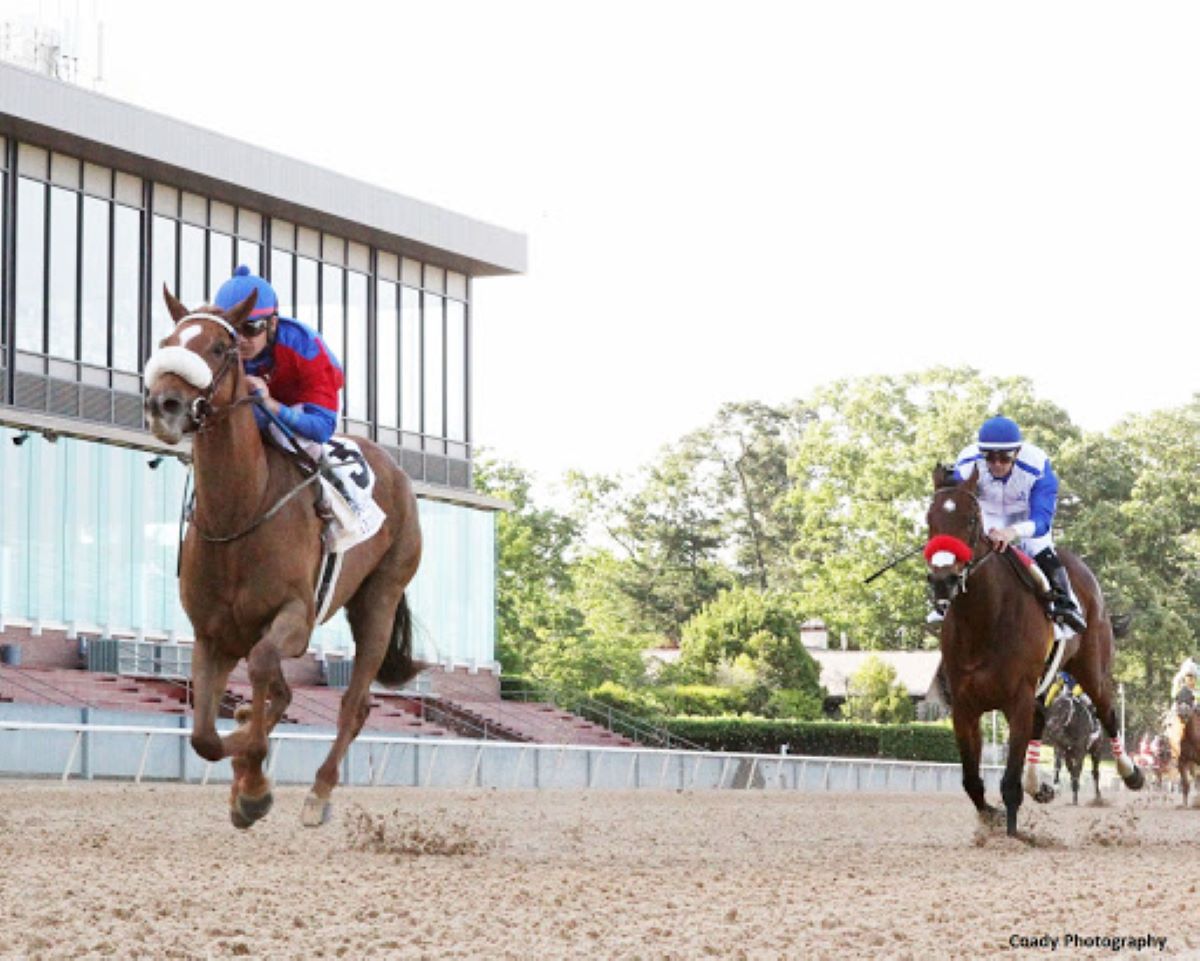 "This has already been one of the weirdest years ever. Might as well add to it," McPeek, Swiss Skydiver's trainer, told the Daily Racing Form.
Why not? It's not like the 1 1/8-mile Blue Grass Stakes, this weekend's top Kentucky Derby prep, is loaded with marquee names and tough horses. It's a nice field of B- and C-list Derby contenders, such as Basin, Enforceable, Rushie, Finnick the Fierce and Mr. Big News, with promising mysteries like Art Collector. The biggest proposed fish in this pond – Maxfield – bowed out last month with a broken bone in his leg.
Normally run the first Saturday in April, the Blue Grass Stakes moves to July due to the coronavirus. Hence McPeek's sardonic observation about weirdness. Not that it's weird for fillies to tangle with the boys. They do it in Europe all the time. But here, it's the odd exception, rather than the rule. Swiss Skydiver is only the second filly to enter the Blue Grass starting gate since Harriet Sue finished fifth in 1944.
No Regrets Joining Regret as a Derby Filly Winner
A win and the 100 Derby qualifying points coming with it would put Swiss Skydiver into the Derby. Once there, Swiss Skydiver angles to join Regret (1915), Genuine Risk (1980) and Winning Colors (1988) as winning Derby fillies.
But first things first. Swiss Skydiver comes into the Blue Grass on a three-race, graded-stakes roll that rolled her across the country. She won the Gulfstream Oaks in Florida in March, the Fantasy Stakes in Arkansas in May and the Santa Anita Oaks in California in June. She went off at 9/1 at Gulfstream and 16/1 at Oaklawn, prices you haven't – and won't – see again. With Mike Smith, who rides her Saturday, aboard, Swiss Skydiver blew away the Santa Anita Oaks field as the 3/5 favorite.
And she enters the Keeneland starting gate as the 3/1 favorite. Yes, the girl is favored to beat the boys.
Blue Grass Stakes
Morning Line (jockey)
Shivaree, 8/1, (John Velazquez)
Finnick the Fierce, 12/1 (Jose Ortiz)
Art Collector, 5/1 (Brian Hernandez Jr.)
Big News, 10/1 (Mitchell Murrill)
Man in the Can, 20/1 (Tyler Gaffalione)
Hard Lighting, 50/1 (Rafael Bejarano)
Swiss Skydiver, 3/1 (Mike Smith)
Basin, 8/1, (Ricardo Santana Jr.)
Attachment Rate, 20/1 (TBD)
Rushie, 5/1, (Javier Castellano)
Hunt the Front, 30/1 (Corey Lanerie)
Enforceable, 4/1 (Joel Rosario)
Tiesto, 15/1 (Flavien Prat)
Why not? When you parse the numbers, it adds up. Swiss Skydiver's 95 Beyer Speed Figure from the Santa Anita Oaks and career-best 99 from the Fantasy Stakes are the best pair of anyone in the field. Art Collector ran a 100 in his last allowance win: an optional claimer at Churchill Downs. But his No. 2 Beyer is an 87, which makes it difficult to judge who the real Art Collector is.
Losing Weight to Run With the Boys
Two more factors play in her favor: two-time Blue Grass winner and Hall of Famer Smith diving in from California to ride her. And Swiss Skydiver gets a five-pound weight allowance (118 to 123) because she's running against the boys.
What about those boys? Who figures to challenge Swiss Skydiver's would-be plunge into history? Start with Art Collector (5/1), who emerges from off the Derby trail with one graded-stakes race on his resume. That was a seventh in the Grade 3 Dixiana Bourbon Stakes last October. Since then, Art Collector picked up two allowance optional claiming wins this year, the latter coming with his career-best Beyer and 106 Equibase Speed Figure.
He has more speed than any other horse in the field, but this is a class leap for Art Collector.
Then, there's Rushie (5/1), who owns two victories and defeats to the A-list of Derby contenders. He finished second by 10 lengths to Charlatan in a March allowance, then placed third behind Honor A.P. and Authentic in last month's Santa Anita Derby.
Basin Has a Ceiling
The other two to peruse for exotics are Basin (8/1), who trades dealing with Nadal and Charlatan for this considerably easier field. He finished second to Charlatan in the Arkansas Derby's first division and owns a Grade 1 win: that coming last year at the Hopeful Stakes. But like every other horse in this field not named Swiss Skydiver, Basin seems to have a ceiling. And history shows he's scraping against it in a two-turn race.
The other is Shivaree (8/1), who finished second to Tiz the Law in the Florida Derby at 80/1. He then tired on the back stretch and lost an allowance race to Sole Volante in early June. He has 40 Derby points and the mantle of early speed in a race largely lacking it. Hall of Fame rider John Velazquez will get him out quickly and hope nobody – everyone's looking at you, Swiss Skydiver – puts him into a speed duel.
Speaking – again – of Swiss Skydiver, she will get bet heavily, so expect her price to plummet. That, in turn, should open up value opportunities elsewhere.
"She's an awfully good filly," McPeek said. "She's really been on a high roll. We just thought she deserved a shot at something like this. The timing and everything else seems right, so why not?"
The pick: Art Collector. A tepid one, to be sure because this field makes exactas and trifectas the play here. Swiss Skydiver hits the ground on a value standpoint and Art Collector is the only other one with true speed here.