Will Swiss Skydiver run with the boys? Will the talented filly who doesn't need Kentucky Oaks points enter Saturday's Grade 2 Blue Grass Stakes at Keeneland – a Kentucky Derby prep? Or will Swiss Skydiver enter the Grade 1 Ashland Oaks and tangle with her usual fellow filly suspects?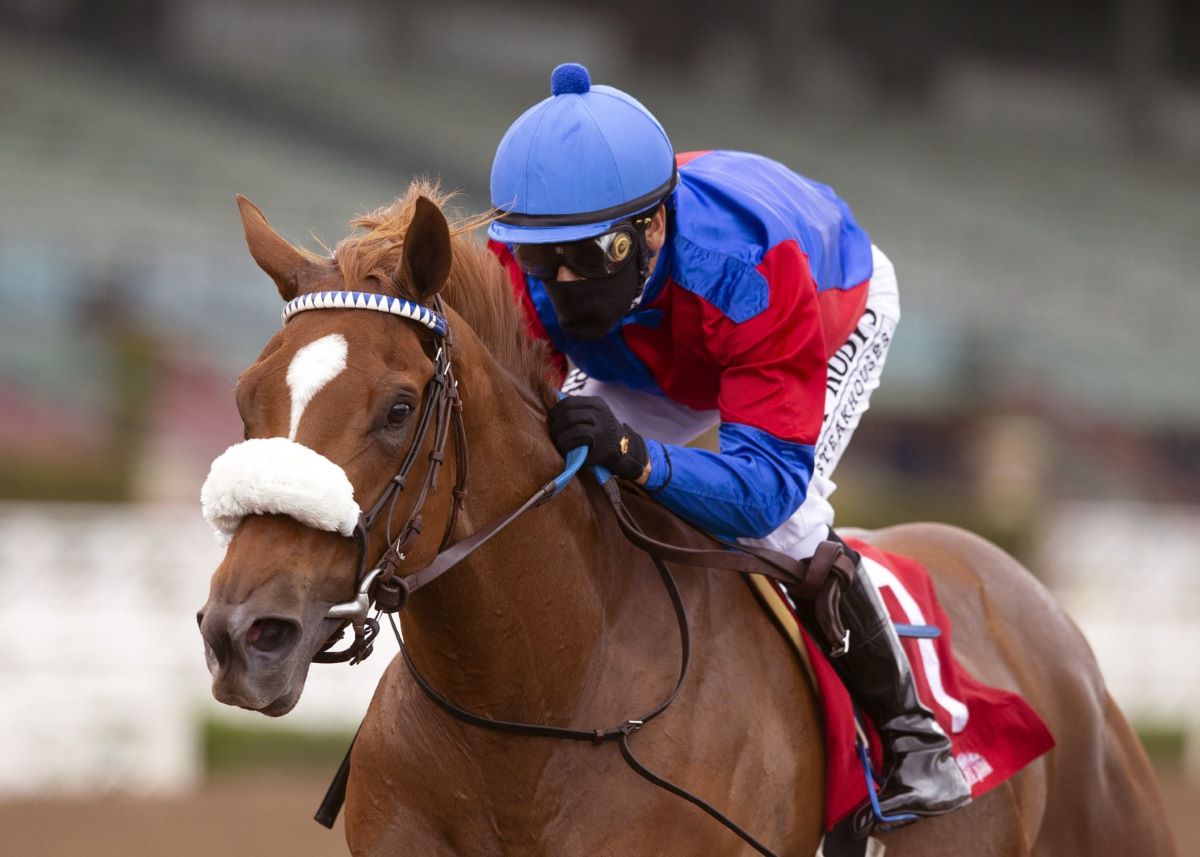 These are questions her trainer, Kenny McPeek, enviably ponders before Wednesday's entry deadline for both races. The two races headline Keeneland's abbreviated five-day summer meet, which begins spectator-free on Wednesday and runs through Sunday.
McPeek says his decision will center on what he does with another promising filly, Envoutante. Both are Ashland Oaks-nominated. Swiss Skydiver, meanwhile, is Triple Crown-nominated. She could enter the Blue Grass and earn Derby points, although McPeek said earlier that the Kentucky Oaks is Swiss Skydiver's target destination.
"I'm not going to decide (Swiss Skydiver's next race) until the morning of entries," McPeek told Keeneland's Amy Gregory. "There's several factors. I need to make sure the other filly (Envoutante) is good to go in the Ashland. Like I said, I'm inclined to keep them apart. We'll see. I want to check field size, things like that."
Not Much Company in This Club
Swiss Skydiver would be the first filly to run the Blue Grass since Harriet Sue finished fifth in 1944. That year, Keeneland's spring meet ran at Churchill Downs. In any event, Swiss Skydiver would join exclusive company. Harriet Sue is the only filly to run the Blue Grass since it began in 1937.
Swiss Skydiver running the Blue Grass means she would likely see Basin, Enforceable and Art Collector, among others. Basin finished second to Charlatan in the Arkansas Derby's first division. Enforceable, meanwhile, won the Grade 3 Lecomte Stakes in January. Art Collector hasn't won a stakes race, but is a multiple allowance winner.
It's not like Swiss Skydiver needs the points from the Ashland Oaks. She tops the Kentucky Oaks leaderboard with 310 points, meaning she owns a post spot already. She's currently the second favorite, with odds anywhere from 7/2 at William Hill to 5/1 at Ladbrokes.
Wherever She Runs, Swiss Skydiver Sports Stellar Form
Wherever she runs, Swiss Skydiver plunges in with a three-race winning streak, including her runaway victory in June's Santa Anita Oaks. That came with her career-best 108 Equibase Speed Figure. In early May, Swiss Skydiver upset favored Venetian Harbor in the Grade 3 Fantasy Stakes at Oaklawn Park.
Should Swiss Skydiver enter the Ashland Oaks, Venetian Harbor will be one of the fillies awaiting her. Two other Grade 2 winners are also expected: Bonny South and Tonalist's Shape. Venetian Harbor is the fourth-favorite for the Kentucky Oaks, with odds ranging from 6/1 (Bet365) to 9/1 (Coral). Bonny South is anywhere from 8/1 to 10/1.
Whatever event she enters will mark Swiss Skydiver's sixth race of 2020. She owns those three wins and a third this year. For her career, Swiss Skydiver captured four races in seven events, bringing her $557,980 in earnings.