After all is said and done, standout 3-year-old filly Swiss Skydiver won't parachute into the 1,000 Guineas. Instead, the likely favorite for the Kentucky Oaks will drop into Santa Anita for next month's Grade 2 Santa Anita Oaks.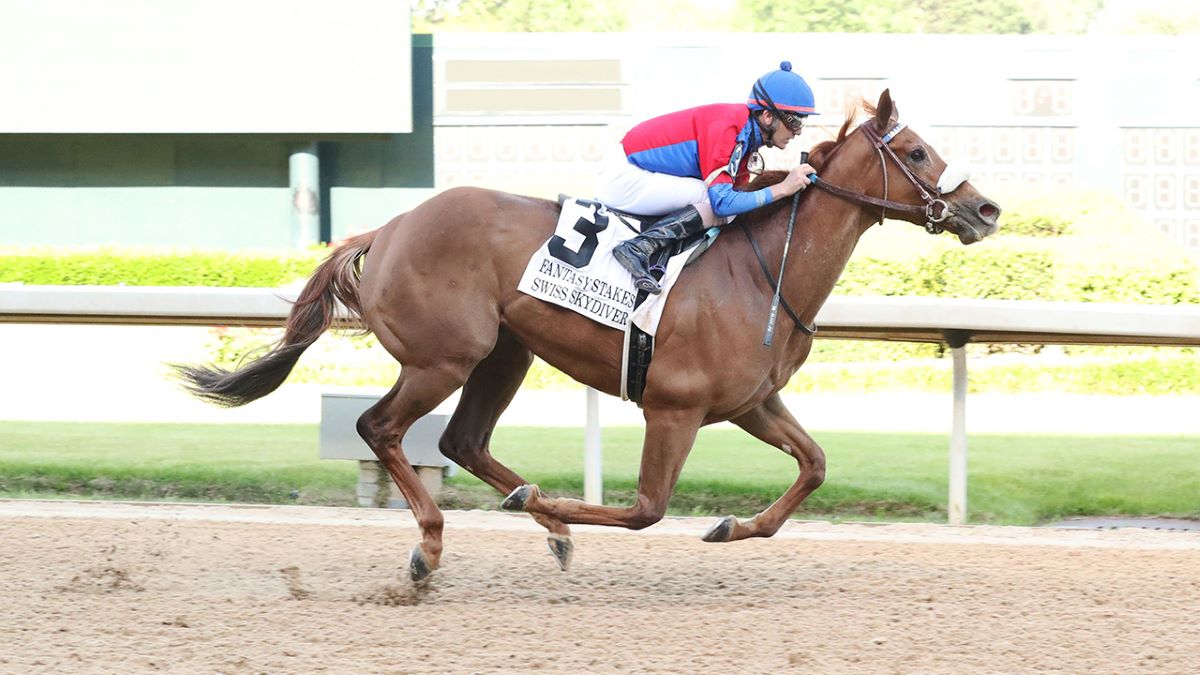 Swiss Skydiver in the English Classic would have turned heads for several reasons. First, the British Horseracing Authority normally doesn't allow foreign horses in its Classics. But due to the worldwide COVID-19 pandemic, foreign-trained horses are Classic-eligible this year.
Second, this would have been Swiss Skydiver's first race on turf. She has three wins, a second and a third in six career starts – all on dirt. She did clock a 51-second half-mile on Keeneland's turf course last Saturday. One book, bet365, listed her at 20/1 to win the 1,000 Guineas.
But trainer Kenny McPeek tweeted Monday that getting Swiss Skydiver to Newmarket and back for the June 7 1,000 Guineas was a logistical challenge – especially in the COVID-19 era. His description to Bloodhorse of what awaited him and his charge made Homer's The Odyssey read like a walk across the street.
Not a Trip You Want to Take
"For one, we had to get blood tested before shipping. We were going to have to ship out of either Huntsville, Ala. or Indianapolis, and the Huntsville flights then all got canceled," he told Bloodhorse. "We were going to have to fly into Stansted in the UK, which is easy. But to return, we had to fly out of Amsterdam, which would be a 12-hour van ride. I couldn't send any staff because of the current quarantine. They'd have to self-quarantine for two weeks once they got there. I couldn't go, my jockey couldn't go, but we were trying to work through all that, and that was really the least of our worries."
McPeek said enduring that odyssey would have harmed Swiss Skydiver's chances for the Kentucky Oaks, which is the season's ultimate goal. That race, the premier 3-year-old event for fillies, is Sept. 4 at Churchill Downs.
"If it would have been an easier ship and [an] easier task to get it all done, I would definitely love to do it one day with the right horse," he told Bloodhorse.
Swiss Skydiver will go to @santaanitapark for the Oaks, June 6. She handled her turf workout fine but logistics for @NewmarketRace won't work. Purse change, cost, can't send staff -all factors. Such a great race perhaps another season

— Kenny McPeek (@KennyMcPeek) May 17, 2020
Thus, the 1 1/16-mile Grade 2 Santa Anita Oaks emerged as the perfect target for Swiss Skydiver's next race. The Kentucky Oaks prep offers 100-40-20-10 Oaks qualifying points to the top four finishers — not that Swiss Skydiver and her ladder-leading 210 points need them. It's another jewel shining on a day of high-profile races at Santa Anita, joining the Santa Anita Derby and Gold Cup at Santa Anita, both Grade 1s.
Swiss Skydiver Your Probable Santa Anita Oaks Favorite
Unlike Newmarket, Swiss Skydiver drops into Santa Anita as the likely favorite. She's coming off a stellar upset at 16/1 in the Grade 3 Fantasy Stakes at Oaklawn earlier this month where she surged ahead in deep stretch and defeated 4/5 favorite Venetian Harbor by 2 ½ lengths.
That win came after Swiss Skydiver won the Grade 2 Gulfstream Park Oaks on March 28, and finished a solid third in the Grade 2 Rachel Alexandra Stakes at Fair Grounds in February. Her only burp this year – and for that matter, in her career – came in January with a fifth in the Gasparilla Stakes at Tampa Bay Downs.
A daughter of Daredevil, Swiss Skydiver carried a $35,000 price tag at the 2018 Keeneland September Yearling Sale. She's returned that 12 ½ times over, rolling up $437,980 already in her six races.