There was no reason to adjust your eyes, even in today's pampered horseracing atmosphere where star horses don't race more than once a month – if that. There were three Kentucky Derby hopefuls – Sole Volante, Ete Indien, and Shivaree — running a $55,000 allowance race on an otherwise ordinary Wednesday at Gulfstream Park.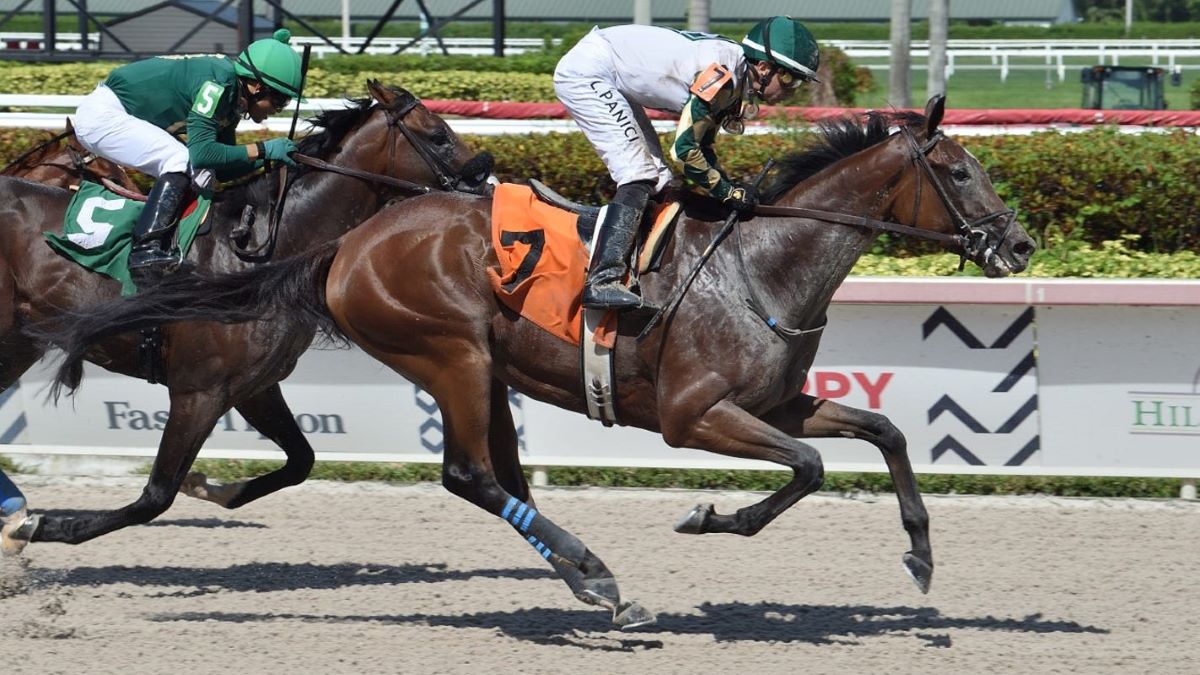 And there was Sole Volante, coming from last in the six-horse field to win the allowance mile race by three-quarters of a length over 12/1 long shot, Jesus' Team. Shivaree held off Ete Indien – the 3/5 favorite — for third.
What makes this interesting is not so much the presence of three Derby hopefuls in a weekday allowance race — after all, horses need their reps. Ete Indien and Shivaree last ran in the March 28 Florida Derby, and Sole Volante's last start was in the Tampa Bay Derby three weeks earlier.
But overriding that, however, is the not-insignificant fact that Sole Volante is tentatively scheduled to run the June 20 Belmont Stakes. This means Sole Volante could run twice in a 10-day span. You don't see this with star 3-year-olds in today's Thoroughbred world.
This Was in the Works All Along
All through the spring, Patrick Biancone, who trains both Sole Volante and Ete Indien, said he planned running Sole Volante in the Belmont and Ete Indien in the Haskell Invitational at Monmouth Park in July. He told Gulfstream Park this was a training race for both.
"I don't think I'm going to change my mind with either horse," Biancone told Gulfstream Park. "In five weeks, we're going to run the Haskell with Ete Indien. Concerning Sole Volante, my owner is very keen to run in the Belmont, but we have to let the horse decide. See how he is in the next few days. If he's really come up, we may go. If not, we'll wait for the Blue Grass (Stakes)."
Right now, all three horses have spots in the Sept. 5 Kentucky Derby. Ete Indien sits fifth on the points ladder with 74. Shivaree is 10th with 40, all courtesy of his runner-up finish at 80/1 behind Tiz the Law in the Florida Derby. Sole Volante is 14th with 30.
Pace-Setters Shivaree, Ete Indien Come as Advertised
Regardless of the motivation for the connections of all three horses, they did put on an entertaining race that displayed their respective skill sets. Shivaree and Ete Indien – wearing blinkers for the first time — set a blistering pace out of the gate, covering the first half-mile in 45.10 seconds.
Sole Volante, meanwhile, remained content at the back of the pack. He was 10 lengths behind the pair with three furlongs remaining. One furlong later, Sole Volante made his move, kicking outside and going by his tiring counterparts at the top of the stretch. He passed Jesus' Team at the eighth pole and held on for a win that paid $6.40.
It was Sole Volante's fourth win in six starts. In his last outing, he finished second behind 49/1 King Guillermo in the Tampa Bay Derby.
Sole Volante Spent his Time Off Well
"I think the break did him good," said Biancone about Sole Volante, the gelded son of Karakontie. "Fortunately, he's a lighter horse than Ete Indien, so he probably needed the race a little less. This was a training race. I just wanted them both to come out good."
Ete Indien, who won the Feb. 29 Fountain of Youth by 8 ½ lengths, last finished third behind Tiz the Law and Shivaree in the Florida Derby. He finished 4 ½ lengths behind Shivaree in Wednesday's race.
"He needed the race," Biancone said. "When you go to the front, it's harder (and) he needed the race more. Ete Indien ran a good race, (he) just got a little tired."
As for Shivaree, trainer Ralph Nicks said he's headed for the July 11 Blue Grass Stakes.
"They did all the work, the two of them up front, and I thought he ran well," Nicks said about Wednesday's race. "It will be a good springboard."