TMZ reported that Kendall Jenner and Devin Booker were spotted at Nobu in Malibu for a fancy sushi dinner before Booker reported to the Phoenix Suns for the continuation of the NBA season and playoffs.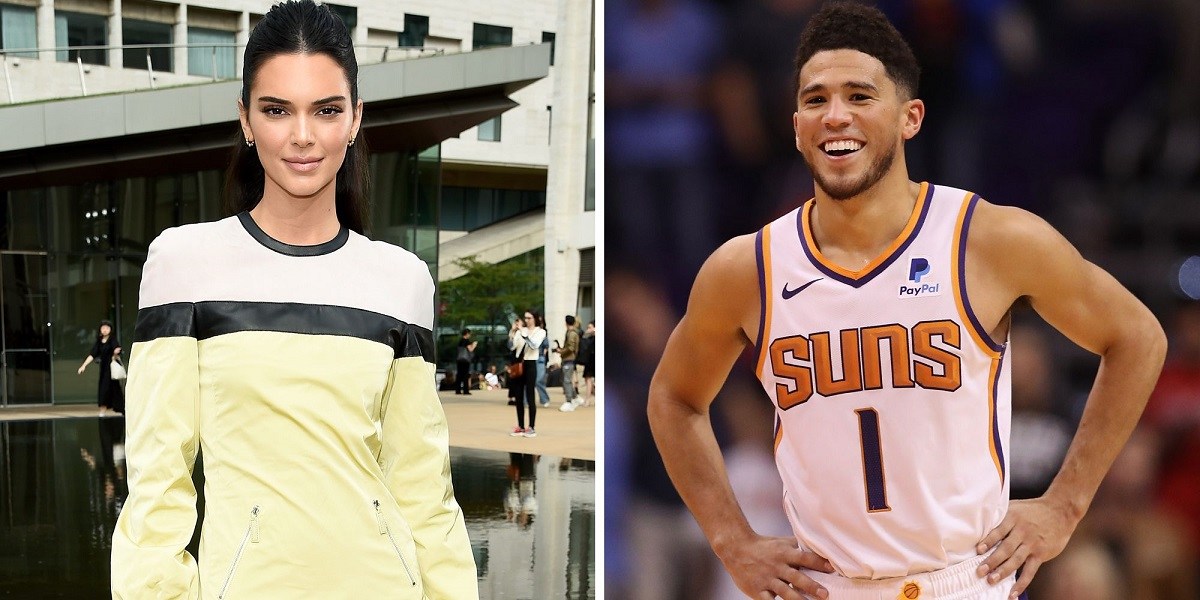 "They both looked really good," said TMZ. "In fact, Kendall walked out of the restaurant like she was strutting down a fashion runway."
In April, Jenner and Booker were spotted on a secret trip to Sedona, Arizona.
"Kendall and friends have a small social circle amongst the group, who have been following the same social distancing and physical distancing guidelines," reported TMZ on the Sedona trip. "Devin is a friend and is part of the small group," a source told the outlet. "They took a road trip for some much-needed air."
A source from Entertainment Tonight insists the model and NBA All-Star are "not dating" or "hooking up" at the moment.
The two have been "friends" for several years, but apparently elevated the status of their previously platonic relationship.
Last Kiss Before Bubble?
The NBA is expected to resume in a bubble city at the end of July. A total of 22 NBA teams will return to action at the Wide World of Sports Arena at Disneyworld in Orlando, Florida.
The Suns (26-39) were the last team in the Western Conference to make the 22-team cut for the resumption of the NBA season and postseason. At the time of the shutdown, the Suns were 24 games out of first place. They trailed the Memphis Grizzlies (32-33), the #8 seed, by six games.
The Suns are fighting with the New Orleans Pelicans (28-36), Portland Trail Blazers (29-37), Sacramento Kings (28-36), and San Antonio Spurs (27-39) for a potential shot at a play-in game if they can get close to the Grizzlies.
Thumbs Up Booker
Booker leads the Suns in scoring with 26.1 points and 6.6 assists per game. He was initially snubbed from the 2020 All-Star game. Then, Damian Lillard injured his groin, so Booker became an injury-substitute. Bradley Beal and Booker were head-scratching omissions from the All-Star Team this year, but at least Booker got his chance to play.
Booker, an avid gamer, is friends with several well-known eSports pros. He found out about the NBA shut down while streaming a game of Call of Duty: Warzone. One of his teammates told him about the NBA's announcement after Rudy Gobert from the Utah Jazz tested positive for coronavirus.
Booker won a special NBA 2K players-only tournament. He won $100,000 for charity while representing the Suns. Booker defeated teammate, Deandre Ayton, in the finals of the NBA 2K tournament.
Now, word on the street is that Booker is Jenner's new boyfriend. As far as years go, 2020 is one of the craziest and wildest years in over 50 years. At least someone's been running good in 2020, and it's Booker.
Exes, Ben Simmons, Jordyn Woods
The tabloids have been going nuts over the Jenner/Booker news. Why? Because in 2018, Devin Booker dated Jordyn Woods, Jenner's former BFF (best friend). Woods is a well-known singer and recently appeared on "The Masked Singer" reality series. On this season of "The Masked Singer", Woods found herself unmasked as the Kangaroo.
Jenner and Woods had a falling out when Woods dated one of her exes.
So, is this a revenge relationship and something mean girls do to one another out of spite? Or, is this recent tryst a budding romance built upon an old friendship? Or, is a cigar just a cigar and its two friends having a kick-ass sushi meal at Nobu?
At one point, Booker/Woods double-dated with Jenner when she dated Ben Simmons (Philadelphia 76ers). Apparently, when Jenner dumped Simmons and opted to attend the Coachella music festival instead of watching his playoff game, he went on a bad shooting slump. Simmons kept shooting blanks against the Brooklyn Nets, which nearly cost the Sixers an early exit from the 2019 playoffs.
Jenner shot back at critics who insisted she is being passed around by NBA players.
"They act like I'm not in full control of where I throw this cooch," Jenner responded on Twitter.