Portland Trail Blazers point guard Damian Lillard will miss up to two weeks with a groin injury. Lillard will skip the 2020 NBA All-Star Game and the 3-point contest. Devin Booker of the Phoenix Suns will replace Lillard in the All-Star Game for Team Lebron.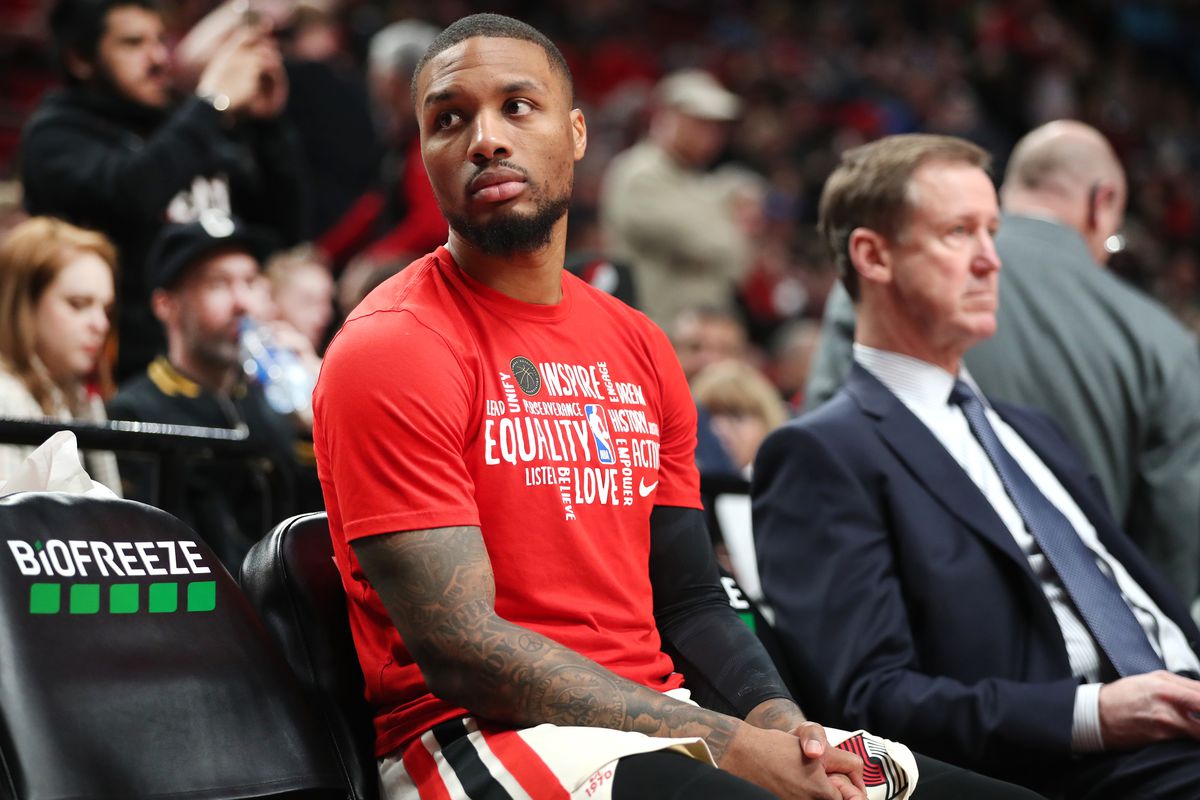 Lillard tweaked his groin on Wednesday night during a 111-104 loss to the Memphis Grizzlies. An MRI confirmed a groin pull.
Team officials said Lillard will be out for up to two weeks, including all All-Star Game festivities. The medical staff will reassess Lillard in one week to see if his groin injury improved.
Lillard averages 29.5 points, 7.9 assists, and 4.4 rebounds a game for the Blazers this season. He earned his fifth All-Star nomination while having the best season of his illustrious career. Lillard is ranked fourth in the NBA in points, and sixth overall in assists. He's also ranked #5 in the NBA advanced metric PER with a 26.80 rating.
Lillard increased his scoring to compensate for losing several players to injuries. The small forward position got so depleted that the Blazers were desperate and offered Carmelo Anthony a job.
What a difference a season makes. Last year, the Blazers went all the way to the Western Conference Finals. This season, they're 25-31 and fighting for a postseason berth. They're currently on the bubble and trailing the Memphis Grizzlies, who are currently in the #8 seed, by four games.The Blazers can't afford to lose the NBA's top point guard for an extended amount of time.
According to a recent update by William Hill, the Portland Blazers are 60/1 odds to win the 2020 NBA championship.
Dame Out, Booker In
Every season there's someone who gets left off the All-Star squad that deserved a nod. This year, Devin Booker and Bradley Beal earned glaring All-Star snubs.
Booker, 23, had the disadvantage of playing in obscurity out west with the Phoenix Suns. It didn't help matters that the Suns (22-33) aren't a good team.
In his fifth NBA season, Booker leads the Suns with 26.4 points per game. That's good for 10th best in the NBA. He's also averaging 6.3 assists per game.
When Lillard went down with the injury, he endorsed Booker to be his replacement.
"That means a lot," said Booker. "I've always said respect from my peers is my main focus and goal in this NBA. But at the same time, we'll cross that bridge when we get there. I don't know the criteria or what happens next. I guess we'll wait and see."
Booker will replace Lillard in the 3-point shooting contest. The sharpshooter is a career 35.5 percent shooter from beyond the arc. This season, Booker averages 35.8 percent from 3-point land.
Joe Harris is the favorite to win the 3-point contest at 5/2 odds, according to William Hill. As a late-minute addition, you should consider taking a flier on Booker. He has a chip on his shoulder after initially earning a snub. The contest will give him a chance to show off his insane shooting skills for a global audience.