Before the coronavirus pandemic shuttered the NBA season, Phoenix Suns All-Star Devin Booker frequently played video games with friends and family, including the Call of Duty franchise by Activision. Booker recently started a charity called Starting Five COVID-19 Relief to raise coronavirus awareness and to promote social distancing.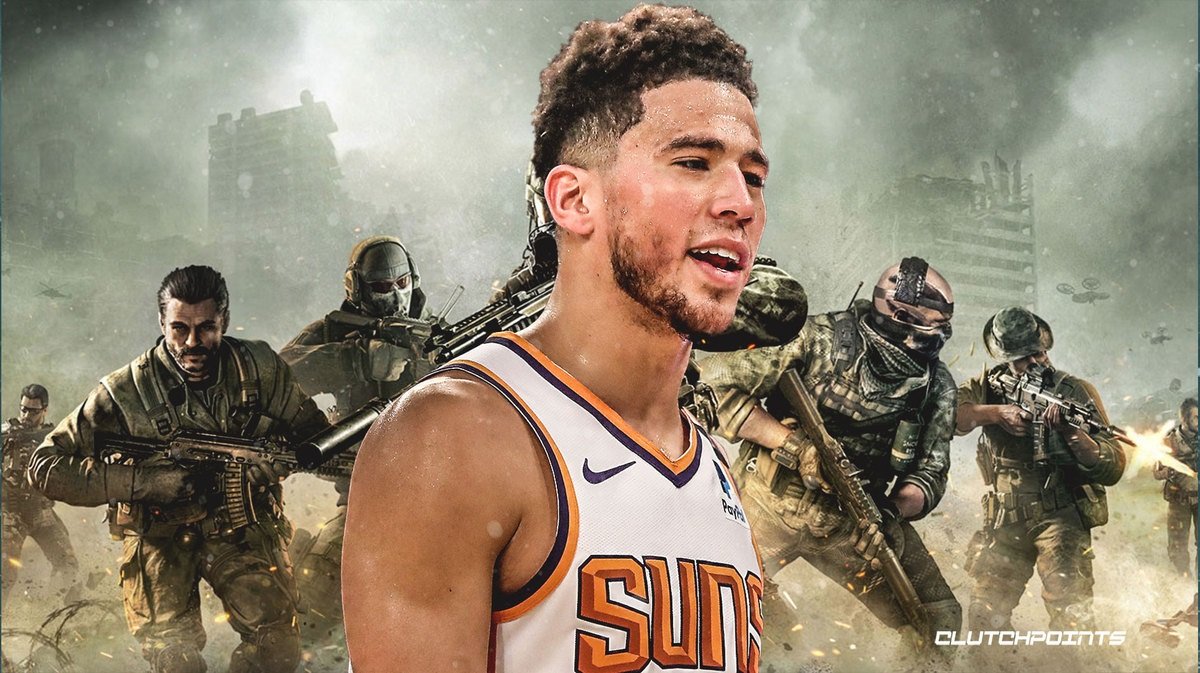 Booker, 23, grew up in Grand Rapids, Michigan before moving to Mississippi in high school. He had an affinity for Call of Duty, which continued after he moved south.
"Call of Duty was a way to keep in touch with them and be competitive with my homies, and be able to talk with them and get filled in on what was going on at school and in their lives," Booker told the LA Times. "It's always been a great communication tool."
Booker played a one-and-done season with Kentucky before the Suns drafted him with the #13 overall pick in the 2015 NBA Draft.
Booker has become one of the most exciting scorers in the NBA, but you're probably not aware of his prowess playing in relative obscurity on the bottom-feeding Phoenix Suns.
This season, he averaged 26.1 points per game through 62 games, which was good for #10 overall in the NBA on the scoring leader board. Over his brief career, he averages 23.5 ppg through his first five seasons with the Suns. He once scored 70 points in a game back in 2017. He made NBA history as only the sixth player to accomplish that insane feat, along with Kobe Bryant, Wilt Chamberlin, and Elgin Baylor.
When the News Dropped
Now that he's stuck at home like the rest of us during quarantine, Booker immersed himself in eSports by gaming anywhere from five to 10 hours per day. Booker streams Call of Duty: Warzone from the confines of his swanky home in the Phoenix suburbs.
Booker actually discovered the bad news about the NBA shutting down while streaming Call of Duty: Warzone. The game had been released the previous day and an eager Booker dove head-first into Call of Duty's version of popular battle royale games like Fortnite and PUBG.
"You kept hearing in the news that night that different people were getting it (coronavirus)," Booker told the LA Times. "Tom Hanks was the first celebrity that had it. They were talking about it before the Oklahoma City-Utah game, and then they took the players off the court just before tipoff, which I'd never seen before. I realized there was something serious going on and maybe one of the players had it."
Booker found out Adam Silver suspended the NBA season while he live-streamed his Call of Duty: Warzone session with well-known pro streamers Matthew "Nadeshot" Haag and Dennis "Cloakzy" Lepore.
The entire streaming world witnessed his reaction in real-time.
"What the f–k, bro?" Booker blurted out to his teammates.
"When they told me that the season was shut down, I couldn't believe it," Booker said. "The world has never seen anything like this, which is why I reacted the way I did. That was my real-time reaction. I dropped a few curse words, which is not ideal, but I really couldn't believe it."
Waiting to Return to the Hardwood
Booker lives close to the Suns' arena and practice compound, so he hasn't built a full court in his backyard. Then the Suns shut down their practice facility as ordered by the NBA.
"I've been talking about it with other players," said Booker. "This is the most in the dark we've been about anything. We really don't know what's next or what's going to happen. Not being able to be in the gym is hard, but safety is our main priority."
Booker bought a hoop last week and set it up in his backyard to help stay in shape and be ready whenever the NBA resumes.
Booker's friend and former Kentucky teammate, Karl-Anthony Towns, experienced a situation in which his mother went into a coma while fighting COVID-19.
"I'm close to his mom, Jackie, and his father, Big Karl. It's an everyday fight. Karl is in good spirits, but just having someone that close to me be affected by the virus and seeing what it could do made me take it that much more serious," added Booker.
Booker already donates $500,000 of his annual salary to various charities. He decided to donate an additional $100,000 for coronavirus relief. The Suns quickly matched his donation. He announced his campaign for the Starting Five COVID-19 Relief on Twitch to raise awareness of the deadly virus. He hopes to educate people through streaming while preaching the merits of social distancing.
"This is actually how I usually stay attached and stay connected," Booker said. "The way technology is set up, it's like being at a party. You're talking with everyone, you're laughing, and you're just getting to know people while you're playing a video game."
NBA and eSports
Like many young NBA players, Booker enjoys video games to pass the downtime. He's squaded up with Towns (Minnesota Timberwolves), Kyle Kuzma (LA Lakers), and Paul George (LA Clippers). But Booker takes Call of Duty a little more seriously than do his peers in the NBA.
When Booker bought his first home, he asked Nadeshot (an eSports pro who founded a team known as 100 Thieves) to recommend an optimal gaming setup. They quickly became close friends. He's not an eSports pro yet, but he's established himself as one of the top gamers among the NBA fraternal order.
"If I'm being completely honest, I don't think anyone is at my level," said Booker.
Booker and Nadeshot squad up together in Call of Duty and Modern Warfare.
Booker's teammate in Phoenix, Ty Jerome, manned the controls for an NBA2K game last week. Jerome and the Suns battled the Minnesota Timberwolves, with swingman Josh Okogie at the helm for the T-wolves.