When Kylie Jenner broke up with rapper Travis Scott, gossip rags soon were speculating on whether or not the billionaire cosmetics maven would be getting back together with her baby daddy. Betting site Bovada, meanwhile, listed odds on who Jenner's next main man might be — and if you believe celebrity buzz sites, the good money is on another rapper, Drake.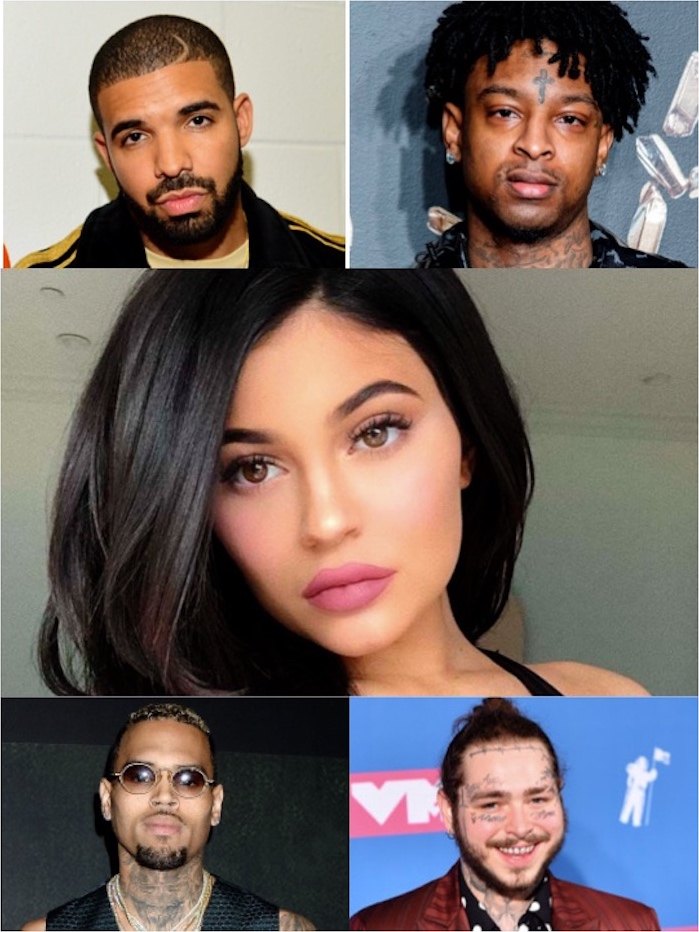 Jenner's relationship with Scott produced a daughter, Stormi, now 1, and lots of paparazzi encounters. The couple tried to make it work, but apparently two years was enough to know that true love had eluded them.
People magazine has been reporting that since the breakup with Scott in October, the 22-year-old billionaire founder of Kylie Cosmetics and costar of "Keeping Up with the Kardashians" has been seen canoodling with Drake, and that the friendship had turned "romantic." While some People sources confirm the blossoming relationship, others contend the connection is more innocent.
The latest take from the gossip frontlines is that the two "flirt" and "hang out."
Below is a chart of possible suitors for the newly single mother. All are rappers, a profession Jenner seems particularly fond of when searching for a mate. She has previously dated Tyga, Lil Twist, and Jaden Smith.
In addition to the odds, we've included one of their signature songs that seems appropriate for crooning in hopes of wooing Jenner, or at least helping you remember who's who.
Bovada representatives told OG News that the wager will require an announcement on Jenner's Instagram or Twitter feed before they declare the relationship official.
---
Potential Boyfriend                                       Odds

Drake ("Fake Love")                                                      2/1

Quavo ("She For Keeps")                                             2/1

21 Savage ("Bank Account")                                        7/2

Tyga  ("Bitches N Marijuana")                                      5/1

Lil Baby ("Cash")                                                          8/1

Chris Brown ("Take You Down")                                  10/1

Jaden Smith ("Plastic")                                                20/1

Gunna ("Who you Fooling")                                         33/1

Post Malone ("A Thousand Bad Times")                     33/1

source: Bovada
---
Kylie Jenner Next Boyfriend: Favorites
Drake – 2/1
Rumors about Kylie and Drake moving toward item status began at the 33-year-old rapper's birthday party, and carried on when she attended his Halloween party. Since then, buzz has been rampant about the potential between the two, with unnamed sources close to both super-celebs contending they are "romantically" involved, "just friends," and both definitely still single.
Quavo – 2/1
It appears the biggest asset that this 28-year-old rapper possesses is his hankering for diamond-encrusted teeth. In the past, Quavo has spent $250,000 on jeweled mouthpieces. His most recent one is an emerald-cut grill.
Whether this attempted mating ritual is enough to attract Jenner remains to be seen. She is already a billionaire, so Quavo might have to step up his game, and get some gold bullion earrings to round out his look.
21 Savage – 7/2
This 27-yeare-old rapper could be more Jenner's type, since she likes guys with street cred, and 21 Savage seems to have an abundance of it. He was permanently banned from every school in Atlanta's DeKalb County for gun possession in the seventh grade, and joined a street gang shortly thereafter. When he was 21, he took six bullets in a shootout with rival gang members.
Savage is a UK citizen, and in February was arrested by ICE — for overstaying a visa in 2006. He bonded out of jail, but is still awaiting possible deportation to his home in England. Long distance relationships never work, and Jenner might want to consider his uncertain status a red flag.
Tyga – 5/1
When Jenner and Scott broke up, many speculators were pointing the finger at Tyga. Rumors of infidelities and/or rebound frolicking with the controversial California rapper have since been dismissed, but the betting odds contend there still might be a spark. Maybe that's what she's been talking to Drake about?
Longshots to Win Jenner's Heart
Chris Brown – 10/1
If Jenner is looking for a real 'bad boy" type Brown checks that box. Brown has been linked to multiple assaults (alleged and otherwise) on women, accused of pulling a gun on one lady at his home, and ostracized from civil celebrity communities after his infamous smackdown on singer Rihanna.
But Jenner can afford plenty of bodyguards. So if she gets the proper protective gear, this could be a blossoming romance. We would suggest a suit of armor circa 16th century that can be bedazzled.
Post Malone – 33/1
If Jenner wants to get back at alpha mom Kris and feminine father figure Caitlyn, PM would be her man. His face looks like a billboard with several well-thought out tattoos, including one above his eye that reads, "Stay Away."
Though the payoff might seem tempting, bettors and Kylie alike would probably be smart to take this advice.