"Hoosiers" features Gene Hackman as Norman Dale, a former college basketball coach with a shady past who finds himself on the road to redemption in rural Indiana. Dale accepts the head coaching job in Hickory, Indiana and convinces Hickory's best player, Jimmy Chitwood, to re-join the team after he quit when the previous coach dies. Despite a tumultuous season and a frosty relationship with the locals, Dale leads Hickory to an underdog victory in the 1952 Indiana State Championship.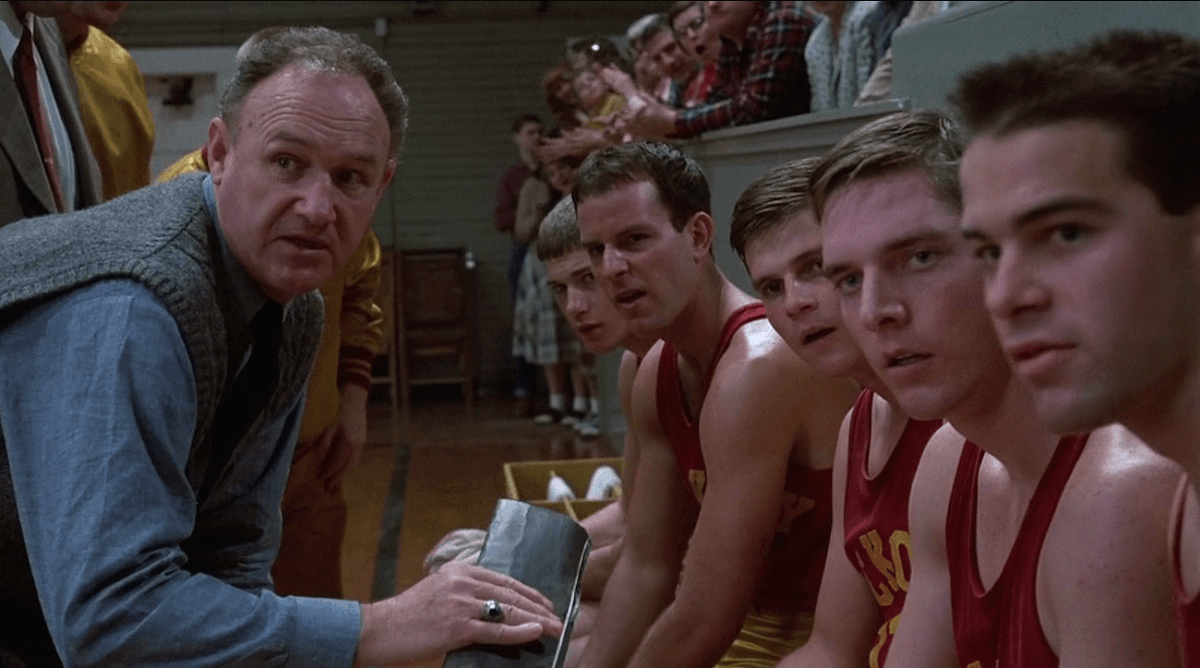 "Hoosiers", directed by David Anspaugh, is regarded as one of the all-time best sports movies, and is revered as the genre's top basketball film.
"Hoosiers" is based on a real story about Bobby Plump hitting a winning shot for tiny Milan High School to win the 1954 Indiana State Championship. Plump became an Indiana sports legend, which inspired the Jimmy Chitwood character. Hickory is a fictitious school that fills in for Milan in the film.
Hoosiers
Release Date: November 1986
Directed by: David Anspaugh
Screenplay by: Angelo Pizzo
Produced by: Carter De Haven and Angelo Pizzo
Distributor: Orion Pictures
Anspaugh made an auspicious debut with Hoosiers as his first directing job. He would later go on to make other sports movies, including the heart-warming "Rudy" about a walk-on for Notre Dame's Fighting Irish football team.
With a modest budget of $6 million, most Hollywood insiders expected "Hoosiers" to flop.
"The conventional wisdom said that basketball didn't work on the screen," said screenwriter and producer Angelo Pizzo.
The opposite happened and Hoosiers raked in nearly $29 million. It became a huge box office hit and developed its own cult-like following among basketball fans and sports cinema buffs.
Redemption in Hickory, Indiana
Rural Indiana. 1954. Norman Dale (Gene Hackman) hadn't coached in 12 years before he finally finds a head coaching job. Early in the film, it's unknown why he had stepped away from the game for so long. After a 10-year stint dating back to the start of WWII, Dale left the Navy and jumped at a chance to coach again.
Cletus, the principal at a tiny school in Hickory, Indiana, hires his old friend Dale to become their new basketball coach and civics teacher. The previous head coach passed away, and Cletus gives Dale a second chance.
The locals take a very long time to warm up to Dale. Many of them don't like his antiquated coaching methods. Others are suspicious about his murky past because, what the heck is a college coach doing in nowhere Indiana?
Dale fancies a fellow teacher, Myra Fleener (Barbara Hershey), who is also dubious of the outsider.
The Hickory team has only seven players, including the team manager, Ollie. The best player in the town, Jimmy Chitwood (Maris Valanis), quit the team after their coach passed away. Chitwood and the coach were very close, and Chitwood is still mourning.
Without a star player, Dale struggles with the limited talent he's given.
The local town drunk, Shooter, has a son that plays for Hickory. Everett tries to keep his father out of trouble, but he's clearly embarrassed with his drunken ways and his begging everyone for money to buy booze.
Dale discovers Shooter is a former legendary player from Hickory who had fallen upon hard times. Dale offers Shooter an assistant coaching position, so long as he stays sober around the team.
The Vote
After a bad start, the townspeople call a meeting to discuss terminating Dale. During the meeting, Myra shares a newspaper article with a story about Dale losing his head coaching job at Ithaca College for hitting a player. Despite the checkered past, Myra tries to persuade the town to keep coach Dale.
The townspeople vote 68-45. The majority wants Dale out.
Jimmy Chitwood surprises everyone at the meeting. He tells everyone that he's ready to play basketball again. The crowd erupts, but there's a catch.
"I play, coach stays," said Chitwood. "He goes … I go."
The town decides to re-vote. With Chitwood back on the team, the town votes to keep coach Dale.
Hickory goes on a winning streak to finish the season on a strong note. With Hickory winning, the town finally warms up to Dale. He also begins a romantic relationship with Myra.
Dale helps boost Shooter's confidence by intentionally getting thrown out of a game, which forces Shooter to take over as coach. Shooter's son helps him settle his nerves and calls out a special play for the last shot of the game. Hickory runs the "picket fence" to perfection and wins the game.
Indiana Madness
Hickory advances to the state championship tournament, where small-town Hickory is the underdog against all the bigger schools they face.
The pressure to win and stay sober gets to Shooter, who returns to drinking heavily. He goes AWOL before he shows up intoxicated at a playoff game. When an official makes a bad call, a drunken Shooter storms the court to confront the ref. Dale tries to defuse the situation by telling them he's an assistant coach, which backfires because the official then issues Hickory a technical foul.
Hickory wins the state semifinals thanks to the assistance of bench players like the undersized Ollie and Strap, the preacher's son. Strap, who pauses to pray before he enters the game, has the best game of his career. Meanwhile, Ollie knocks down a clutch free throw to help Hickory advance to the championship game.
In the state finals, Hickory faces top-ranked South Bend Central in Hinkle Fieldhouse in downtown Indianapolis. Before practice, Dale gives his players a tape measure to measure the height of the rim. It's a humorous exercise to let the team know that the dimensions are the same there as in their home gym back in Hickory.
Hickory falls behind early against a bigger and faster team from South Bend. The boys rally, thanks to Jimmy Chitwood, and get back in the game in the second half.
On the final play, Dale wants to use Chitwood as a diversion and decoy. The players protest in the huddle because they want their best player to take the final shot.
"I'll make it," says a confident Chitwood.
Hickory runs the final play. Chitwood drills the game-winning buzzer-beater, and Hickory pulls off the upset over South Bend Central.
1952 Indiana HS championship final score: Hickory 42, South Bend 40.
Bobby Plump, the Real Jimmy Chitwood
The Jimmy Chitwood character is based upon Bobby Plump. Plump would go on to star at Butler University. After college, he opened a bar in Indianapolis, which his son currently runs.
Chitwood's winning shot at the end of the film occurred at the same spot and in the same gymnasium where Plump knocked down his buzzer-beater to lead Milan to the 1954 Indiana State Championship.
"For the movie to work, we needed players, not actors," Anspaugh told ESPN. "There's maybe only six minutes of basketball in a two-hour movie, but we needed each actor to be believable as a player, and all of them to be believable as a team. There's no faking that."
Maris Valanis, who played Jimmy Chitwood, never played high school basketball. Valanis was an excellent golfer and earned a scholarship to Purdue University. He dabbled in acting before becoming a golf pro. He was a good ballplayer, but not good enough to make his high school varsity team in Indianapolis.
"I was cut from my high school team four times, but I wasn't intimidated. I knew I could shoot with anybody," said Valanis.
Hoosiers: Did You Know?
Hickory is based on Milan, Indiana, which went 19-2 in the 1953-54 season. The production crew shot the film in New Richmond, Indiana as a stand-in for fictional Hickory. The home-court for Hickory is located in Knightstown, Indiana.
Hackman won two Academy Awards, including an Oscar for Best Actor (Popeye Doyle in 'The French Connection') and Best Supporting Actor (Little Bill in 'Unforgiven'). Over his stunning career, Hackman played diverse roles ranging from a narcotics cop to a comic book super-villain to a high school basketball coach.
Hackman was worried "Hoosiers" would bomb and ruin his career. He also didn't like the fact that most of the non-principals were either local actors or amateurs. On the "Hoosiers" set, Hackman gave the players on his team acting lessons during the downtime between shots.
Hoosiers Cast
Norman Dale (Gene Hackman)
Jimmy Chitwood (Maris Valanis)
Myra Fleener (Barbara Hershey)
Shooter Flatch (Dennis Hopper)
Principal Cletus Summers (Sheb Wooley)
Everett Flatch (David Neidorf)
Buddy (Brad Long)
Rade (Steve Hollar)
Ollie (Wade Schneck)
Merle (Kent Poole)
Strap (Scott Summers)
Ollie, portrayed by Wade Schneck, actually played for the #1 ranked high school team in Indiana the year before filming started on "Hoosiers." Schneck auditioned because he thought working on a movie would be more fun than helping his farmer father with the fall harvest.
Dennis Hooper asked the screenwriter and director to retool the ending. As a recovering drug addict and alcoholic, Hopper felt it was unrealistic for the Shooter character to clean up so quickly and rejoin the team as an assistant coach. They changed the script so that Shooter listens to his son's championship game on the radio in his hospital room.
Hopper earned an Oscar nomination for Best Supporting Actor for his role as Shooter.
Jerry Goldsmith, who composed the score for "Hoosiers," earned an Oscar nod for his work.
Other Basketball Movies and Sports Flicks
Without any March Madness, you'll have to turn to movies to get your basketball fix. Two films that can help fill the void include:
We've also covered other sports movies, including:
Check various streaming sites to find your favorite sports film while you're holed up during the coronavirus pandemic.