Aleksej Pokusevski, basketball prospect born in Serbia and playing pro ball in Greece, declared for the 2020 NBA Draft. The 7-foot-0 teenager, and projected first round pick, plays for Olympiacos Piraeus in the EuroLeague.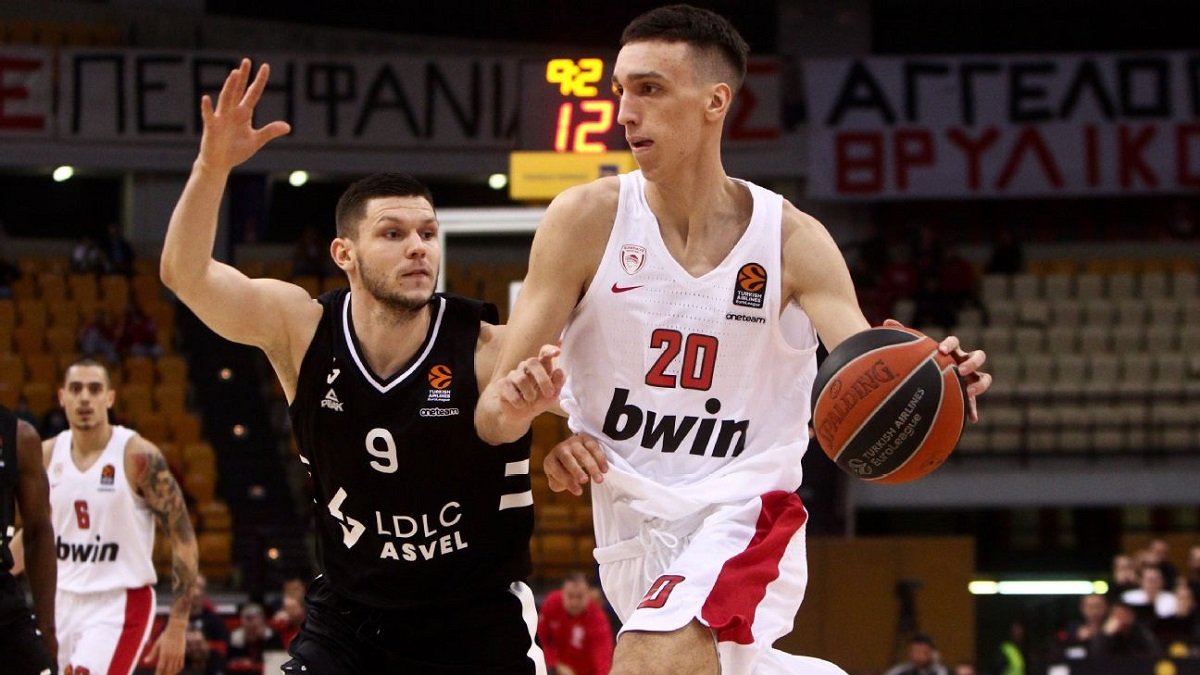 Pokusevski, 18, will be the youngest player in this year's NBA draft. He turns 19 the day after Christmas and just made the draft eligibility cut by a week.
ESPN ranked Pokusevski #27 in its Top 100 prospects for the Class of 2020.
Pokusevski's family is originally from Kosovo. Born in Belgrade, Serbia, he grew up in Novi Sad.
In 2015, Pokusevski moved to Greece and started competing for youth teams at Olympiacos. He counts as a Greek player in basketball competitions in Greece because he's been playing there since before the age of 14.
Pokusevski and Olympiacos
Pokusevski made his EuroLeague debut last March at age 17. He started this season on the Olympiacos B team in the Greek Second Division. He also participated with the main team's practice squad.
The young Pokusevski held his own in the Second Division. In 23 minutes per game, he averaged 10.8 points, 8.0 rebounds, 3.1 assists, and 1.8 blocks per game. He knocked down 32% of his 3-pointers, which impressed NBA scouts. Overall, he shot 42% from the field.
Pokusevski finally got called up to the Olympiacos main team, but played in just one game before the league shut down because of the Coronavirus outbreak.
Rick Pitino coached at Panathinaikos, which is the hated rival of Olympiacos. The NY Yankees and Boston Red Sox feud seems like a picnic compared to some of the stunts frenzied basketball fans in Greece will do to their rival fanbase.
Pokusevski competed internationally with the Serbian junior national team. He averaged 7.7 points and 8.5 rebounds on for Serbia U17 at the 2017 FIBA World Cup.
At the 2018 FIBA Under-18 European Championship, Pokusevski first popped up on the radar of scouts. He averaged 10.1 points, 7.2 rebounds, 3.3 assists, and 4.5 blocks per game.
NBA Scouting Report: Aleksej Pokusevski
After the success of Giannis 'Greek Freak' Antetokounmpo, NBA scouts have been scouring the Greek isles looking for the next big thing.
Do scouts love Pokusevski because he's playing in Greece, or because the 18-year old has a lot of upside as a raw project?
Pokusevski has a 7-foot-3 wingspan and he hasn't stopped growing. He plays like a guard on the perimeter even though he's a 7-footer.  He's an exceptional ball handler and passer for a guy of his size.
He's definitely on the lean side (sub-200 pounds) and needs to bulk up, which he'll do as soon as he arrives in America and begins an NBA weight training regime.
On defense, scouts dig his high IQ. He often defended smaller players, but he demonstrated unusual quickness and agility for a big man.
Most projections and mock drafts have Pokusevski going in the late first round as a power forward, or a playmaking 4. He's been compared to Dirk Nowitzki as a big man with great sense of spacing and touch on the perimeter.
For more of OG's international scouting reports on the 2020 NBA Draft, check out… Killian Hayes (France) – Deni Avdija (Israel) – Theo Maledon (France) – Leandro Bolmaro (Argentina).