Killian Hayes, a point guard prospect from France, declared himself eligible for the upcoming 2020 NBA Draft. Several mock drafts project Hayes as a late, first-round pick.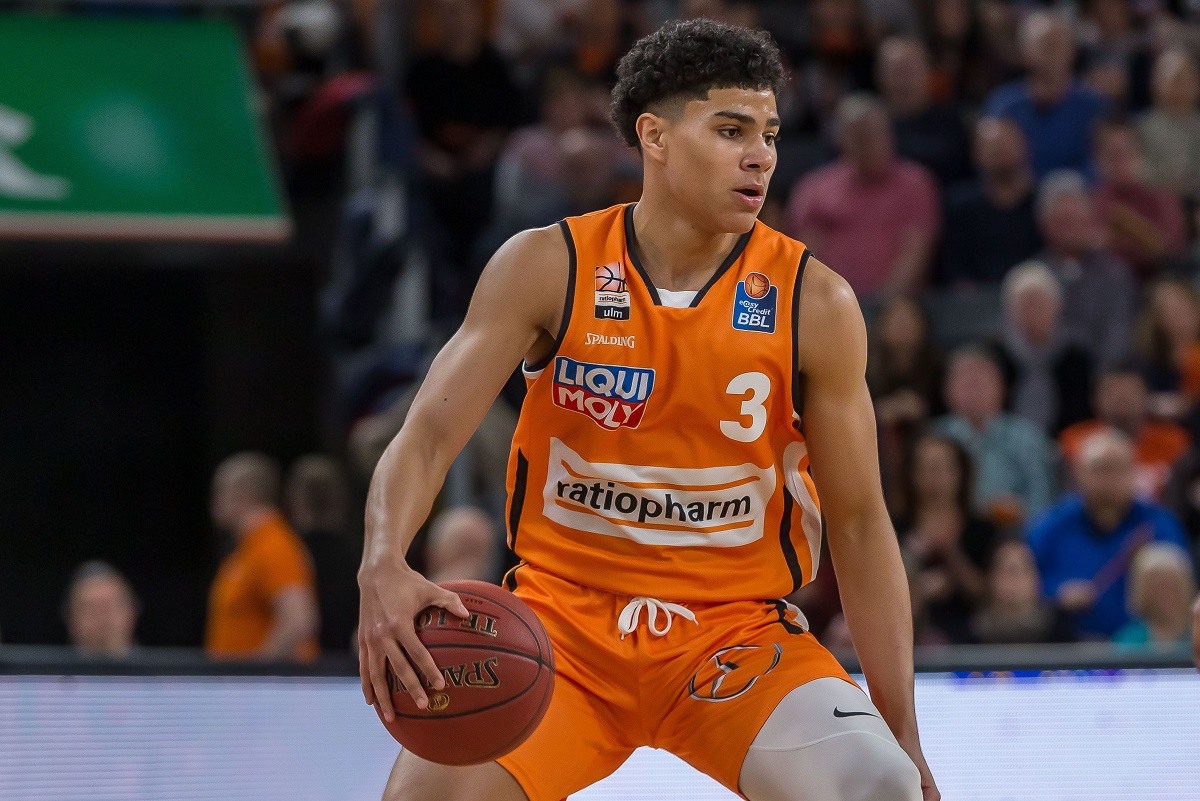 Hayes, 18, already played pro ball in France and Germany. The 6-foot-5, left-handed point guard currently plays for Ratiopharm Ulm in the top German league. He averaged 12.1 points and 5.3 assists per game with Ratiopharm. He also shot 91% from the free-throw line.
Hayes has an American father and a French mother. Both of his parents played pro ball in Europe. Hayes grew up in France, but was born in Florida.
Hayes played on the French national team. He led France to a gold medal in the U16 European Championships in 2017, and was named the tournament's MVP.
Hayes first drew the attention of American scouts during the FIBA U17 World Championship. France lost to Team USA in the championship game, but Hayes earned a nod on the all-tournament team.
France > Germany > USA
"Killian's been playing against guys older than him all his life," said his father, DeRon Hayes. "When we'd come back to Florida, I'd put him out there with high school kids even though he was only 10 or 12. He has that winning attitude, wants to work hard. You can knock him down only once. Because after that, he's coming at you."
Killian Hayes wanted to attend high school in America in order to attend a top program in college basketball.
"I wanted to go to Kansas or Kentucky and play in March Madness," said Hayes.
However, his father, a product of the AAU and the NCAA, discouraged the move because he believes college would really only benefit the big schools and the NCAA. DeRon Hayes says the current system favors profits over people, and that college basketball never has a player's interest at heart, so he believed his son would learn better life lessons in Europe.
"Kids in France are humble, they work really hard at a young age, they're taught to respect the game when they're really young," explained DeRon. "I liked that type of attitude instead of what I saw evolving in the AAU travel teams (in America). I didn't want Killian exposed to that. It can change the mentality of a player. They stop working hard."
The elder Hayes knew that America had better players, but the European system would teach Killian how to be a better professional ball-player.
"I wanted Killian to be in an atmosphere where everybody pushes everybody, where they can all be the best they can be," said DeRon. "I wanted him to maintain that professional attitude."
Killian Hayes played for Cholet, the same pro team in France his father once played. The most recent NBA product to come out of Cholet was Rudy Gobert from the Utah Jazz.
Chip Off the Old DeRon
DeRon Hayes grew up in Lakeland, Florida where he excelled as a multi-sport athlete in high school. He played college basketball for Penn State in the early 1990s before Penn State migrated from the Atlantic 10 to the Big Ten.
DeRon played small forward on a #13-seeded Nittany Lions' squad that upset #4 UCLA in the 1991 March Madness tournament. He averaged 15 points per game that season.
At 6-foot-6, DeRon was a "tweener" during an era in the NBA where size dictated positions. He excelled in college as a swingman with a deadly mid-range jumper, but he was too small compared to NBA-sized forwards, and not as quick as the top shooting guards in the league. With a future in professional basketball in America in doubt, DeRon headed to Europe with hopes of establishing a career. If he could flourish overseas, it might draw the attention of NBA scouts.
DeRon returned to the States in 1998 to play in a rebooted version of the ABA. His wife joined him in America while she was pregnant, and that's how Killian was born in Florida.
DeRon and his family returned to Europe to continue his career, where he'd play for another two decades.
DeRon cobbled together a 25-year career in various leagues scattered throughout Europe. He played pro ball, mostly in France, but also spent time in Sweden, Ukraine, Russia, Portugal, and the Netherlands.
"None of us went to the NBA," said DeRon. "But we were the blue-collar team that did all the hard work, kinda like the Bad Boys, the unknown heroes, that didn't get all the spotlight."
NBA Scouting Report: Killian Hayes
Fran Fraschilla, a former coach at Manhattan College and St. Johns, has become a reputable international scout. Fraschilla tagged Killian Hayes as a first-rounder in the NBA Draft.
"He's a moldable piece of NBA silly putty," Fraschilla told Penn Live. "Because he has the size, the youth, and the physical attributes to someday be a very good player. He's a smooth, left-handed point guard who can both handle and pass it. His right-hand handle is a little loose, but he's definitely a first-round pick and a future NBA starter."
Another scout compared Hayes to D'Angelo Russell, but it's hard not to compare him to a younger version of James Harden. Both are lefties with a wicked step-back, 3-point shot.
When the German league suspended its season due to the coronavirus pandemic, Hayes and his family moved to Florida to focus on training. He found a solo gym to continue his workouts while he prepares for the NBA Draft.
"These are tough times, but we'll get through it," Hayes told ESPN. "I pray for the safety of everybody."
Killian Hayes joins Theo Maledon as the other notable teenage point guard from France to declare for the upcoming NBA Draft.