The Cleveland Cavaliers heavily scouted Israeli basketball star, Deni Avdija of the Maccabi Tel Aviv, who is expected to become a sleeper lottery pick in the 2020 NBA Draft.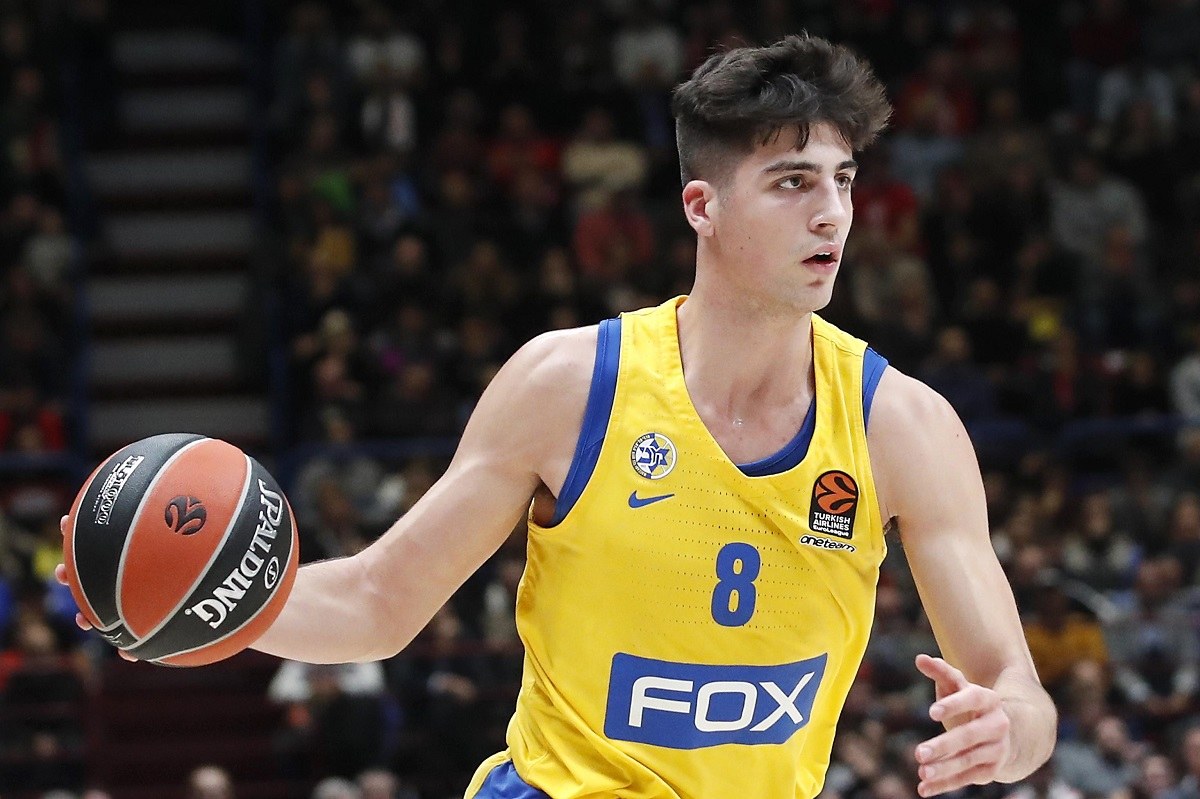 Avdija, a 6-foot-9 swingman, is an excellent shooter who can create his own shot off the dribble and in the post.
Avdija has drawn comparisons to the Dallas Mavericks' Slovenian superstar, Luka Doncic. After studying his game tapes, he looks like Croatian star, Toni Kukoc, from Chicago Bulls fame in the 1990s.
Avdija's mother is Israeli and his father is Serbian. Zufer Avdija played for the former Yugoslavian national team, so hoops is in Deni's blood.
Avdija, currently 19-years old, made history in 2017 when he became the youngest player to suit up for Maccabi Tel Aviv when he was only 16 years old.
Avdija initially popped up on the radar of NBA scouts with his play for the Israeli Under-20 national team. When he was still only 17, he led Israel to a gold medal at the 2018 FIBA Under-20 European Championship. He averaged 12.7 ppg that series.
Last summer, Avdija secured back-to-back gold medals for Israel at the 2018 FIBA Under-20 European Championship. He dropped 26 points in a victory against heavily-favored France and also scored 23 against Spain. Avdija earned MVP honors as an 18-year old.
Israel had never medaled in basketball at the Summer Olympics, but they hoped Avdija could lead them to their first legit shot at the medal round. With the 2020 Summer Olympics postponed until 2021 due to the coronavirus pandemic, Israeli basketball fanatics will have to wait one more year to see if Avdija can lead them to the medal podium in Tokyo.
Avdija's Scouting Report
In the era of position-less basketball in the NBA, Avdija fits the bill as a top prospect because of his versatility. He's 6-foot-9 and can play two traditional positions in the NBA (at 2 and 3). If he can improve his ball-handling skills, he could become a Luka Doncic-type player — a rare 1-3 player who can be a point guard or small forward.
Although Avdija is not a primary ball-handler, he has demonstrated exquisite passing ability and exceptional court vision.
Avdija also has a surprisingly strong post-game for a wingman.
"I love the post," said Avdija. "But everyone has their own style."
He reads defenders very well and utilizes his size in mismatches. He's too quick for bigger players, but can quickly back down smaller guards that try to defend him.
"I'm very impressed with the way he works," said teammate and former NBA star Amar'e Stoudemire. "I've been around young players. He has the best attitude toward working and training."
Avdija admittedly says he's not proficient (yet) with the pick-and-roll because Maccabi and the Israeli national team doesn't employ the traditional pick-and-roll in their offensive sets. It's an NBA staple that he'll have to learn on the fly. However, he has all the necessary skills: the passing skills, court vision, and ability to knock down three-pointers. He just needs more experience running PNRs.
Cleveland Bound?
The Cleveland Cavs (19-46) posted the worst record in the Eastern Conference before the coronavirus pandemic halted the NBA season. Once again, the Cavs are in contention for a lottery pick.
A handful of names have been tossed around as the projected #1 pick, including 7-footer James Wiseman (Memphis), scoring machine Anthony Edwards (Georgia), and LaMelo Ball (younger brother of Lonzo Ball from the New Orleans Pelicans and regarded as the best of the three Ball brothers). Although Avdija hasn't been mentioned as a top pick, his draft stock has risen over the past month. Avdija moved into the Top 10 on many mock drafts and he's even listed in the Top 5 in some projections.
The Cavs showed a deep interest in Avdija, especially if they don't secure one of the top two or three picks.
"Deni Avdija is on the NBA radar," said Cavs beat writer Chris Fedor. "The Cavs have done extensive work on him. Director of scouting Brandon Weems saw Avdija in person earlier this season. (General Manager) Koby Altman returned in early March from an in-person trip to Tel Aviv. (Assistant GM) Mike Gansey stayed overseas a bit longer, watching three Avdija games."
Israel in the NBA
TJ Leaf is the sole Israeli-born player in the NBA and Deni Avdija should become the second Israeli to join the league.
At the age of 3, Leaf's family moved to San Diego, California. Leaf, a 6-foot-10 power forward, became a highly-touted, five-star recruit. He played his collegiate ball at UCLA, where he led the Bruins in scoring as a freshman with 16.3 points per game.
The Indiana Pacers drafted Leaf with the #18 overall pick in 2017. Leaf averaged less than nine minutes per game while buried deep on the Pacers bench. He's a career 3.3 ppg scorer.
The Sacramento Kings selected Omri Casspi with the #23 overall pick in the 2009 NBA Draft. Casspi played for Maccabi Tel Aviv for a few seasons before he migrated to the NBA.
Casspi, the former captain of the Israeli national team, averaged a little under 8 points per game in 12 NBA seasons before he retired last year. He played 588 NBA games for seven different seasons and started 145 of them. In the 2015-16 season, Casspi averaged 11.8 ppg off the bench for the Kings.