Memphis high school basketball star and the #1 prospect in the country, 7-foot tall center James Wiseman, decided to stay in his hometown and attend the University of Memphis next season.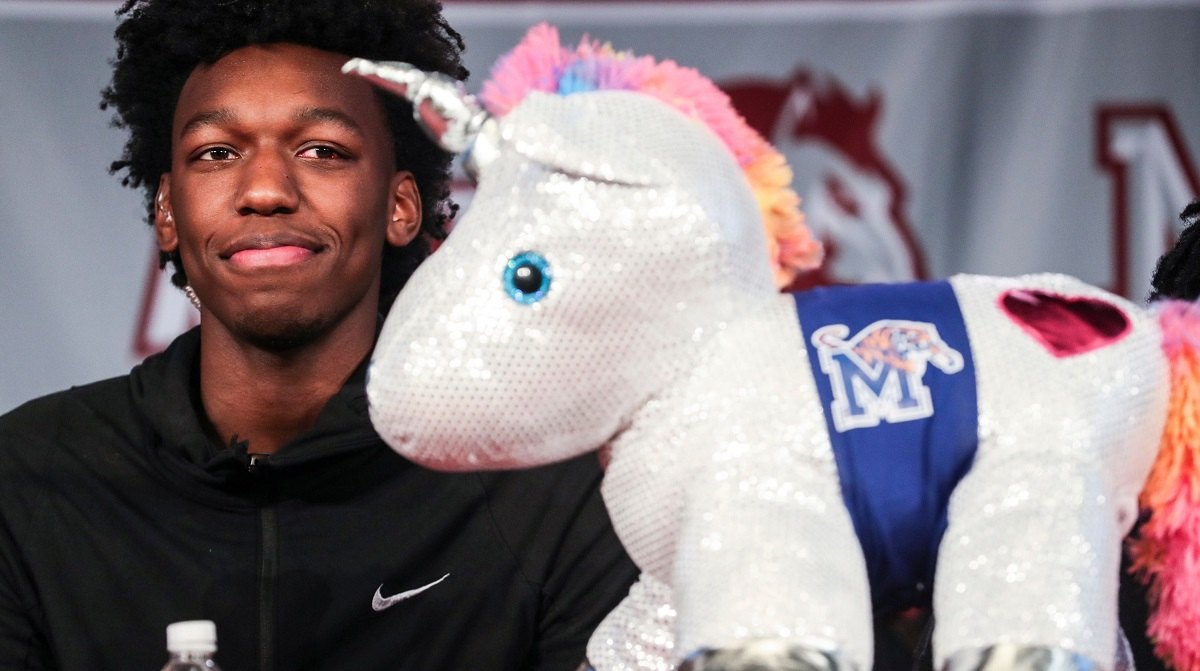 Memphis, thanks to new head coach Penny Hardaway, won a fierce recruiting battle against Kentucky to land Wiseman, the best player from the Class of 2019.
Welcome to the Tigers
James Wiseman, a 17-year old senior at East High School in Memphis, announced that he decided to play college basketball at nearby Memphis University. The local kid stayed home instead of heading east to Kentucky or down south to Duke.
Wiseman made a name for himself at Nashville Ensworth. However, in the summer of 2017, Wiseman switched schools. Wiseman wanted to transfer to East High to play for Penny Hardaway, who also happened to be his AAU coach. East High named the former NBA all-star as head coach and Wiseman followed.
Unicorns and Wiseman
Scouts and recruiters referred to Wiseman as a unicorn, due to his exceptional abilities for a big man. Wiseman doesn't have the ready-for-NBA-right-now body like Zion Williamson from Duke, but he has many attributes of the modern NBA center, which is why he's dubbed a unicorn.
"James Wiseman is one of the few players in the class who shows the ability to have dominating performances on both ends of the floor," said Paul Biancardi, ESPN's national recruiting director. "His physical tools are elite by NBA standards, as he owns a 7-foot-6 wingspan and a 9-foot-4-inch reach. The combination of his physical measurables, finishing ability and shot-blocking talent makes him number one in the class."
At a packed East High School, Wiseman announced his decision that was also aired for ESPN's SportsCenter. A unicorn with the Memphis logo indicated Wiseman's decision.
Tubby Out, Penny In
The firing of Tubby Smith and hiring of Penny Hardaway drew criticism from all areas. Smith wasn't bad at all with a 40-26 record. But his teams were lacking excitement and they didn't make an appearance in March Madness.
Purists had a point, that Penny Hardaway had not proven himself versus a veteran coach. Hardaway had a couple of years of coaching… in the high school ranks… before Memphis tapped the former-NBA star to coach the team.
Memphis had not been to the postseason in four years. Attendance had sunk to the lowest in 35 years. Fans were leaving in droves because Memphis failed to field a competitive team season after season. And it was only getting worse. Out-of-state programs crushed Memphis in the recruiting game, especially in their own backyard.
Penny Connections
Penny Hardaway grew up in Memphis and starred at Treadwell High. He landed a full ride to Memphis State University (before the school rebranded to Memphis). Hardaway skipped his senior year to enter the 1993 NBA Draft. Selected third overall by the Golden State Warriors, Hardaway got traded on draft day to the Orlando Magic for Chris Webber. Hardaway played 15 years in the NBA and averaged 15.7 points per game. Memphis later retired his #25 jersey.
Hardaway's connection to the AAU scene is what landed him the head coaching job at his former school. Hardaway initially met Wiseman through the Team Penny/Bluff City Legends basketball program.
Recruiting is the hardest aspect of collegiate athletics and schools with the best edges pick up the top recruits. Hardaway's relationship inside AAU circles landed him the top recruit in the country. Instead of all of the city's five-star recruits bolting, Hardaway could sway them to stick around and play for the Tigers.
Beating Coach Cal
For the last decade, the top players from the city of Memphis were exiting in volumes to play for premier programs in the ACC, SEC, and Big Ten. The Lawson twins are the best example and they headed West to play for Kansas in the Big 12.
John Calipari, former Memphis head coach now at Kentucky, has a formidable network that funneled the best players from Memphis to Lexington. It seemed like an afterthought that Calipari would land Wiseman. But that was before Penny entered the picture.
By installing Hardaway as head coach, Memphis gained a leg up in enticing Wiseman to stay at home. School official hope that this is just the start of a wave of Memphis high school standout who opt to stay home and play for the Tigers.
"I just wanted to bring their program up and just be basically like a game-changer and Penny has been mentoring me since last year and he developed my game a lot just over a year, so I figured I could go with Penny, and with the coaches they've got I can be successful," Wiseman said.
DJ Jeffries walked back his verbal commitment to Kentucky and agreed to stay home in Memphis. Malcolm Dandridge, a four-star recruit and teammate of Wiseman's at East High, also committed to Memphis.
Wiseman will probably opt for a one-and-done and move onto the NBA, but perhaps Hardaway can persuade Wiseman to stick around Memphis a couple of years and help rebuild the program.
Money Ball
University of Memphis has a huge incentive to bring fans out to games. The college hoops team shares FedEx Forum with the local NBA franchise, the Memphis Grizzles. The Grizzles kick back $800,000 to the university of they can average 10,000 fans or more per game. There's a reduced bonus for attendance between 6,000 and 10,000. At the current rate, the Grizzles pay the university nothing.
With a hefty financial incentive to put fans in seats, Memphis is in the middle of a full court press in the recruiting department. Landing the top players is not enough. They'll have to win ball games. It remains to be seen if Hardaway can hold his own against tenured coaches in the AAC (a.k.a. The American Conference), let alone against the premier coaches in the collegiate ranks.
Hardaway is off to a good start. He won his first game against Tennessee Tech, which attracted at least 15,000 fans. Memphis lost their first game of the season 85-76 to #22 LSU in Baton Rogue. Memphis almost lost an embarrassing game at home against Yale. The Tigers needed double overtime to secure the 109-102 win. Even against an Ivy League school, Memphis drew a shade under 15,000 attendance for that game.
University officials expect a sellout when the Tigers host #5 Tennessee in mid-December.